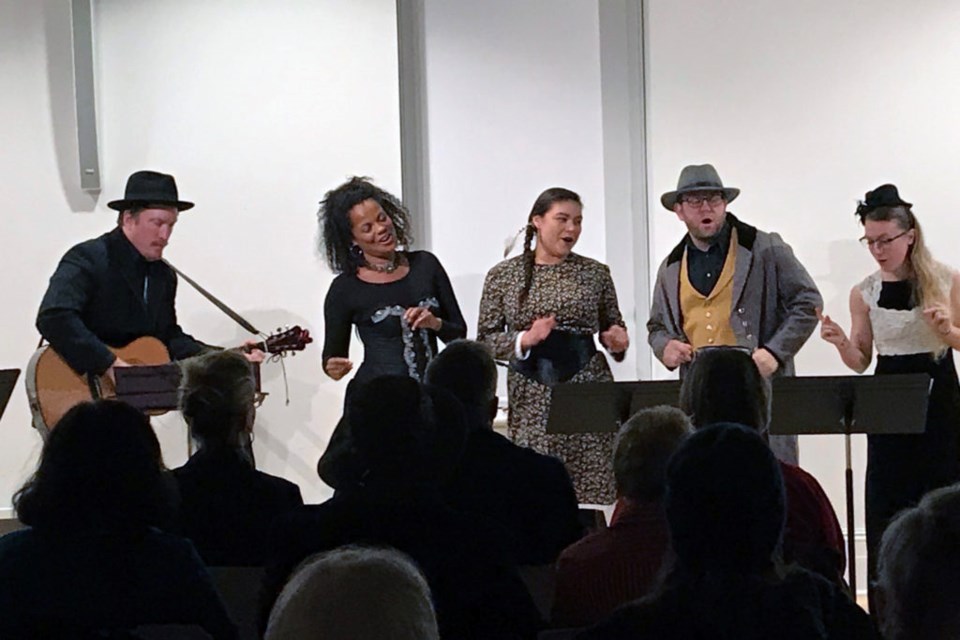 Do you think you could have learned the alphabet without the alphabet song?
Music has been proven to help people of all ages learn. Now you can perfect your local history knowledge with the Great Canadian Historical Songbook.
Local Barbara Worthy, a Shaw alum and seasoned broadcast producer, has written and produced a series of songs telling the stories of, among others, Chloe Coolie, who is believed to have been the instigator of the end of slavery in British North America. "She was an iconic character. We really don't know much other than she had a name and wasn't named after her master, which is what makes her so intriguing," says Worthy. Hence her lyrics, "I have a name, I have a face/Though all you see is black/You see nothing in me/But one day I'll be back."
Worthy pulled together a group of talented and well-known Niagara artists to help bring history to life. Singer, songwriter and performer Aaron Berger has long been a collaborator.
"Aaron was a student of mine at Brock University," says Worthy. "He was pure mischief." The pair has since collaborated on a variety of projects, including a living history show called Petticoats, Boots and Muskets; and works for Canada 150 celebrations. "I get so much inspiration from working with young people," says Worthy of her endeavours with this group of artists.
For this particular project, Worthy says she would write lyrics about a historical figure — Samuel Zimmerman, for example, who built the second Welland Canal, and brought railways to Niagara: "March 12, 1857, heading from Toronto up to heaven." She would sing them, "badly," into her smartphone, suggesting a melody. And then she would send the recording to Berger with the annotation, "Think Great Big Sea."
"Aaron would always come back with something amazing," says Worthy. "We have become a songwriting team."
When Worthy wanted to create a song commemorating Nikola Tesla, she wrote the lyrics and handed them over to Niagara producer Joe Lapinski with the direction, "Think [70's progressive rock band] Yes." "Joe came back with something phenomenal, with all this electrical feeling about Tesla. He turned Tesla on."
Also in on the collaborative effort are singer and songwriter Laurel Minnes; singer and producer Juliet Dunn; and performer Adrienne Smoke, a Six Nations Mohawk.
In writing a song about the Indian Act and residential schools, Worthy wrote the lyrics and then ran them by several Indigenous people and authorities on the culture, to be sure not to offend. "The lyrics include, 'Squaw, squaw, you're out the door,' shouted by white people." Worthy has done extensive work with Indigenous peoples, and says she is very sensitive to the delicate issues involved.
Minnes has become an "unofficial music director," says Worthy. "Laurel makes everything 10 times better. She has such a sense of harmonies and rhythms."
"I love working with this group," says Minnes. "Babs has such a passion for history, and this is such a neat idea." The musician and bandleader goes on to say the collaborators "definitely have a good working relationship, knowing our roles, where everyone's strengths are best utilized. And Aaron is hilarious."
The Songbook is performed live, with Worthy side-stage as narrator. The show has been staged at the Niagara Falls Museum, and — in an innovative twist — during the break between The Niagara Rhythm Section's sets last Saturday night at the Old Winery restaurant. "I asked Steve [Goldberger, the band's leader] if we could do it, and he said yes right away," says Worthy.
Upcoming shows include Feb. 19 at the NOTL public library, and Feb. 23 at Mahtay Cafe in St. Catharines. "I would love to add an orchestra and perform at heritage events all over the country," says Worthy about this celebration of Canadian history through music.
"We are definitely open for business," says Berger. "We're really pleased to have six gigs right away, and we're certainly hoping a little history with your music will appeal to people."
Worthy also feels there's room for more songs: "Every time you turn around here there's another story to be told," says the history buff who loves to share her passion for the people and ideas that shaped Niagara.
In the meantime, the group plans to record a series of podcasts, six episodes at five minutes apiece — one per song. The concept is to give some historical context to the song, discuss the creation of the piece, and then add the song itself. "I've never done podcasts but I listen to a lot of them," says Worthy, who is excited about this next iteration of the project. "It will be a learning process for all of us."
You can follow the Great Canadian Historical Songbook on Facebook, and watch for more upcoming performances.