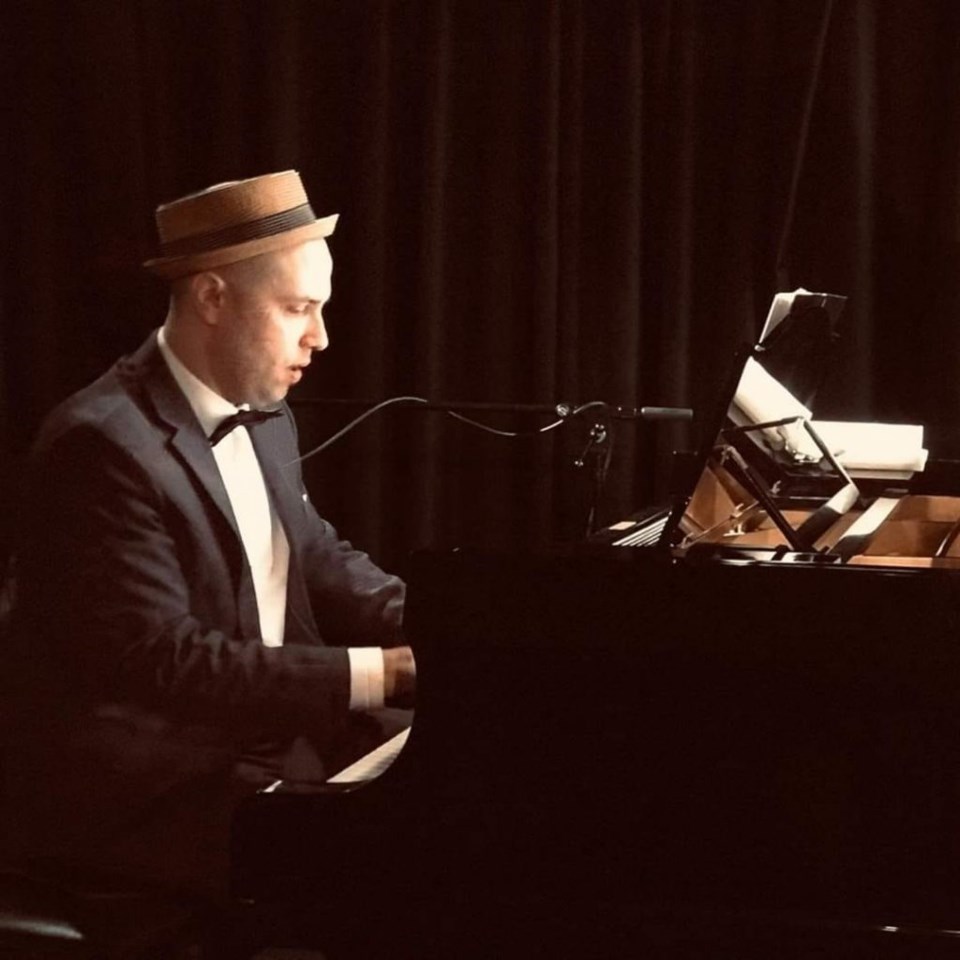 Before turning the focus to their upcoming summer festival, the TD Niagara Jazz Festival closes the book on their Twilight Jazz and Blooz series on July 4 with a performance by the Sean Stanley Quartet at Spirit in Niagara (SiN) Distillery.
The 1920s-themed Lakeshore Road business is the perfect setting for the group, as bandleader and pianist Stanley is a huge admirer of the music of Jelly Roll Morton and Duke Ellington, two jazz legends who reigned supreme during that decade.
Stanley admits his original compositions are heavily influenced by Ellington, and are often written with a big band in mind, though he rarely has the chance to perform with bands larger than his quartet or trio. For his Niagara-on-the-Lake performance, he promises to play a few of those originals, as well as the music of Ray Charles, Lester Young and Erroll Garner.
In the Toronto music world, Stanley is not your typical jazz pianist. He is one of very few Toronto jazz musicians with an Indigenous background (Pottawatomi/Ojibwe and Acadian) and comes from a much less privileged upbringing than the majority of his contemporaries. In addition, he overcame homelessness in his teens and is a self-taught musician, unlike many of his peers, who studied jazz at university or college.
"It's not as common now," he says of his road to jazz, "but if you look back in the history of the music, a lot of the first black jazz players came from that kind of background. It was less institutionalized back then, there was a lot more mentorship. Louis Armstrong learned from King Joe Oliver, for instance. It was learned in a more oral sense."
A guitarist in his teens, Stanley learned to play all his favourites at the time - Red Hot Chili Peppers, Nirvana - while listening to the radio. He dabbled a bit with rap and hip hop, moved to bass, then found that he was able to learn more things on the keyboard.
When the Ray Charles biopic (Ray, in 2004) came out he found the inspiration he was looking for. From there, his musical palette expanded as friends led him to learn more about jazz through exposing him to the music of Louis Armstrong and his Hot Fives and Hot Sevens ensembles.
"When I heard jazz and swing for the first time, it just spoke to me," Stanley says on the line from his Scarborough home. "My grandfather on my Dad's side was a banjo player, a bluegrass musician. I heard a lot of the same rhythms in jazz."
Stanley now 35 years old, speaks of the time when he was just 15, and he, his mother and sister were forced to turn to the shelter system in Toronto. The family's struggle with homelessness resulted in Sean not getting past Grade 9 in school.
After about a year in the shelter system, he moved with his mother and sister into the Gabriel Dumont Non-Profit Homes, an 87-unit housing complex for the Indigenous community situated in southeast Scarborough. His father would drop in from time to time to stay there, too.
After about three years at the Dumont Homes, Stanley was back in the shelters, still trying to progress as a musician and taking jobs where he could find them. During this time, he found himself adopted in a way by a group of Bay Street stock traders who admired his 'hustler' spirit.
"They were a bunch of Jewish dudes," he says. "They kind of helped me along. I was a natural salesman, and I could talk to people, but I didn't have any tact. They took me in and helped me, they moulded me. I worked with them doing phone sales for about three years while I continued to work on my music."
At 21 years old he moved into an apartment on his own, and began hitting the open mic circuit as often as possible.
"I got out of that cycle basically by sheer will and determination," he tells The Local. "I learned how to save, how to budget. I got such an education from those (Bay Street) guys."
His lack of a formal musical education meant that some in the jazz world didn't take him seriously at first. Jazz musicians can often be elitist, and many gravitate toward playing with those they know from their days at the University of Toronto or Humber College jazz programs, for instance. He often faced prejudice, racism and classism.
He acknowledges that jazz might seem like an odd choice for a musician with an Indigenous background.
"We're native people, but we live in the city," Stanley says of him and his immediate family. "We didn't grow up learning our traditional dance and music. Living in the city we're not able to resist the strength of integration with other cultures around the world."
"I had a lot of barriers that others didn't face," Stanley adds. "Getting into the scene was difficult at first, I wasn't good enough at reading and playing and writing it for other musicians. I had a longer learning curve."
But he put his nose to the grindstone and persevered, always working, always learning, and picking up influences along the way. Ten years after seeing that Ray Charles biopic, Stanley was playing professionally with some of the top musicians in Toronto.
During the pandemic, he turned to busking on the streets as much to keep up his chops as to earn a bit of money. So he's excited to be playing the final event of the Monday night TD Niagara Jazz Festival series.
"Juliet (Dunn, the festival's executive director and co-creator) has taken an interest in me," he says. "I appreciate that she understands that my story is a lot different than others."
For July 4, Sean's quartet will be rounded out by bassist Chris Adriaanse, Andrew McCarthy on drums and Juno award winner Kyle Tarder-Stoll on tenor sax. The show begins at 6 p.m, with doors opening an hour earlier. Ticket prices range from $19 to $39 with both theatre-style and table seating options.
As well, the lineup for the Summer Jazz Festival has been announced. It kicks off on July 20 with a performance by Dizzy and Fay (Mark Lalama and Amanda Walther) at Stratus Vineyards in NOTL and continues for six nights, until July 24 World Music Day at Club Lasalle and Sunset Beach in St. Catharines.
Details are available at niagarajazzfestival.com.