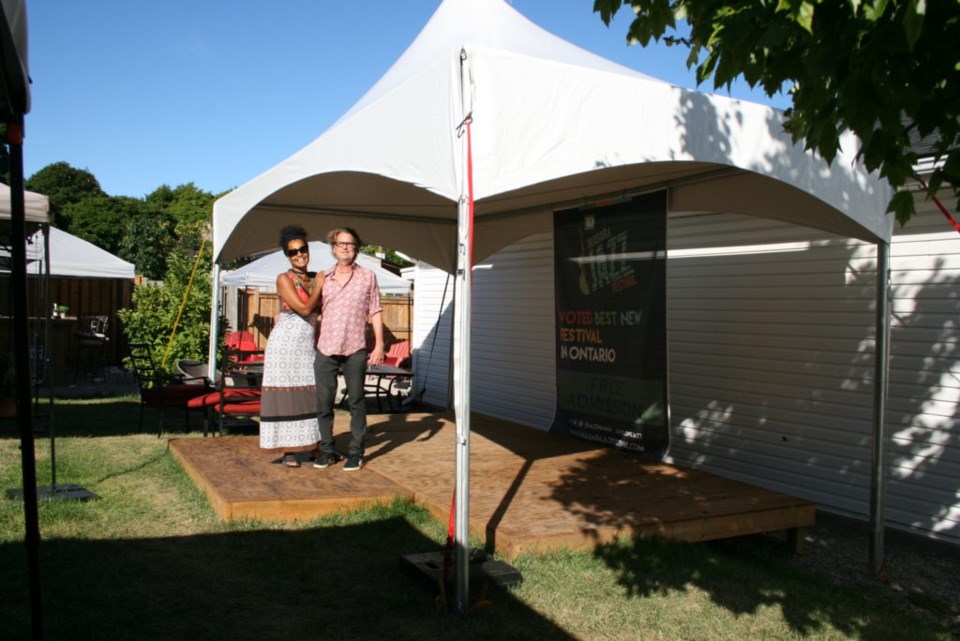 In the backyard of the north end St. Catharines home of TD Niagara Jazz Festival co-creators Juliet Dunn and Peter Shea sits a miniature COVID-safe version of what one might remember from Simcoe Park a few short years ago.
Tents dot the landscape, providing enough room for "pods" of physically distanced groups of six to 10 people to keep their eyes and ears on the main marquee, which houses the stage which will hold the bands this Saturday for Hungry 4 Hammond. It's the first in the festival's two-part tribute to the Hammond organ, featuring Organomics and the Matt Weidinger Band.
There is also room for a group of VIPs on their deck, with seating surrounding their above-ground pool, and a brand new bar/serving area from where food and drinks will be delivered to the pods. And, of course, a port-a-potty in the driveway for when nature calls.
The layout is the result of festival volunteers pulling together in Help and Hang sessions since late March, chipping away at transforming the backyard into a festival space that can welcome about 30 visitors safely. And this weekend's show, which can also be enjoyed online, will be the first Niagara Jazz Festival event of such a size since the pandemic began.
Dunn and Shea have had to be creative throughout the peak festival season. In March, the not-for-profit organization began to present both local and international jazz artists through an online platform, renaming their popular Live-Love-Jazz series to Livestream-Love-Jazz. Those were referred to as Backyard Sessions, as Dunn and Shea produced them from their studio, housed in a shed that is also located behind their home. The second annual Summer Mardi Gras celebration was also held online, with some unique methods used to hold the traditional New Orleans-style parade.
From the outset with the Hammond series, Dunn wasn't sure when the Ontario government would allow larger outdoor gatherings. Accordingly, using that creativity she and Shea have always shown, they decided to dub this their TENTative Concert Series. Finally, the timing is right to make the TENTative a reality.
Why the Hammond organ? Says Shea, "it's been a passion of mine my whole life. It's a dying art form, and somebody's got to pick up the torch right now. We're doing this to keep this alive. It's like a grand piano, you can't replace the real instrument."
Invented in 1935, the Hammond organ became a staple in the jazz world in the 1950s, largely through the efforts of bandleader Jimmy Smith. In 1962, Smith crossed over into the pop world with a top-30 hit called Walk on the Wild Side. That same year Booker T. Jones and the MGs rode his Hammond B3 to number three on the Billboard Hot 100 chart with Green Onions.
Through the 60s, pop and rock bands such as the Small Faces and Deep Purple featured the Hammond organ, while Keith Emerson of Emerson Lake and Palmer and Gregg Allman of the Allman Brothers continued leaning heavily on the instrument through the 70s. Procol Harum's Whiter Shade of Pale may be one of the most recognizable hit songs to be based on a Hammond riff. The distinctive keyboard has also been heard on many funk and reggae songs through the years, and it found its way into hip hop through the Beastie Boys.
Shea looks to Jimmy Smith for inspiration, but also makes special mention of Joey DeFrancesco and the late Canadian jazz legend Doug Riley, who was the man behind the late-60s band Dr. Music.
"I do a special shout-out to Doug," Shea says. "Of all the B3 players in Canada, God rest his soul, he was just an incredible B3 and piano player, and in some way we should pay homage to him at some point."
The first band, Organomics, features Randy Stirtzinger on the organ, Nova Scotia native Roy Patterson on guitar, and Niagara-on-the-Lake resident and former Santana and Gino Vanelli group drummer Graham Lear. Kitchener's Matt Weidinger, who released his new album of roots, rock and neo-soul called Breakage in May, headlines the show.
The Oct. 3 instalment of Hungry 4 Hammond features Toronto acts JV's Boogaloo Squad, and the bluesy sounds of the Joint Chiefs of Soul, featuring Lance Anderson and drummer Shamaka Ali.
"We have an incredible lineup of B3 guys," says Shea.
Seating is limited for both events, and there are also Airbnb packages available, as their home, known as Shady Acres, has a beautiful two-room suite attached to it. Dinner provided by The Heat is On Catering is part of the package. Information, tickets, and a map of the site are all available at www.niagarajazzfestival.com/2020-hungry-for-hammond/. You can also watch the show online via the jazz festival website, and they are offering a special Hungry 4 Hammond At Home menu via the Grantham House in St. Catharines.
But don't even try asking for a Hamm-ond cheese with either option.