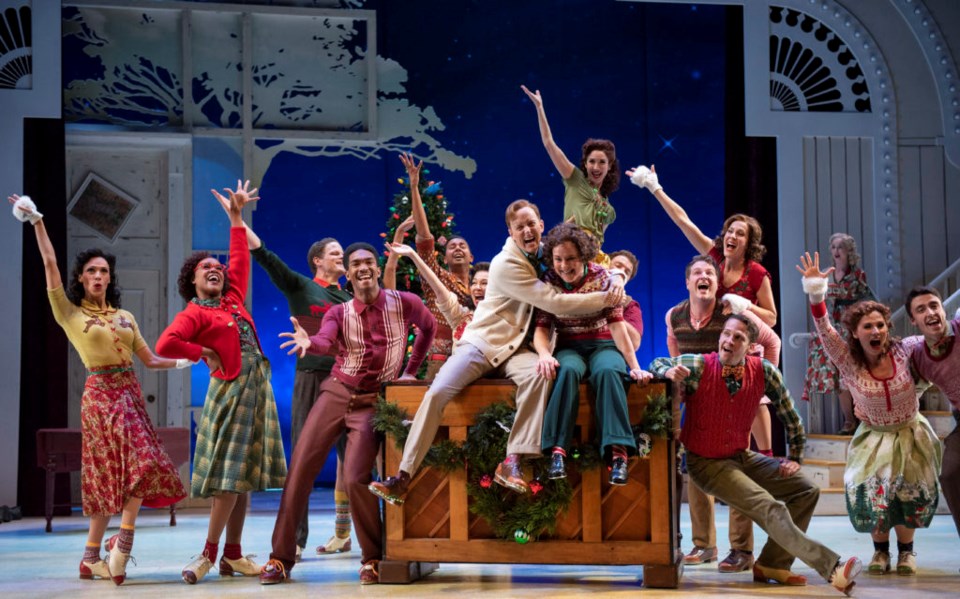 It might be considered Christmas fluff, but it's beautifully presented, visually stunning, emotionally uplifting, unforgettable fluff, not to be missed.
The Shaw Festival production of Irving Berlin's Holiday Inn will have you grinning from ear to ear, tapping your feet, humming along to holiday classics, and possibly even dancing in your seat.
"Holiday Inn is a respite," says director Kate Hennig in her program notes.
It is that, and more.
Yes, it's a break from holiday stress, an opportunity for a night out, and a few carefree hours. It's also a simple little story set in a time that takes us far away from where we are — to a place where there may be a touch of disappointment, but a lot of love, old-fashioned fun, and some of the much sought-after joy experienced when celebrating holidays.
There isn't much of a plot — it takes a back seat to the music, directed by Paul Sportelli, and choreography by Allison Plamondon, either one of which would make this production well-worth the night out, but combined make it a must-see.
Jim Hardy (Kyle Blair), Ted Hanover (Kyle Golemba) and Lila Dixon (Kimberley Rampersad), are singers and dancers who think they are chasing success together — hoping for the next big break, in whatever dark nightclub or lounge will have them. That is, until Jim announces to his fiancé, Lila, that he's done with life on the road, and has bought a farm in Connecticut. He expects her to come with him, but instead she decides to go off with Ted on a six-week tour.
To save history repeating itself, when Jim realizes he can't pay the mortgage, he is persuaded by Linda to turn the farmhouse into a concert hall, performing holiday shows that of course feature the best of Berlin, who wrote at least one song to celebrate each of them.
As such, Christmas is actually only a small part of the show, but featuring one of the holiday's biggest musical success: White Christmas, immortalized in Holiday Inn the movie, produced in 1942, and starring Bing Crosby and Fred Astaire.
While White Christmas may be the play's signature song, Easter Parade is every bit as familiar and beloved, and accompanies the show-stealing scene with the most stunning, awe-inspiring costumes by Judith Bowden, in a production that has one scene after another of jaw-dropping, period song-and-dance costumes.
As a highlight, it is closely followed by Independence Day, the other bright, energetic and enthusiastic celebration, with kicking up heels to Song of Freedom and Let's Say it with Firecrackers.
As each holiday is recognized in song on stage at the Shaw Festival Theatre, the festival itself moves closer to celebrating four seasons. During January and February, the theatre is open for the popular annual film series, and rehearsals beginning for the 2020 season, which opens in April.
That's good news for Niagara-on-the-Lake residents, and great news for the town, as the Shaw creates even more events for locals to attend and more reasons for visitors to visit.
For more information or to order tickets visit shawfest.com.