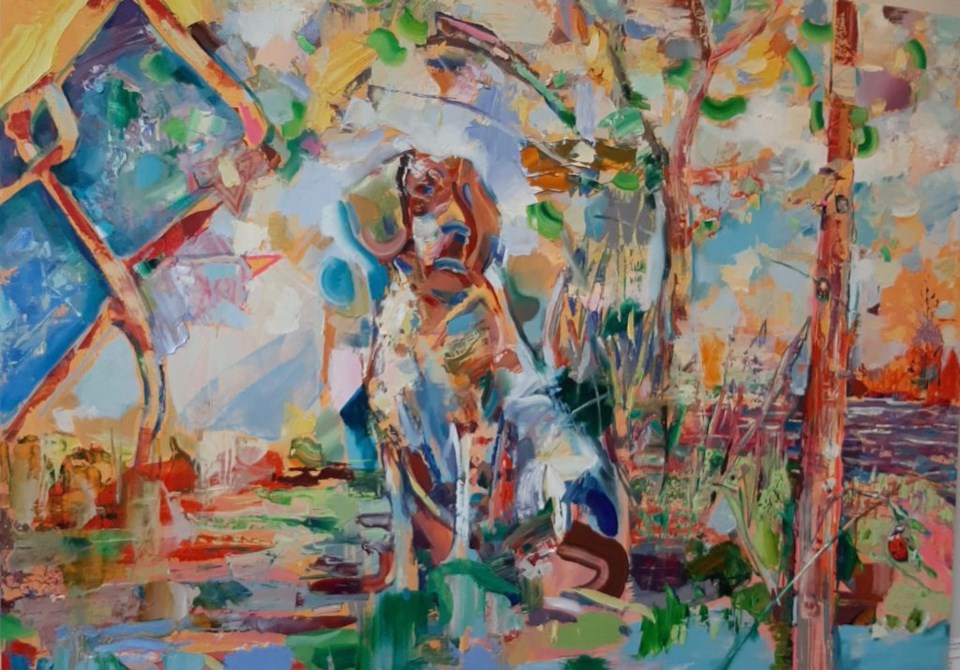 On display in the newly dedicated Joyner Gallery at the Niagara Pumphouse Arts Centre is the work of artist Geoff Farnsworth.
Originally hailing from Kimberley, BC, Farnsworth has been living and painting in St. Catharines over the past seven years. His art education began in BC, where he studied at Capilano College and Emily Carr University of Art & Design, among others. Farnsworth then moved to New York to train at the Arts Students League, from 1997 to 2002. He then moved to Toronto and spent the next five years building upon his studio practice. He left Toronto to work for a year in Thunder Bay, then relocated to the Niagara Region.
Farnsworth has had his works in exhibitions across the world, across the country and across the Niagara region. Internationally, his work has been seen in New York, Washington D.C., and as far away as Norway, Sweden and Trinidad. In addition to his current exhibition in Niagara-on-the-Lake, he currently has work on display at the Canvas Gallery in Toronto, Kurbatoff Gallery in Vancouver and Chenier Fine Arts in Thunder Bay. He has work hanging at Wellington Court restaurant, the Niagara Artists Centre Studio Space (inside Roly Poly), and at his studio, all in St. Catharines. He also has eight paintings hanging at Jordan Art Gallery in Jordan Village, that span different time periods.
He considers his paintings an exploration of a relationship between figurative and abstraction, and says it's important that they work well as "collections of shape, colour, texture, and energy, while also building a compelling image," focusing on "a balance between plan and accident, known and unknown, restraint and exuberance," with objects from his personal world.
Farnsworth says he likes to repeat and repaint images. For example, viewers are encouraged to look for the "exploding fry truck" at both the Niagara Pumphouse and Jordan Art Gallery.
Although he has national and international success, lately, like so many of us, Farnsworth has been focusing more on staying close to home.
"When COVID hit, I was painting an eight-minute walk from home in an office space my friend rented cheap for me," he says.
"I feel conflicted often, with desiring balances between being solitary and feeling very social. The studio feels often like a joyful respite, and often also I crave to get out of where I woke up. Painting temporarily in spots that come up or are offered changes the whole vibe and creative flow, I would say. At least for me."
He explains how the perspective of his work has changed with the changing times.
"Middle of March, and I took everything home, including paintings that I'd started there. Finishing these paintings, being back home again, had me continue a theme that felt pertinent to me before, and especially once COVID times started," says Farnworth.
Home, for him is an old house built in 1875, near Montebello Park, with a studio on top.
The theme he mentions involves painting of people, looking at a famous paining.
"One piece was of a figure (based on a photo of her from behind looking at a self-portrait by Frida Kahlo)," he says.
The observer is gazing at a painting that has become both a still art reference to the original piece (in this case a Kahlo that hangs in the Albright Knox in Buffalo), and also more abstracted.
Farnsworth continues to describe how this focus changed to a more inward-looking view, becoming compelled to repeat the motif of a figure looking inward: a Dutchman with two ears on the side of his head looking upon a Van Gogh self-portrait; his daughter looking onto a Kandinsky. Even his subject matter became more inward, and to a literally smaller and more immediate perspective, painting small heads in lots of very small squares.
"These heads were of authors I was reading and re-reading, musicians, myself, one of George Floyd, friends of mine. I painted Klimt, Diebenkorn, Sargent, Seurat, Bacon, Vuillard, Haruki Murakami (twice), Ryu Murakami (once), Georgia O'Keeffe, Cowboy Curtis, David Lynch, people I see downtown and around Niagara, and several others. They are as much about portraiture as they are about paint and process, abstraction, and exploration."
In this exhibition at the Niagara Pumphouse, he has 33 paintings in total. Some are hanging, and some of the smaller pieces are displayed on table tops.
For the immediate future, Farnsworth is still working diligently and even looking to nature for inspiration during our new reality.
"Times are continuing, and I'm finishing up a couple of commission pieces while I get excited about continuing pieces in progress. Yesterday I was walking with a friend in Short Hills, and paying attention to birds and trees. It makes me feel interested in the process between capturing what I have been experiencing sensorily, while also feeling these objects are also pathways into exploration and morphing."
The Geoff Farnsworth exhibition is on display until the end of October at the Niagara Pumphouse Arts Centre. For more information, contact niagarapumphouse.ca or geoff-farnsworth.com.