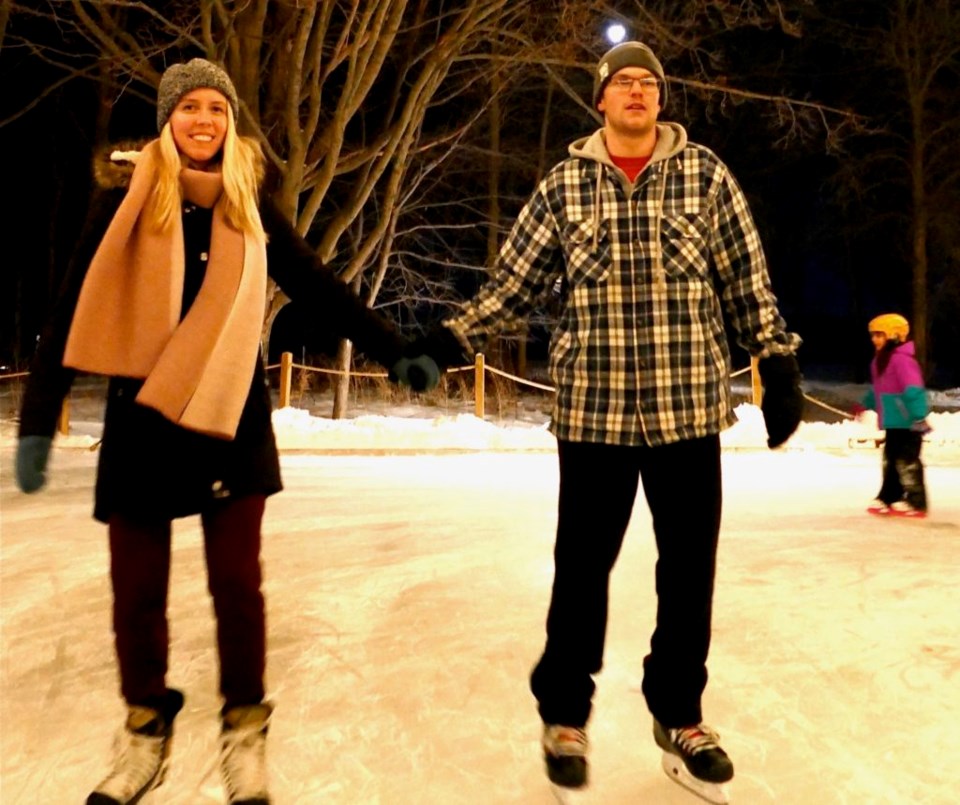 On Saturday night, the moon was bright and full. Stars peeked out among the trees as skaters circled the ice to their favourite tunes at The Vintage – Parks Canada skating rink at Fort George. The skaters who braved the crisp weather were a mix of families with small children, teenagers mingling in little clumps and couples gliding hand in hand under criss-crossing strings of lights.
Near the rink, nestled among the trees, skaters relaxed in bright red Muskoka chairs and warmed their toes by the fires. Parks Canada employee, Erin Ronfeld, explains that there are fewer rentals on these cold nights. She theorizes that new skaters tend to stay away from the rink when the weather gets chilly. It is the "more dedicated skaters that come out when it's colder," she says. Nonetheless, she likes watching the new skaters best. She enjoys watching new Canadians and international students try skating, many of them for the first time. She appreciates their efforts to attempt this winter pastime. "It's fun to see them come and try to do something that is so Canadian," and to watch them improve.
She notes it's a mix of locals and non-locals that come out to skate on the outdoor rink. Among those who come from out of town, she says many of them are from the Toronto area. The "locals" she sees are not necessarily from Niagara-on-the-Lake, but from across the Niagara Region, coming out to try this unique outdoor experience.
She describes how busy the rink has been lately. There have been many families seeking out ways to entertain the kids over the past few days due to the rotating teacher strikes and PA days. She says they can see around 200 people a day on a weekend, and skating is a great activity to get everyone outside in the fresh air.
Tired and hungry skaters can warm themselves by one of the gas fireplaces, or grab a hot chocolate and a snack inside the Agora. Vintage Hotel staffers, Jacob Hebbert and Nic Vanghan, explain the skating rink was formerly the Rink on the Brink that was situated in Niagara Falls near the Table Rock Restaurant. Vintage Hotels bought the rink equipment and partnered with Parks Canada to set it up at Fort George, where it has become a welcome winter fixture over the past four years. In this partnership, Vintage Hotels provides the rink, supplies the DJ and runs the concession stand inside the Agora, while Parks Canada provides the property and maintains the rink. Along with other Parks Canada staff members, Ronfeld is responsible for keeping the fires stoked, administering first-aid, and enforcing the rink rules.
Tunes on Ice is just one of many events at the rink this month. This Friday, Feb. 14, is a PA day for many schools. The rink will be open during the day from 10 a.m. to 12 p.m. for an open skate, then from 1 p.m. to 4 p.m. for supervised family skating, with helmet and skate rentals available. Starting at 6 p.m., there will be a special Valentine's Day Date Skate, complete with skating to live music and a rose and chocolate treat until 9 p.m.
Saturday Night Tunes on Ice returns on Saturday, Feb. 15, and runs from 6 to 9 p.m. until the end of February.
On Family Day, Feb. 17, it's an Ice Dogs celebration from 10 a.m. to 5 p.m. Niagara Ice Dogs players will be at the rink from 1 p.m. to 3 p.m., along with their mascot, Bones, and the Parks Canada's mascot, Parka. There will be games and activities from 10 a.m. to 3 p.m., and a chance to win Parks Canada and Niagara Ice Dogs official merchandise. The family skate runs from 10 a.m. to 12 p.m. and then from 1 p.m. to 5 p.m.
Further information on the rink can be found on https://www.pc.gc.ca/en/lhn-nhs/on/fortgeorge/activ/patinoire-rink, or current rink conditions and updates can be found on the Fort George Twitter page.