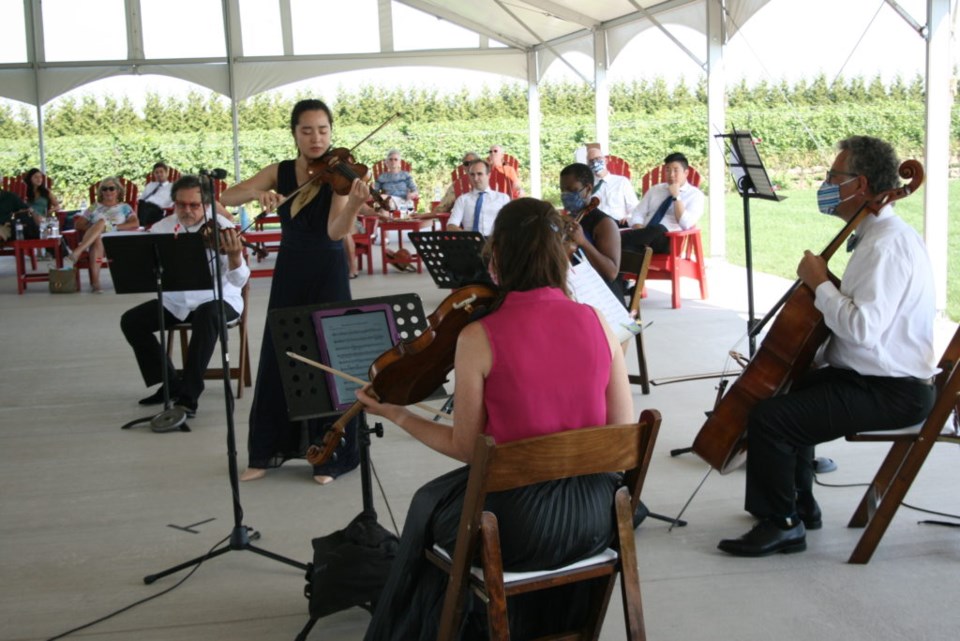 COVID-19 put Music Niagara in a situation that organizations and audiences like ours have never faced before. Like many other arts programs, we have had to be inventive and rise to the occasion.
With the support of our board of directors, our amazing artistic director Atis Bankas, our musicians and sponsors, other community organizations — and most of all, you — we moved fast. We're also grateful for support from all levels of government.
We moved quickly by partnering with Niagara College's broadcasting team to film performances; it was different playing with no audiences. We have made these available online so people can keep enjoying great Music Niagara performances in comfort and safety with our At Home Series, partnering with new local venues in Niagara-on-the-Lake that offer outdoor or indoor locations to film each performance.
Importantly, we have been able to keep artists working during a time when many are out of work.
There's no denying it — we have taken a hit like everybody else. So far this year we haven't been able to hold special events or fundraisers, and that hurts. Again though, we are grateful and appreciative of the support we get, especially from you. We know how many would love to be at our shows and we hope you are enjoying watching in this most unusual year.
Here's what has not changed: our responsibilities. Music Niagara aims to keep great music thriving through these difficult times, to connect with you, our audience, in new ways and to support musicians and students in their inspiring and challenging work.
Like everyone else, we at Music Niagara have no idea whether this pandemic will leave us any time soon. We do know that we have learned a lot. And we're still learning from this situation.
As a community institution, we have been learning how to be more targeted and focused in our fundraising efforts — the public is being asked a lot these days, and we need to be even more respectful and appreciative now that these are such unusual times.
We have also learned how incredibly dedicated our musicians and supporters are. We knew that already, but it really hits home how everyone comes through when it counts.
Finally, we have learned to be patient — no one really knows where we are going with this pandemic or how long it will take to get there. We just know that we must go on, working to serve you, our amazing community, and to keep great music thriving.
In that vein, do not miss violinist Emma Meinrenken's special performance with members of the Toronto Symphony Orchestra on Sunday, Sept. 13 at 4 p.m., filmed at PondView Estate Winery by Niagara College's broadcasting team. Watch live on Music Niagara's YouTube Channel or Music Niagara's Watch Live page of our Website.
Emma, a Music Niagara favourite, performance academy alumna and student at the prestigious Curtis Institute of Music, will perform two Romances by Beethoven and Schubert's Rondo on a rare 1689 Baumgartner Stradivarius on loan from the Canada Council.
A highlight of the concert will be an ensemble of members of the Toronto Symphony playing seven string and wind instruments featuring the rarely heard Beethoven's Septet Op. 20.
Karen Lade is General Manager of Music Niagara.