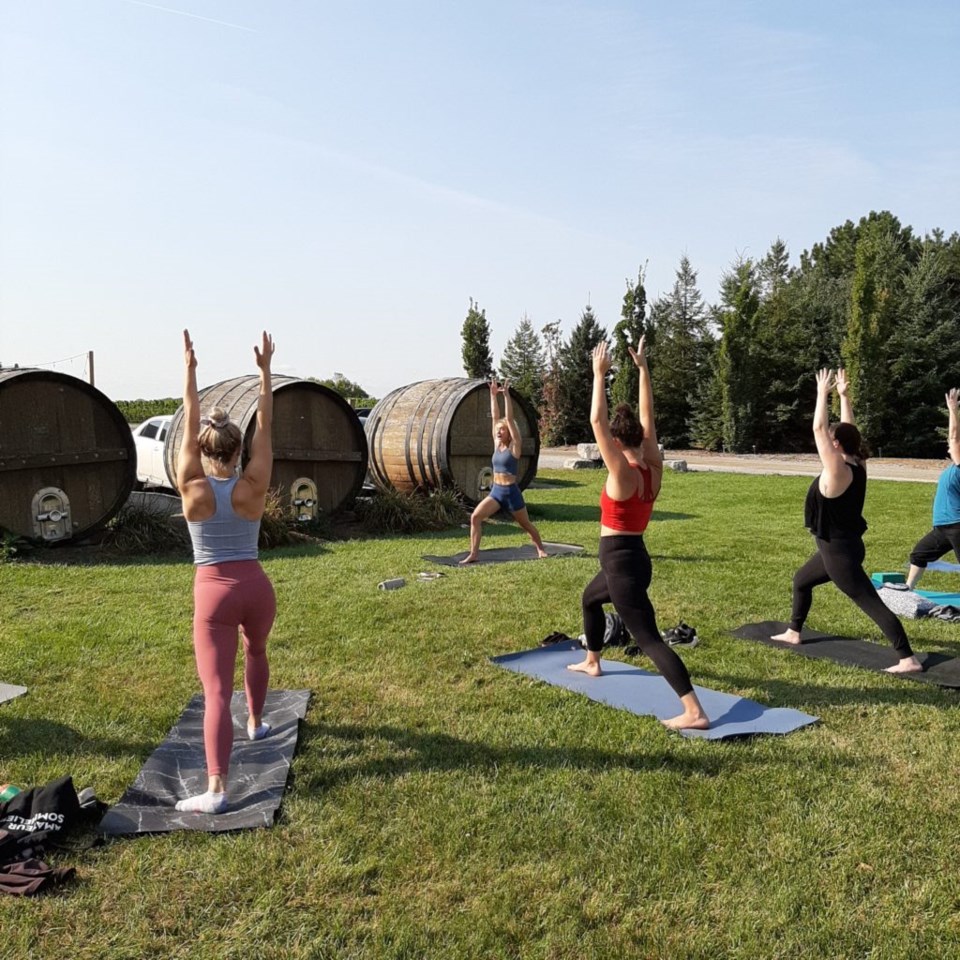 Gathered on a vast green lawn, dotted with trees and framed by large wine barrels and vineyards, 16 yoga enthusiasts arranged their mats in the customary formation in view of their yoga instructor for their Sunday morning practice last week.
They are welcomed by instructor Abbey Morris, who says how grateful she is for the gorgeous weather we are experiencing, and expresses her thanks to Palatine Hills Estate Winery for inviting her to share this practice with them.
Throughout the hour, Morris reminds the participants that this session is time spent taking care of themselves. She helps them become more aware of their bodies by concentrating on their breath and the poses, giving them permission to relax their minds by setting aside their thoughts, worries and preoccupations by concentrating on the here and now.
The quest for that mind/body connection is what attracted Morris to yoga. A recent graduate from Brock University with a degree in media and communications and a minor in sociology, Morris has had her own struggles with finding that connection. She openly discusses her challenges with mental health issues and her diagnosis with anorexia.
"Yoga's been very transformational for me in my life. It's helped me with lots of mental health issues. A couple years ago I was diagnosed with anorexia, so yoga really helped me find a mind/body connection that I am very driven to share with the rest of the world. I think that this is a very important time to bring yoga and meditation and assorted therapeutic services to people in these very uncertain times, and to be able to find that connection to something in yourself."
Morris explains she has always been an active person, taking part in sports, including cheerleading. "I have always done active Vinyasa (yoga), which is definitely my strong suit, and I love being able to teach it. I'm very comfortable with knowing how my body moves and I've played sports where I've had to cultivate that body awareness, so I think coaching and cheerleading and all those things definitely helped me along the way."
In December 2019, Morris travelled to Costa Rica and started her yoga teacher training there with her first 200-hour certification. After training in Vinyasa, she turned to Gentle Yoga, Yin Yoga, and also completed training in meditation.
She teaches a Gentle Yoga class in Thorold with specific moves that are easy on the body, developed for the needs of an aging population or people who may be recovering from surgery and/or have physical restrictions that require more gentle movement. "I find that people think yoga has to look and be a certain way, and that's not really what it's all about. I like to do these classes so I can understand all bodies that come into my classes."
Morris explains that Yin Yoga practice is more meditative, and more challenging, as you have to hold the poses for about three to five minutes. The longer pose helps to stretch the tissues beneath the muscles, and to stretch the connective tissues in your joints. She explains it can be therapeutic for people with pain in their hips and lower back.
Morris finds one of her most rewarding experiences is receiving comments from her clients about feeling welcomed to her sessions, and included in her class, regardless of their abilities. "I'm getting rid of that perfectionist attitude that sort of haunted me for so much of my life," she says.
"Right now," she announces, "I am very excited. I'm in a mentorship group looking at teaching yoga for women with eating disorders. That was sort of my recovery path, and something that was very transformative for me, so I am very interested in the route of yoga therapy. It's still quite new, but it is something to take yoga and apply it to different types of mental and physical ailments." It is essentially using yoga to help with stress, anxiety and food fear, she says. "That's something that I'm looking to do."
She says her road to recovery "is still very much a journey of mine. So simultaneously I'm learning by my own experience," and she hopes that when teaching yoga her personal experience will help others.
Although COVID-19 has created many challenges for Morris and the region's yoga studios, she believes her chosen path is a positive one. "It is really neat to be a yoga teacher at this time, because it's almost like a small social obligation to help people in this time of uncertainty, knowing that people are coming to you to live their reality. It's mental health and fitness all rolled into one."
When you practise yoga, she says, "you begin to feel better about yourself, not just your body but your mind, your state of being. You will want to take care of yourself better."
Through yoga, people develop this sort of love for themselves and come to appreciate themselves in a way that they feel the need to care for themselves a bit more, "rather than coming in and doing a bunch of abs in hopes that you've got a washboard abdomen."
As far as yoga in the vineyard, "everyone really loves the space," Morris says. "I used to work in the wine industry, and there is just something about being out in the vineyard and that sense of calm. No matter what's going on, you can look out there and know that there is calm available. I just love this area and living in Niagara."
The morning's practice was concluded with a calming meditation while participants soaked up the warmth of the waning morning. After the session, they were invited to enjoy a glass of wine on the Palatine Estates patio, on the grass, or back on their mat, socially distanced in the sunshine.
Palatine and Morris have agreed to continue the Sunday morning yoga sessions into October, "as long as Mother Nature graces us with her warm presence."
The classes start at 10 a.m. and are designed for all levels of practice. Tickets are $22, and include 60 minutes of yoga and one glass of wine. To purchase tickets, email [email protected], contact the winery at palatinehillsestatewinery.com, call 905-646-9617, or visit Palatine Hills Facebook page for events.
For more information on Abbey Morris and her yoga journey visit https://calendly.com/yogawithabbey or follow her blog at Namaste & Rosé.