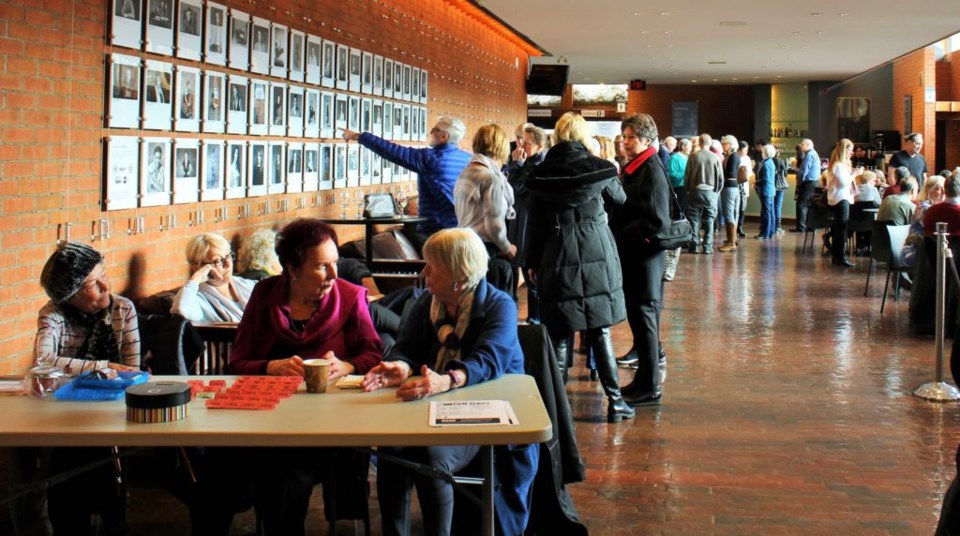 Leave it to the Shaw Festival to make going to see a movie an experience.
An afternoon at the Shaw Film Series comes complete with first-rate wine, an exceptional gourmet lunch and an award-winning film.
Although the film didn't start until 3 p.m., ticket holders began arriving at about 1:30 p.m. to meet up with friends, grab a glass of wine and socialize. Others enjoyed the lunch menu from Gooddine Catering before the 3 p.m. screening of the heart-warming documentary The Biggest little Farm.
Raffle ticket tables were set up by the entrances to the theatre. Nancy Mouget, who is usually accompanied by her husband Alfred, enlisted fellow volunteer Shirley Rednall to help her with ticket sales this week.
According to Mouget, they have raised approximately $500 a week from raffle tickets sales, "which becomes significant over the course of the film series." All proceeds from the raffle go to the Shaw Festival General Fund. The prizes for this week's draw were a $100 gift certificate from the Garrison House Restaurant and a dinner and show for two from Oh Canada, Eh?, valued at $140. Past sponsors for the weekly raffle prizes have been Treadwell Restaurant and Ravine Vineyard Estate Winery.
Mouget, a former Shaw board member, has been involved with the festival for more than 30 years. She has been attending the film series since its beginning in 2006. "Shaw makes the town," she says.
She was happy to see a documentary was being screened this week. She misses the time when the Shaw showed documentaries regularly. "Friday night documentaries are missed by many," she says.
Other raffle ticket volunteers were Ginny Douglas, Connie Costanzo, and Ann-Louise Branscombe.
Gooddine Catering has been serving up gourmet lunch offerings every week during the film series, which will continue until the end of February. They offered ham hock and white bean soup with mixed greens salad, butternut squash risotto and red curry veggie lettuce wrap. After this series ends, Gooddine Catering will return in the summer with a pop-up mobile kitchen in the parking lot of the Shaw Festival.
As lobby lights beckoned the crowd to their seats, audience members began to meander into the theatre, wine in hand and full bellies.
The featured movie for this week was The Biggest little Farm, a documentary that follows a young couple and their dog, while they worked hard to make their dream of owning and operating a traditional farm a reality. It chronicles all their trials and triumphs over a nine-year period.
Beth Webb, from the film magazine, Empire, described it this way: "The gentle rhythm of this timely, environmentally conscious documentary will temporarily draw you away from the world of tiny screens into a partially ambiguous yet fulfilling tale of endurance."
The Biggest little Farm won third place in the People's Choice Award in the documentary category at the 2018 Toronto International Film Festival (TIFF). That same year, next week's feature film, The Grizzlies, was nominated for best Canadian first feature film with director, Miranda de Pencier.
The Grizzlies will be shown on Feb. 8. The film is based on a true story about a youth lacrosse team that bands together to combat youth suicide in Kuglugtuk, Nunavut. After its premiere at TIFF, the director went on to win the Directors Guild of Canada award for best direction in a feature film.
The film Jojo Rabbit is scheduled to be shown on Feb. 15. This film was featured at TIFF in 2019, and won the People's Choice award amid controversy and mixed reviews. However, with this film's recent awards and rerelease, organizers haven't been able to confirm it for the Shaw Film Series. The potential audience is assured there will be a solid backup that is aimed to please.  
The final film of this year's series, Once Upon a Time... in Hollywood, will light up the screen on Feb. 22. This film did not play at TIFF but did go on to be nominated and win several awards, including winning three Golden Globe awards for best motion picture, best screen play and best performance by an actor in a supporting role in a motion picture (Brad Pitt).
Tickets are $12 and can be purchased at the box office or online at https://www.shawfest.com/event/film-series/.