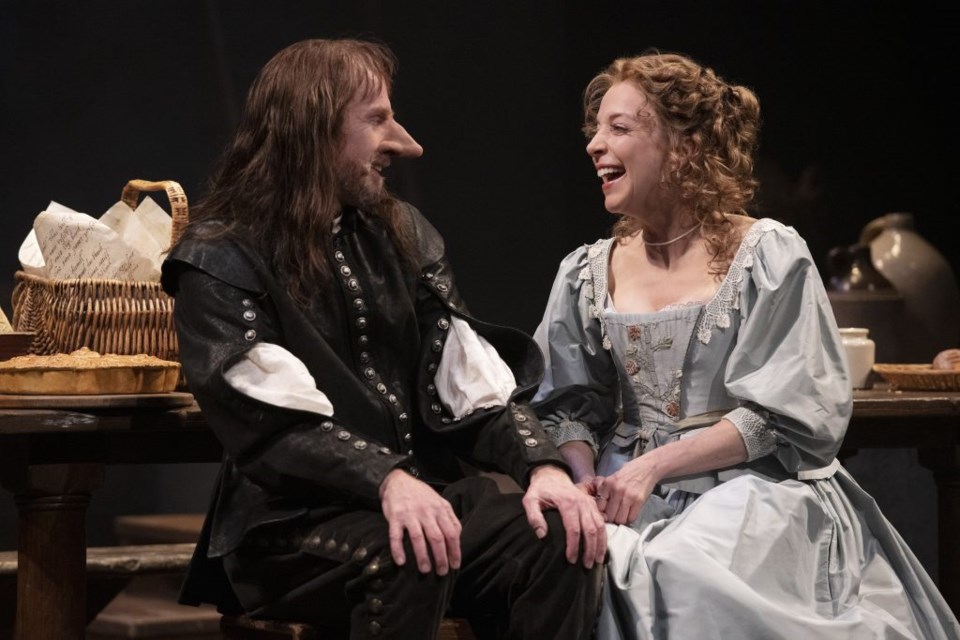 It's fitting that Shaw Festival's first 2022 presentation in one of its signature theatres is a play that was part of its last pre-pandemic full season.
Cyrano de Bergerac has returned to the Royal George Theatre with the same actors in the lead roles, in a play adapted by the same writer and helmed by the same director, with a set that seems as if it never left the stage.
All of that amounts to a very, very good thing.
Tom Rooney is back as the title character. He perfectly embodies Cyrano, a confident, boastful raconteur who uses his eloquent and at times acerbic words as effectively as he does his sharp sword.
But his hubris fails him in his desire to capture the heart of his cousin Roxane, expertly played once again by Deborah Hay. In her company, he can't see beyond the end of his own nose to his endearing qualities, hung up as he is on his prominent proboscis. Its grotesqueness makes it the centre of many jokes, though these are rarely told to the swashbuckler's face.
Enter Jeff Irving, returning as the handsome yet vapid beau-hunk Christian de Neuvillette. His supermodel good looks catch the eye of the swooning Roxane, much to the chagrin of Cyrano. Yet Christian, incompetent orator as he is, cannot string together the words to express his love for her.
That, of course, is where Cyrano jumps in, offering to be Christian's scribe, and even his voice in one of the play's most well-known scenes. It's an easy yet painful task for him. The words flow like water in the river Seine, but each wave pierces the nobleman's heart, knowing as he does that his skilful prose is helping the younger cadet win the hand of his beloved cousin.
It's a tale as familiar as it is enduring. Written in the late 1890s by Edmund Rostad, Cyrano de Bergerac is based loosely on the life of a real person and set in the 1640s during the Franco-Spanish War.
Originally written entirely in verse, it was an immediate hit upon its premiere in France in 1897. There have been a number of translations and adaptations through the years, with a half-dozen film and television presentations of the story. And many, many more if you include cartoon retellings (Cyrano de Bugs, anyone?) and the 1987 Fred Schepisi romcom Roxanne starring Steve Martin and Daryl Hannah. Shaw first mounted a production of Cyrano for their 1982 and 1983 seasons.
As she did in 2019, Kate Hennig has again translated and adapted the story for Shaw's stage. She has done a marvellous job in bringing out both the pathos and the humour in this story of unrequited love.
The Royal George is used to its utmost by director Chris Abraham. Characters enter and exit through the doors behind the back row, continuing their dialogue up and down the aisle. It sets an almost immersive tone, especially during the first scene, which takes place in the theatre of the Hôtel de Bourgogne. From the stage actors look out to audience members as if they were sitting alongside those of the performance within the performance.
As with a number of Shaw's recent productions, the cast is diverse, with Michael Man portraying both a pickpocket and a mistress, Nafeesa Monroe playing Le Bret, and Keira Sangster taking on various roles, including one as a cadet in the French army.
Rooney is an expert Cyrano, capturing his humour and his sarcasm in equal measures. A particular standout is a long string of humorous comparisons he makes of his own nose to various horrors. That takes place during a sword fight with the Viscount Valvert, to whom Roxane is expected to be wed. The audience laughed uproariously throughout, especially when he dropped the clever name 'Nostrildamus' at one point.
Rooney's portrayal of the lovelorn Cyrano is such that theatre goers can see past the character's outstanding physical trait to both the pain and love within his heart. The audience can feel his desire for Roxane to choose his soul over Christian's beauty, to love him for what he is. And they also feel his fear of stepping out of the shadows to profess his love. Rooney endears himself to the audience, wearing Cyrano's emotion on his face.
Act Two begins on the battlefields of the war and stands out as a tour de force for the production, with the humorous feast a prelude to the brutality of the battle with the Spaniards. It ends in a convent, where Cyrano visits Roxane regularly to bring her his Gazette, his weekly outline of events in and around Paris.
It's in the convent when Hay's exquisite Roxane and Rooney's ageing Cyrano come together, playing off of each other expertly in the play's moving and poignant final scene.
The tried and true Cyrano de Bergerac is a theatrical version of comfort food. It's a welcome return to the Royal George Theatre, as well as a welcome return to normal theatre going, albeit with masks and vaccine passports checked at the door, as per Shaw's current duty of care procedures. It's on now until May 8, with tickets available via shawfest.ca.