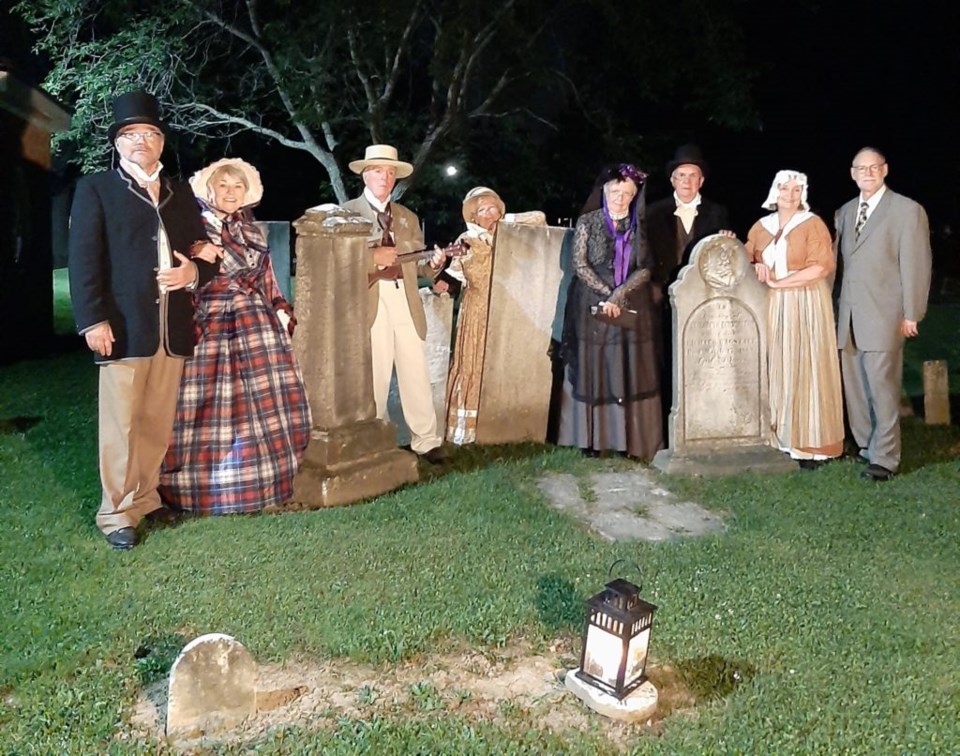 As night falls, spirits come alive.
Well, at least their stories do, through some in-depth research, dedicated actors and a bit of artistic licence.
The Niagara Historical Society & Museum and St. Andrew's Presbyterian Church have teamed up to bring a few of the prominent residents of the church cemetery alive, through a unique and immersive theatrical experience.
The Theatrical Cemetery Tours have been running since 2012, beginning at St. Mark's Anglican Church, and now are in their second year at St. Andrew's, during the 225th anniversary of the historic church.
The tour begins inside the beautiful and impressive church. Ticket holders are invited to sit in the nave with its timeworn floor boards and white panel-walled straight benches and pew boxes, harkening back to the Elizabethan style of long-gone architects of this remarkable church.
They are joined by a cast of characters who meander into the pews as if they were congregating to hear a Sunday morning sermon. Each is dressed in a costume representative of their character, time and station.
The first encounter with the otherworldly is a ukulele-playing mystery "spirit," who greets them with a familiar diddy and a chuckle. He is their minstrel and guide, as they follow him down the aisle and out of the church into the fading light of a warm September evening.
The path to the cemetery is lined with lanterns perched on broken tombstones, shedding additional light for the uneasy stroller wary of stepping on a resident's grave.
The first destination is the gravesite of two of the most prominent members of St. Andrew's cemetery, Ann Vansickle and William Duff Miller, portrayed by actors Jane and Tom Catcher. The stage is set and the scene begins.
All of the vignettes on the tour offer an entertaining look into the lives of some of Niagara-on-the-Lake's former inhabitants. Participants get a glimpse into their family trees, their accomplishments, and their contribution to the community. Stories tell tales of immigrant struggle, military service, and entrepreneurial spirit. Some stories have the added intrigue of a murder trial and grave robbers.
Each scene was written and directed by Barbara Worthy, and is based on the research provided by the museum and church. Pam Mundy, assisted by Elizabeth Senson, brings these characters to life visually through her costuming talents, while the mood and ambiance is enhanced through lighting provided by Lesley Stewart and Leanne Jones.
The tours are capped at 25 participants to ensure all are given ample space to see and hear as they gather around the gravestones for each scene.
So put on your walking shoes and take a stroll through St. Andrew's graveyard at twilight. You never know who you will meet and what you will learn. Just follow the fellow in the hat playing the ukulele and sing along.
The tours will be offered for two final dates, Friday, Sept. 27 and Saturday, Sept. 28 at 6 p.m., 7 p.m. and 8 p.m. Tickets are $12 and must be purchased in advance. Call 905-468-3912 to reserve your tickets.
Cast and Crew:
Tom Catcher: William Duff Miller
Jane Catcher: Ann Vansickle (wife of Duff Miller)
Judy Thornton: Katy Young (wife of John Young)
Stephen Steele: Erland Field
Pam Mundy: Mrs. Charles Camidge
Denise Ascenzo: Rachel Rutherford
Rick Meloen: John McFarland Sr. (son of Old John McFarland)
Geoff Senson: Willie Blain
Lesley Stewart - Lighting
Leanne Jones - Lighting
Briar Collins - Photography