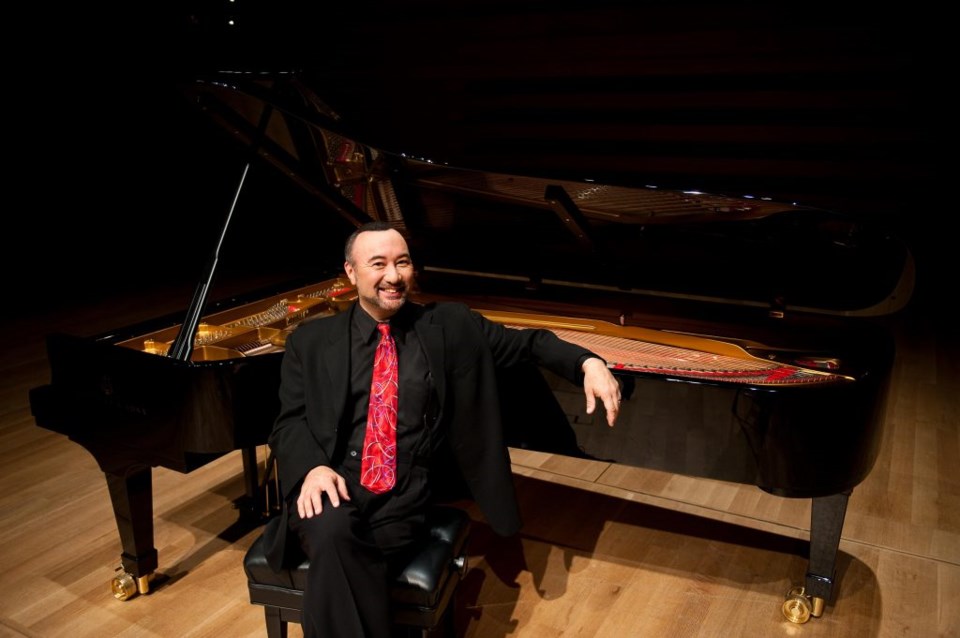 Genial, charismatic, enthusiastic, dramatic. Those are all adjectives often tied to Vancouver-born pianist Jon Kimura Parker, who appears at the FirstOntario Performing Arts Centre's Recital Hall in a Bravo Niagara! Festival performance May 29.
"I can't speak to charisma," he laughs on the line from his summer home on Orcas Island, "but I can tell you I am wildly enthusiastic. I guess it's sort of revealing that the three pianists that I admire the most were Arthur Rubenstein, Elton John and Oscar Peterson. They shared an incredible enthusiasm for what they were doing."
Parker tells a story of sitting just 20 feet away from Peterson at the Blue Note in New York. He remembers the Canadian master of the piano grunting with pleasure at playing with his bandmates.
And three years ago he was at an Elton John concert in Houston, where he was blown away by his energy and enthusiasm. Parker adds that Rubenstein, who continued to perform into his 90s, made you feel like he was inviting the listener in.
Parker has had the chance to meet all three of his idols, and to tell them exactly how much he admires them.
From a classical pianist, perhaps it might be a bit odd to learn that Elton John would be amongst his favourites.
"It was thrilling for me that a pianist in the rock and pop music world was a superstar," Parker remembers about his early love for the flamboyant Brit. "I have perfect pitch, and I learn music fairly readily by ear. I started learning all of the popular Elton John songs. I was a quiet band kid (at the Alpha School in Burnaby, BC) and I made friends by playing his songs on the upright piano at lunch in the cafeteria."
From there, he began to appreciate John as a performer. And he realized that he could make connections between the pop superstar and classical music.
"If I play the last movement of Beethoven's Moonlight Sonata," explains the 62-year-old, "which is viscerally exciting, kind of a perpetual motion from beginning to end, I make that connection. And I can make a link to Jimi Hendrix playing a guitar solo. That's why I don't like a classical recital to feel stuffy. I want people to feel that they can respond."
The Bravo Niagara! Festival audience will be able to decide for themselves if they detect those connections, as Parker promises that the very same Moonlight Sonata will be part of his repertoire on May 29.
That, along with a fiery piece ("Scherzo Op. 14") from Clara Schumann, whom he calls a brilliant composer, and Brahms' Handel Variations make up the first half of his program.
"The Brahms is the big serious work in this program," he says. "It's one I played in my 20s and didn't play for a long time. It's more difficult than fun to play, but I played it a lot during the pandemic, and realized I really wanted to play it again."
The second half will begin with what he refers to as a Schubert sorbet before moving into a repertoire of 20th and 21st century music, showcasing a more contemporary approach to playing the piano.
"I was always a huge fan of Chick Corea, and Alexina Louie is my favourite Canadian composer and I've worked with her a lot," says Parker. "I'm playing an Oscar Peterson piece ("Blues Etude") that is very special to me, and American composer John Adams is another one I've worked with in the past."
He'll finish with a crowd-pleasing take on Harold Arlen's music from The Wizard of Oz.
"It's a Fantasy by American composer, William Hirtz, who is just a genius at putting things together and making them work at the piano."
In fact, Hirtz originally wrote the arrangement, which weaves together a number of the most recognizable musical themes from the classic film, as a piano duet. Parker asked Hirtz to rewrite the piece for solo piano, but when he did, he left all of the notes from the duet in the new version. Parker calls it a handful, but also a modern classic.
Parker, who will turn 63 on Christmas Day, enjoys speaking to his audience often during his performances. He says it is an attempt to bring them closer to the music, to give them the feel that they are sitting in his living room listening to him play.
One could imagine his own living room on Orcas Island, as well as the one at his home in Houston, where he is the chair of the piano department at Rice University, is often full of music. Parker's wife is violinist/violist Aloysia Friedmann, who is the associate concertmaster for that city's River Oaks Chamber Orchestra and performs with the Houston Grand Opera. Friedmann is the daughter of the late violinist Martin Friedmann and 101-year-old oboist Laila Storch, who lives with the couple on the island.
Though Friedmann grew up in Seattle, just two-plus hours from Parker in Vancouver, the couple met in the Juilliard School cafeteria in New York in the early 1980s. Their 22-year-old daughter fittingly studied both piano and violin on her way to becoming a visual artist.
Orcas Island is the northernmost of the San Juan Islands, situated northeast of Victoria. Friedmann is the founder of a chamber music festival there, at which Parker will be performing for two weeks this August.
Parker learned piano at the side of his uncle Edward Parker, taking his weekly lessons home to work on them with his piano teacher mother Keiko. His sister Liz followed in their mother's footsteps, becoming a piano teacher in Toronto, while his brother Jamie heads the piano department at the University of Toronto.
Of Parker's many CD releases, he points to the collection of Mozart piano concertos that he worked on with Jamie and his conductor/pianist cousin Ian as his fondest recording memory.
"The process was so much fun," Parker recalls. "We were just having a blast. And I snuck the Star Trek theme into the recording. I did it very subtly, but if you listen to the first movement cadenza, right near the end, you'll hear it. I was thrilled that I got away with it."
Parker last played a Bravo Niagara! Festival show in 2017 at St. Mark's Anglican Church in Niagara-on-the-Lake. He is looking forward to returning to the region and taking the PAC stage for the first time.
"I am so impressed by (festival founders) Alexis and Chris and their commitment to bringing the arts to Niagara," he says. "The presence of an audience for the arts very much boils down to one or two people who are really committed to putting in the work. They are those two people, and no one should take that for granted."
Tickets for the Sunday, May 29 recital are $50 for adults, $25 for students and youth, and are available through bravoniagara.org or firstontariopac.ca. The program begins at 3 p.m.