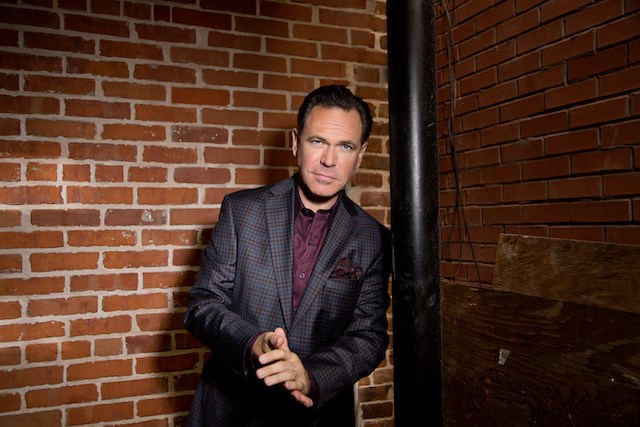 Kurt Elling (Photo supplied)
Niagara residents will have the rare chance to catch a live performance from one of the world's most renowned jazz vocalists next week.
Bravo Niagara! brings Grammy Award winner Kurt Elling to the FirstOntario Performing Arts Centre in St. Catharines Feb. 14. 
The concert is being billed as A Century of Heroes. Elling and his ace band — Stu Mindeman on piano, Clark Sommers on bass, Ulysses Owens Jr. behind the drum kit, Troy Roberts playing saxophone and Tito Carrillo on trumpet — take on the music of Frank Sinatra, Billy Eckstine, Jon Hendricks and Nancy Wilson.
In addition to his Grammy Award, Elling has won male singer of the year in the Downbeat Critics Poll 13 times, the Downbeat Readers' Poll seven times, and the JazzTimes Readers' Poll on eight occasions. He has also taken home awards from Germany, Poland, the UK and Scotland.
Alexis Spieldenner, who, along with her mother, Christine Mori, the founders of Bravo Niagara!, are thrilled to be presenting the Elling concert. The pair attended Jazz Congress at Jazz at Lincoln Center in New York City a couple of years ago, where Elling's agent reached out to them. Since then, they have been working to find a date to bring Elling here to Niagara.
Before an earlier stop in San Diego, the Chicago-born singer referred to the show as a "chance to take a break from all the heavy stuff that's going on," and to point everyone's attention back to his predecessors, the male and female singers who have made his work possible.
One of the premier jazz vocalists of today, Elling is often compared to Sinatra, and hearing his rich baritone and four-octave range take on some of the Chairman of the Board's most well-known songs will certainly be a treat for jazz fans.
On a completely different note, Elling will also perform songs linked to "vocalese" and scat-singing master Jon Hendricks. The evening will be rounded out by the soul-and-blues influences of Nancy Wilson's repertoire and the swing stylings for which Billy Eckstine was known.
At previous stops on the Century of Heroes tour, Elling and his band have also performed classics from Nat "King" Cole, Louis Armstrong and Shirley Horn.
Spieldenner says the evening fits in perfectly with the Bravo Niagara! mandate, which is to give concertgoers a rare opportunity to experience the world's leading artists, whether it's a large-scale jazz concert or an intimate classical recital.
As an added option, since the Elling concert is on Feb. 14, Bravo Niagara! has partnered with Ravine Vineyard to offer a special Valentine's Day dinner and concert package, which includes a concert ticket and a three-course pre-concert dinner at Ravine with wine and a glass of sparkling.
Spieldenner promises a sneak peek of one of next year's concerts will be revealed at the Elling concert, as well as some information about a special collaboration in 2020-2021 with the FirstOntario PAC. She is thrilled that a number of Bravo Niagara! events this year have been sold out.
Next on the schedule, classical guitarist Milos Karadaglic will be appearing at St. Mark's Anglican Church on March 15.  Karadaglic, based in London, released his latest album, Sound of Silence, last summer. He is returning to the Bravo Niagara! lineup, having last appeared at a 2017-2018 season's fundraising dinner. 
On April 5, Bravo Niagara! presents the Canadian debut of the Brubeck Brothers Quartet's Dave Brubeck Centennial Celebration at the FirstOntario Performing Arts Centre. Their season wraps up with a spring weekend of concerts in Niagara-on-the-Lake. On May 2, it's a new project, From Broadway, With Love, featuring three Broadway stars from Les Mis, Phantom of the Opera, and more. Things wrap up May 3 with two world-renowned virtuosos in recital: pianist and Order of Canada recipient Jon Kimura Parker, and renowned violinist Cho-Liang Lin performing on the 1715 Titian Stradivarius.
Tickets for the Kurt Elling performance, dinner at Ravine Vineyard, and other upcoming Bravo Niagara! shows, are still available. Visit bravoniagara.org for information.