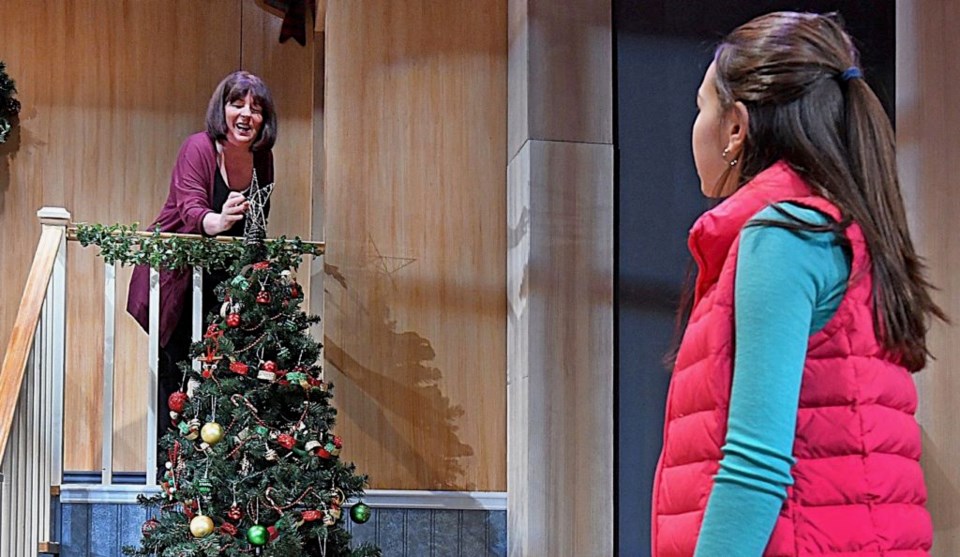 Somewhere in the family, everyone seems to have "that aunt."
That one who shows up out of nowhere, that one of whom everyone has a vague recollection, but many are not exactly sure just how she fits into the family dynamic.
In the world premiere of a new Norm Foster play at the FirstOntario Performing Arts Centre, that aunt is named Agnes. She surprises the small-town Trimble family with a visit just two days before Christmas. The problem is, though, that no one knows who she is.
Aunt Agnes for Christmas is a magical, delightful holiday romp that continues this weekend at the Recital Hall in St. Catharines. It's a new holiday show brought to Niagara as a special extension of the Foster Festival's 2019 season.
Directed by the festival's artistic director, Patricia Vanstone, the play is set largely in the home of Sally and George Trimble, where they live with their two children, Melissa and Brian.
Sally is the town's mayor, while the eternally optimistic George is a salesperson, selling RVs in town. Neither Sally nor George can remember ever having met an Aunt Agnes before. But with George always seeing the bright side, she is welcomed into the family home to celebrate the season.
The chemistry and comedic timing between Sally, played by Cosette Derome, and George, portrayed by Shaw Festival veteran Kelly Wong, is obvious from the start. Not surprising, when one discovers that Derome and Wong are a real-life couple.
Hayden Neufeld, a Grade 4 student at Crossroads Public School who appeared in Yellow Door Theatre's Robin Hood last year, makes his Foster Festival debut as the youngest Trimble child, Brian. His character doesn't say much, but is obsessed with imitating the style of his favourite singers. In Act 1, he postures as a young fedora-tipping Sinatra, walking on to the Peter Hartwell-designed set to maximum comic effect. In Act 2, he becomes a pre-teen Elvis Presley, shaking his hips to the beat of a song only he can hear.
Fifteen-year-old Kate Peters plays the Trimbles' 14-year-old daughter Melissa, who seems mired in boredom. She obviously feels she is destined for bigger and better things than those on offer in such a quaint town. She can't wait to grow up and get out of there.
In swoops another Shaw veteran, Nora McLellan, as Aunt Agnes, to shake things up.
Like a modern day Mary Poppins — without the umbrella — Aunt Agnes possesses special powers, which she uses to fix up elaborate meals out of thin air. Those powers also come in handy when Mayor Sally faces the prospect of the town skating rink being without ice for the first time ever.
But more importantly, it's young Melissa who is the benefactor of Agnes' magic. She is the only member of the Trimble clan aware of her aunt's abilities. Agnes takes Melissa aside and begins to act as the youngster's tutor, showing Melissa how her special powers can be used for the "good of the many."
It's the relationship between Melissa and Agnes where the magic of the play shines. McLellan plays Agnes with a bit of grit and a special zeal that allows the sarcasm and humour of Foster's script to connect with the audience. Think Bea Arthur as Maude, but with more heart and kindness.
Peters is a revelation as Melissa. She and McLellan take the spotlight together for much of the play, and the young Niagara Falls native holds her own with the veteran actor. She exudes a confidence she obviously has developed through appearing in a number of Linus Hand Productions in her hometown. That confidence also shows in her movements across the stage, most likely honed through seven years of competitive dance.
Agnes tasks herself with convincing Melissa of the value of her family and her small town existence. She's a bit like the Ghost of Christmas Present from Charles Dickens' A Christmas Carol, working to ensure her young charge begins to appreciate and savour the magic of the season, and the wonder of "now."
A highlight for this theatre-goer was a cameo by Niagara-on-the-Lake's Mishka Balsom, playing herself as the president of the Greater Niagara Chamber of Commerce. In a short walk-on appearance, she was greeted by Agnes and Melissa while taking a short stroll through town. The Foster Festival is featuring various community members each evening, taking a cue from The Nutcracker, which often features such walk-on cameos.
Aunt Agnes For Christmas delivers its message with heart, soul and humour —lots of humour — and is sure to become a new Canadian classic Christmas tradition.
The play continues at the Recital Hall at the FirstOntario Performing Arts Centre until Dec. 22, with matinee performances at 2 p.m. Thursday, Saturday and Sunday, and evening performances at 7 p.m. Thursday, Friday and Saturday. Tickets are available at the PAC box office, or visit firstontariopac.ca.