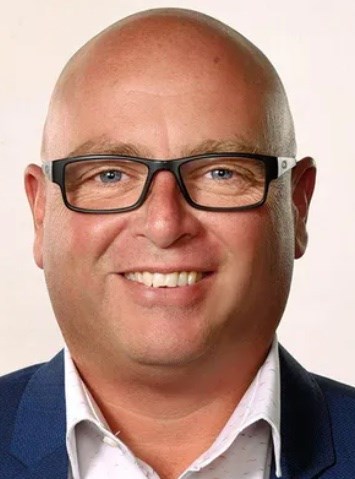 The Ontario Hockey League's Erie Otters are coming to town for a pre-season game at the Meridian Credit Union Arena. There's probably no one more excited about the Sept. 9 tilt versus the Niagara Ice Dogs than local resident Dave Brown.
The hockey lifer, whose home backs onto the Virgil Sports Park, is heading into his 12th year working for the Otters, his third holding down the dual role of general manager and vice-president of hockey operations after signing a contract extension in July of 2020.
After being involved in minor hockey as a coach, Brown began a career in the office when he was hired as general manager by the Ontario Provincial Junior Hockey League's (now the OJHL) Brampton Capitals owner Mike Spadacini in 1999.
"I'd been pretty successful at the minor hockey level,'' says the Toronto native. "I had been helping Mike as an assistant coach when he gave me the promotion. He told me to call the position whatever I wanted as long as I got the job done. We won two championships in three years, and lost the one in the conference final in double overtime of game seven."
His record in Brampton led to him being hired away in 2002-2003 by the OPJHL's Milton Merchants. After a successful first season there, owner Mario Forgione, who had bought the OHL's Mississauga Ice Dogs, promoted Brown to assistant general manager of that team the next year.
Brown spent two years as an assistant in Mississauga before earning the top role in the organization, which he continued to hold when the team made its way to Niagara after it was sold to Brian and Denise Burke in 2007.
"Some of the players we had there in my first few years," recalls Brown of his three seasons in Niagara, "Alex Pietrangelo, Alex Friesen, Freddy and Dougie Hamilton, Ryan Strome, were all players I brought in. The first couple of years, starting up an organization from scratch, they were really good years."
His wife had family in the Niagara region, so the Browns, including twins Mckenzie and Mitchell, now 21, and Logan, now 19, made the move to
Virgil.
Following two losing seasons and being bounced in the first round of the 2009-2010 OHL playoffs by the Ottawa 67's in five games, Burke fired his GM.
"I had never been fired before," Brown says today. "I was shocked. I'm still a bit bitter. But things happen for a reason, I guess. "
After a year out of the league, Sherry Bassin, who had bought the Niagara Falls Thunder and moved the team to Erie in 1996, came calling. Brown held the position of assistant director of hockey operations for three years, and finally took the reins as general manager for the Otters in the 2015-2016 season. 
Today, the team is owned by former Toronto broadcasting mogul Jim Waters, who had major success in radio with CHUM and in television with CITY-TV. Brown says Waters is absolutely the best owner in all of sports.
It's a bit of a tradition for most OHL teams to schedule offsite exhibition games in the pre-season to reach out to local minor hockey communities and charities. The Otters would usually partner with the London Knights, playing a game at that team's home arena, Budweiser Gardens, and another in a smaller community near the city.
But when the Burkes sold the Ice Dogs to a group led by a Brantford business owner Darren DeDobbelaer, Brown approached the new owner with a proposal to play a pair of exhibition games with his old team, including one in what he refers to as his "real hometown."
"My one best move was deciding to live in Niagara-on-the-Lake," says the 52-year-old. "My kids were young when we came here. They all played sports here, too. This has been a great place to raise them."
When he approached current NOTL Minor Hockey president Pete Flynn and board member Trevor Falk with the idea, the entire organization was elated with Brown's idea of giving back to the community he loves so much.
"What better way to give back to minor hockey than to play a game here," says Brown. "Minor hockey groups are always looking for ways to make money, and where would you rather play a September hockey game than in Niagara?"
Early in his time with the Otters, he tried renting an apartment in Erie and dividing his time between there and Virgil, but says that quickly turned out to be something he didn't want to continue. A lot of his work can be done remotely these days, and with the majority of OHL players continuing to come from Ontario, he needs to be in this province rather than Pennsylvania most of the time.
Brown and the Otters also give back to Niagara through a relationship the club has developed with Brock University's sport management program. Since the Toronto Maple Leafs hired Brock grad Kyle Dubas as its general manager, the Brock program has become known as a gold standard in the hockey world.
The Otters' first Brock intern was a Winnipeg-born student named Scott Grieve.
"We got him a work visa so he could come and work with us on a full time basis," remembers Brown. "We financially treated him like a player. In his first year he learned a lot and was willing to do what we wanted. We kept him on, and took more Brock interns after that."
Today, Grieve holds two titles Brown himself once held in his tenure with the Otters: assistant GM and director of hockey operations. And Brown's fifth Brock intern was someone Brown knows even better - his son Mitchell.
Officially listed on the team's website as the team's South Central Triple-A Hockey League scout, Mitchell is now working full time with the Otters, taking on the role of video coach while also helping with sales and arranging team services such as travel. 
"It's important in this business to stay current," he says. "You have to allow these young guys to make you smarter and wiser. You have to stay up to date with technologies, and that's part of what these guys bring. I like to delegate, and I'm also going to be working with Hockey Canada's Under-17 team moving forward, and you can't do that unless you have a good team behind you."
"Working with some of the best players in the world is something I'm really proud of," he says of the national team appointment. "I am pretty elated to be a part of the program, honoured that they thought I could help. I have high expectations for my team when it comes to character and how they represent the Erie Otters. I'll carry that theme with me to Hockey Canada."
Brown's exacting standards have been reflected upon the likes of Conor McDavid, Adam Pelech, Alex DeBrincat and other former Otters drafted to the NHL during his tenure in Erie. "We've had so many great players come through our program here," he says.
Great players such as their number two and three scorers, Elias Cohen and Christian Kyrou, should be back with the team this year and may be making the trip for the game against the Ice Dogs. Local hockey fans will have a chance to catch some of the NHL's future stars on both teams right in their hometown.
Phil Leboudec, NOTL Minor Hockey's local league convenor, says about 25 per cent of the 800 tickets available for the game have been sold. He adds that minor hockey will also reap the proceeds of the concessions stand sales during the game, and they are working on some additional fundraising options. They are hoping to have some mini games with local players between periods, as well.
Tickets for the Sept. 9 game are available for $10 each at Phil's Independent Grocer during normal hours of operation.