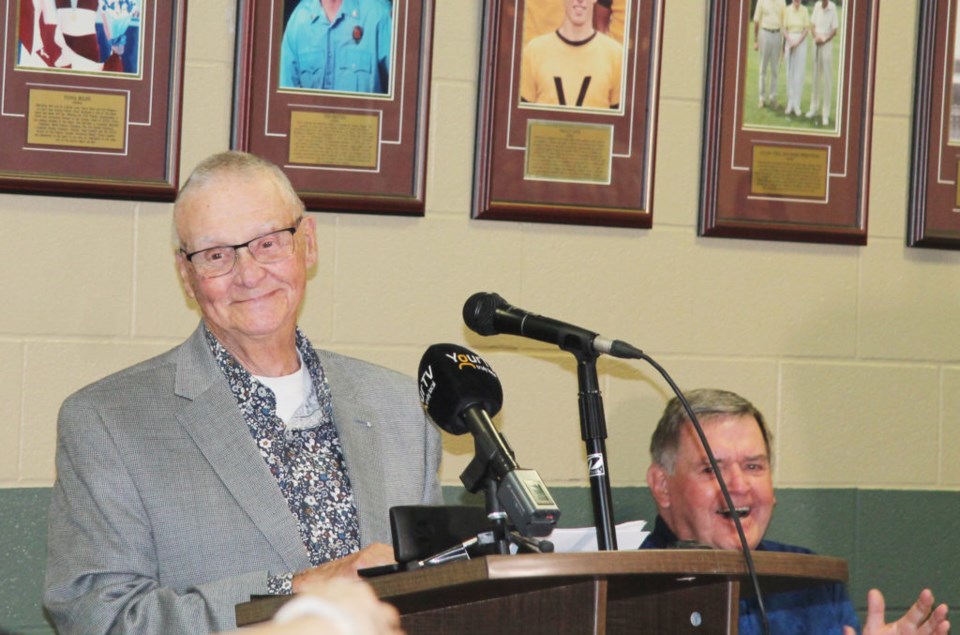 Ward Simpson, chair of Niagara-on-the-Lake's Sports Wall of Fame committee, is happy the town will be able to honour at least two new members this year on the wall of the Meridian Credit Union Arena.
"We struggled with whether to do it or not during COVID," says Simpson, a Wall of Fame member inducted in 2011 for his own contributions to local sports.
"The right decision was to not do it, because one of the best parts of the whole thing is the evening when we present the awards. With COVID, we couldn't do that."
The last ceremony was held at the arena in late August, 2019. That night about 60 family members and friends gathered in the corridor to celebrate the induction of Doug Garrett as an athlete and Dave Wall for his behind-the-scenes efforts as a builder. The Niagara-on-the-Lake Sports Wall of Fame was established to acknowledge those men and women who have made a significant contribution to sports in our community. Since its inception in 2003, 26 others have joined Simpson in the photo gallery at the arena.
The town is accepting nominations for the Wall of Fame until May 6. After that date, the committee will meet to evaluate all the names put forward.
"It's always tough, because we keep all the past nominations and go back through them," explains Simpson. "When we did it last time, we only had one or two new submissions. Hopefully we will get more new submissions this year to make the decision harder. It's always good to have new names brought in."
NOTL manager of parks and recreation Kevin Turcotte says the nominations are actually always open, but the town didn't promote it during the pandemic. Because of that no nominations were received the past two years.
"Normally the committee selects two people each year," Turcotte tells The Local, when asked whether or not more members will be welcomed this year to make up for the two years missed. "Our committee won't meet until after the nominations close, and that's something that we might discuss then."
Only twice before were more than two members inducted. Four were welcomed in 2008 (Harry Steele, Bill Danychuk, Jeremy Rempel and Susan Grimstead), and three in 2017 (Bill Dickson, Marv Edwards and Jack Lowery).
In 2006, Alan, Vera and Mark Derbyshire were inducted together as athletes, and Art and Ted Wiens were welcomed as a tandem of builders in 2016.
In 2018, the committee made the rare decision to induct only Bob Hunter in the builder category for his contributions to minor hockey. "It's not necessarily always an athlete and a builder," Turcotte says. "It's based on the applications we receive, and the committee's recommendations that get brought forward. It depends on which applications are supported by the majority of the committee."
To nominate an athlete or a builder, Turcotte asserts there must be support from at least five people in the community on the official form. That lends more weight and support to each particular nomination.   Simpson adds that whether an athlete or a builder, each member of the Wall of Fame must have been a resident of Niagara-on-the-Lake while initiating his or her athletic endeavour.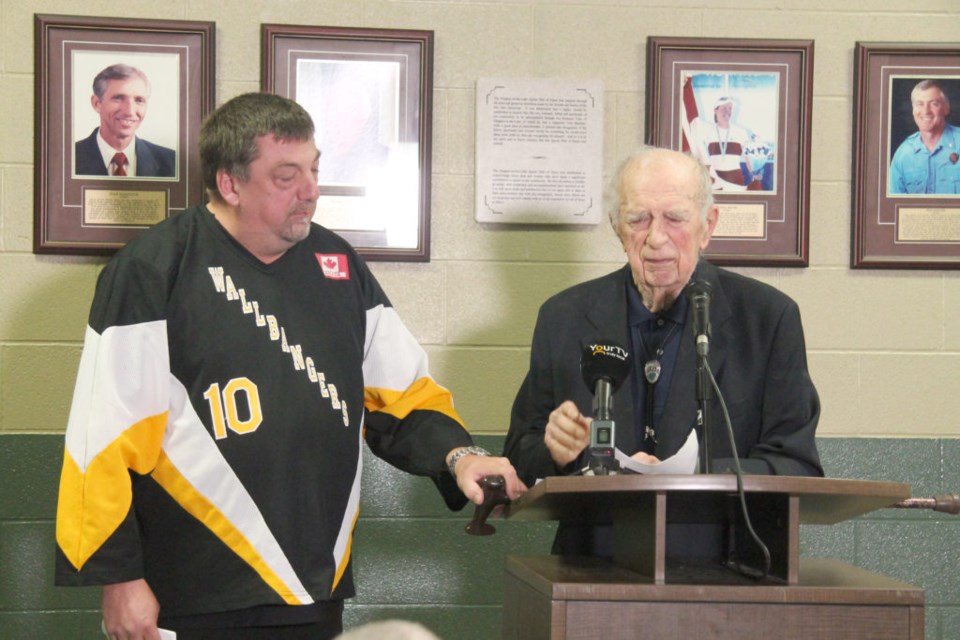 "It's fairly strict," Simpson explains. "We've had people who have moved to Niagara-on-the-Lake in their later years who were great athletes, but not really in Niagara. We're not able to accept those applications because they're not Niagara natives." One of Simpson's favourite parts of chairing the committee is discovering the contributions of people he didn't realize had contributed so much to the community. "We hear about some people who we didn't really recognize as sports heroes," Simpson says. "That makes it a lot more interesting. And it makes the decision process challenging, too."
"There's a real sense of community, and I think you can see that on the wall," says Turcotte. "People enjoy telling people that they are from Niagara-on-the-Lake. And people are proud of the efforts of others to build sports facilities and leagues. It's a celebration of sports in Niagara-on-the-Lake. The wall is indicative of people contributing to the community in whatever way they can."
Funding for the plaques and frames comes from various organizations and sponsors, including the Niagara-on-the-Lake Kinsmen Club and Rotary Club. N o m i n a t i o n forms can be found at https://notl.civicweb.net/ document/22530.