Will open playoffs Wednesday, March 9 at 9pm at Port Colborne's Vale Health & Wellness Centre, adult tickets are $10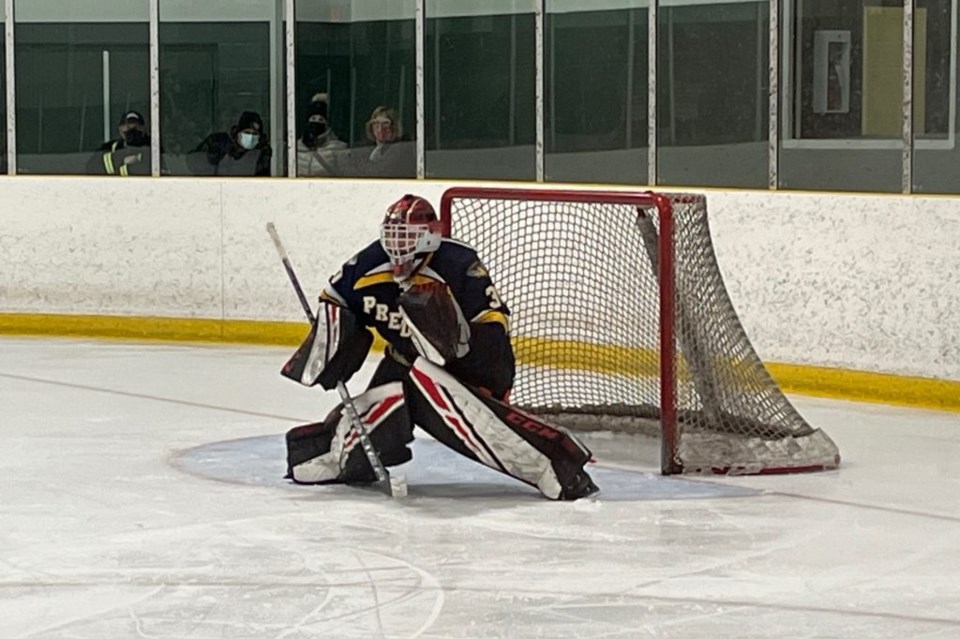 The Niagara Predators have clinched third place in the Greater Metro Junior A Hockey League despite some strange circumstances over their last four games, playing only two games but earning five points in the standings.
The Predators leapfrogged over their rival St. George after a COVID outbreak caused the Ravens to forfeit games scheduled for Friday night in Virgil, and this Tuesday night at the Vale Health and Wellness Centre in Port Colborne.
Because of those forfeitures, Niagara was awarded two wins and four points for those games, which show up officially as 3-0 victories on the GMHL website. It's not the way Predators owner, head coach and general manager Robert Turnbull wanted to move past the other GMHL team he owns.
"It's a huge let-down for all of us," Turnbull said this week. "We've played very well against them. One of their players got COVID, and of course, when you get one you're going to get more. Another one tested positive the next day. You can't take any chances."
With the GMHL's regular season wrapping up this weekend, there was no room to find a new date for either game. Tuesday's 'home' game in Port Colborne had already been rescheduled from the extended January break when non-elite amateur sports were barred from continuing under provincial restrictions. With the Meridian Credit Union Arena fully booked, the Vale Centre was to be the best alternative.
"We looked at rescheduling it," added Turnbull. "But it would have been Thursday, and we'd have been looking at four games in four nights. To play four games in a row, that's jeopardizing our players' health going into the playoffs. And we're already short. I refuse to put the players' health in jeopardy."
Their other two games over their recent four-game stretch resulted in a single point, with a loss in Oshawa last Wednesday to the Durham Roadrunners and a shoot-out loss to Plattsville Sunday.
In the Durham game, Niagara was outshot 54-41 in a 4-3 decision. Despite the loss, goaltender Morgan Penwell was chosen as the game's first star for obvious reasons.
"He played a hell of a game," raved Turnbull. "Fifty saves! We had nine forwards and five defencemen. Two players couldn't come due to work commitments, as it was a 9:30 p.m. game. We played fabulous, but we managed to lose the game on a freak goal with not too much time remaining."
The goal in question came with just over six minutes left in the game. Players from both teams were gathered around the crease when Roadrunners forward Kevin Serio managed to come up with the puck. He took a shot that caromed off the skates of three or four players and found its way past the goalline.
The Predators held leads of 2-1 and 3-2 in that game before Durham's Trevor Urquhart tied it up late in the second. Georgy Kholmovsky, Jason Humphries and Reese Bisci all found the net for Niagara.
Sunday's game turned out to be the Predators first taste of overtime and first shootout of the season.
Alexander Insulander opened the scoring 1:33 into the game with assists from Humphries and Kholmovsky. Malcolm Campbell tied it up just a minute and a half later, then Noah Caperchione and Bisci scored for the Preds before Plattsville's Lucas Bast closed the margin to 3-2 by the end of the first period.
Niagara couldn't solve Lakers goalie Rahul Bola from that point. Plattsville's Kyle Struth forced the tie with five minutes remaining in the second, and both teams went scoreless in the third and through the overtime period.
Bola came through in the shootout for the Lakers. Humphries was first to try for the Predators, ringing his shot off the goalpost. In succession, Caperchione, Insulander and Dante Massi were all stopped by Bola. After Niagara goaltender David White stopped three Lakers attempts, Bast snuck one past him for the shootout victory.
"I thought we could have played a lot better," reflected Turnbull. "I have to give Plattsville credit. They played aggressively, moved the puck, had a good transition game, and their goaltender was very good."
The Ravens are two points behind Niagara in the standings with a single game to play, while the Predators will close out the regular season with three this weekend. On the strength of their winning percentage and their 4-2 record face to face, the Preds have locked up third place in the North Division, seven points behind second place North York.
Niagara will face either Plattsville or Streetsville in the first round of the GMHL playoffs, depending on the outcome of the games played by those two teams this weekend. The Predators are 4-1 against both teams this season, though they visit Plattsville again Sunday.
"We match well against both of those teams," Turnbull said. "This weekend, we'll give a couple of guys some rest to prepare for the playoffs. Josh (Davidson) needs some rest for his shoulder, and a couple of others as well. We're going to focus on the power play and the penalty kill, and we need to improve our transition game as we head to the playoffs next week."
The last home game of the regular season sees the Predators hosting the last place Tottenham Thunder, with a 3-30-1 record this Friday at 7:30 p.m. They travel to Tottenham for a Saturday night rematch, before wrapping up the season with a 3:30 p.m. game Sunday at Plattsville.