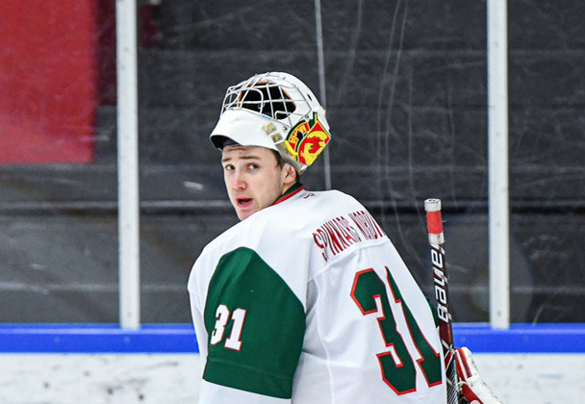 The Niagara Predators opened up their main team camp last Thursday at the Meridian Credit Union Arena, with 15 players taking to the ice.
After holding a prospect camp the previous week, coach Andrew Whalen had his first opportunity to gather some key players on the roster to begin preparation for their first season playing out of the Virgil arena.
General manager Johan Eriksson was pleased to finally see some of the team's Swedish imports skating alongside his Canadian signings.
Goaltender Oskar Spinnars Nordin arrived in Toronto from Sweden last Wednesday. He had just one day to settle in with his Virgil billet family before shaking off his jet lag and donning his goalie equipment.
"It felt good," Spinnars Nordin commented about his first time on the MCU Arena surface. "The guys are nice. Friday felt a lot better because the jet lag was coming off."
Getting used to the surface is something all of the international Predators will have to do. International rinks are 15 feet wider than those in North America.
"I just have to get a feeling about the rink because it's so much smaller than in Sweden," Spinnars Nordin said. "You have to do everything just a little bit faster. Here, all the guys go straight to the net. There's a lot more offence here."
Spinnars Nordin credits Eriksson, also a native of Sweden, for attracting him to Canada to play for the Predators. Last year he manned the net for five games with the Mora IK J20 team, playing in the highest level of the country's junior hockey leagues.
He shouldn't have any problem adjusting to life in Niagara-on-the-Lake. Mora is actually smaller than his new home here, with a population just under 11,000. Mora's Smidjegrav Arena was one of two host sites for the 2007 World Junior Ice Hockey Championships.
He loves the set-up with his host family, the Rivers, in Virgil, who live just a short distance away from the rink.
"They're really nice, the home is really nice," said Spinnars Nordin. "I have a gym downstairs, I can watch highlights of hockey and train and stretch."
Formerly a forward in his early years, he made the switch to netminder full-time at 12 years old. He remembers his father Danne, who also played junior hockey, not being happy with his son's decision. But Oskar was adamant that his hockey future lay in the crease.
"The position is such that everyone can see you," he told The Local. "If you make a mistake, everybody can see that. You can be the hero, or the one everyone is talking down about. I like the pressure, having the game on your shoulders. Henrik Lundqvist and Carey Price, those are the guys I look up to the most."
The 5'11", 174 pound 19-year-old calls himself adventurous, having already lived away from home for four years to pursue his hockey dreams. His family is all back in Sweden. Oskar, the youngest of three children, is the first to venture to Canada for an extended stay.
"My brother thinks it's cool," he said, "but my sister is a bit worried about it. But she motivates me too. She does like that I'm going out on this adventure."
His parents are planning to visit before the end of 2021.
Spinnars Nordin is hoping the opportunity with the Predators will turn into an invitation to study and play hockey at an American college. He plans to study political science in preparation for a future career in diplomatic services.
GM Eriksson is expecting that Spinnars Nordin's experience at the top ranks of Sweden's junior system will take him to a leadership role with his new team. His partner in goal is another Swede, William Fagemo, whose brother Samuel was drafted in 2019 by the Los Angeles Kings.
"He's two years younger than me," Spinnars Nordin said. "It's good that we can talk Swedish to each other, and we can push each other to the next level."
Eriksson is still in the process of assembling the final pieces of the Predators' puzzle to finalize the roster before the Oct. 1 kick-off of their season.
Swedish power forward Emil Eriksson (no relation) was expected to arrive late Sunday evening, while Alexander Insulander, Eriksson's teammate last year with Åker/Strängnäs HC of the Hockeyettan league, was awaiting confirmation of his insurance coverage before he could skate with the team. Joakim Sjoblom, who is expected to be the Pred's first-line centre, will arrive late this week.
Immigration issues are also delaying the arrival of a few more European players.
Recent local signings include defenceman Josh Davidson of Thorold, Welland's Reese Bisci, and 18-year-old Dawson Walker, who played for the Southern Tier Admirals U18 AAA team in 2019-2020.
Eriksson is hoping to be able to entice a few more players with Junior B experience over to the team. As the local Golden Horseshoe teams in the GOJHL are just wrapping up their training camps, he expects he will be able to pick up a couple more players who are cut from some of those teams.
"The roster and final line-up "will not be set until fairly late," says Eriksson. "I have seven over-ager spots left. Right now I think we have the youngest team in the league. I still want to keep it fairly young, because I want to develop this team for the future."
Practices will continue for the Predators throughout this week.
This Friday will be the first opportunity for the community to see the new team in action. The Predators host the St. George Ravens at 7:30 p.m. on Sept. 24. Admission to the exhibition game is free.