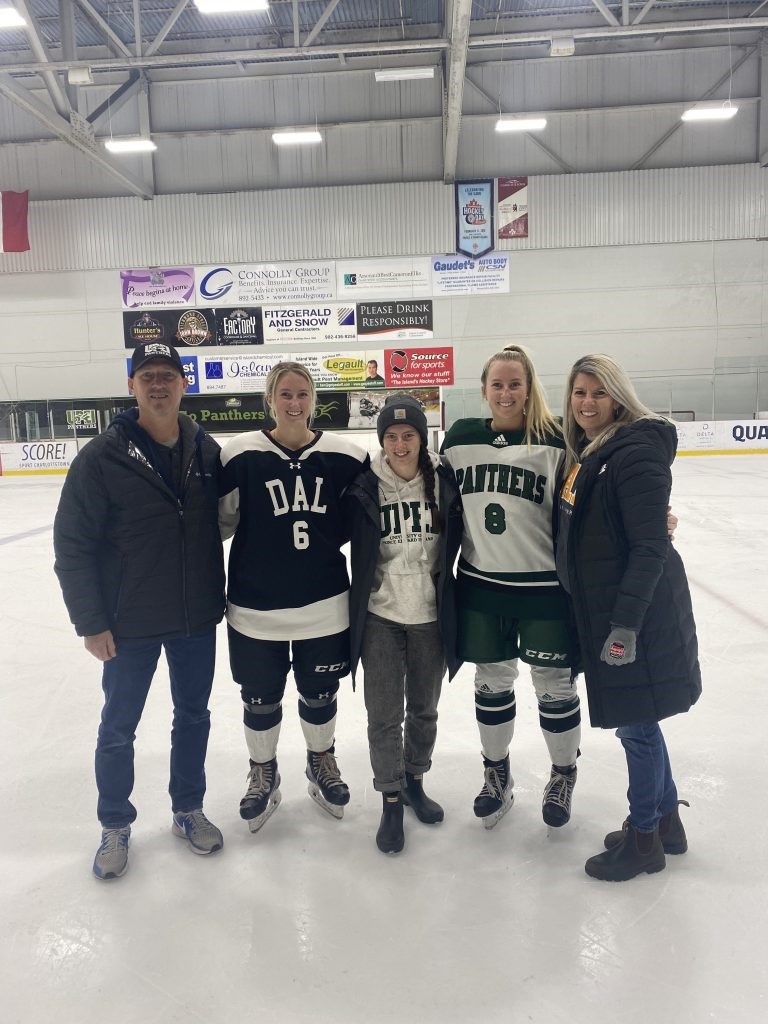 It was parents' weekend for the women's hockey team at the University of Prince Edward Island (UPEI), and the Atlantic University Sport (AUS) schedule made last weekend a perfect occasion for a Penner family reunion.
Twins Avery and Emma Penner are both attending university and playing hockey in Eastern Canada. The 19-year-old identical siblings have been on the same team for most of their hockey lives, but this year is different.
Emma is studying kinesiology at Dalhousie University in Halifax and playing for the Tigers. Avery, also studying kinesiology, is a member of the UPEI Panthers.
Friday night was the second time this season the sisters squared off against each other in Charlottetown. Avery, who has one year up on Emma playing AUS hockey, has bragging rights so far, UPEI having won both games.
Parents Gerry and Kelly and 17-year-old sister Abbey flew out Friday to spend the weekend in Charlottetown and take in the game. Though they were in the Panthers' home arena, not one of them was able to choose sides.
Emma describes the experience of seeing her sister for the first time in person on Oct. 22.
"I walked into the rink, saw her, dropped all my stuff and gave her the biggest hug. There were a few tears in there, but it was amazing to be back with her. We talk every day, multiple times, so it's not like we're missing out on anything. But just to be there with her and to be able to talk in person, it was amazing."
For both games the Penner twins were the talk of the town.
"I went back and watched a little bit of the video (of the Oct. 22 game between UPEI and Dalhousie) and it was very funny with the announcers," Emma says. "It was 'Penner Penner Penner'. They had a few things to say about it, which was pretty neat."
Both girls were on their teams' starting lines. They assembled on opposite blue lines facing each other for the anthem.
"They're playing 'O Canada' and our helmets are off," explains Emma. "My whole team was staring at both Avery and me on the blue lines. It was crazy for them to see someone that looks just like me on the other team. It was a pretty neat conversation after the game with my teammates."
Playing hockey together on the same teams in Niagara Falls and St. Catharines, and in high school at Holy Cross and Ridley, it didn't seem strange to see identical twins on the ice. But on opposite sides in the AUS, with the two universities separated by about 3.5 hours, it was a rare treat for fans and teammates alike.
Neither Penner girl made it onto the scoresheet for either game, the first a 4-3 shoutout victory for the Panthers, and last Friday's a 3-2 UPEI win in regulation.
As starters, the girls often found themselves on the ice at the same time, Emma playing forward facing Avery on defence.
"At the beginning of the game, Emma came down on a 3-on-2 and I kind of took her into the corner," Avery laughs. "I heard everyone screaming. I knew it was Emma but I had to treat her as if she was any other player."
Later, with the Panthers on the power play, the twins faced each other again.
"I went to take a slap shot from the blue line, and there she was," Avery continues. "She blocked my shot right in the leg. I didn't realize it was her until I looked up. I had already released the shot and I was like 'oh my goodness, I just shot the puck right at my sister'."
"I knew it was her shooting," says Emma. "Avery has a pretty hard shot, so when I went down to block it I knew it was going to leave a mark. I got hit right on the thigh."
At times both girls had to remind themselves what their objective was in the game.
"It was tough during the game because obviously I want Avery to succeed as a player," Emma says. "During the game I found myself on the bench saying 'oh, Avery, that wasn't a great move' or something like that, but then realizing I was playing against her. I was cheering for Avery to play well but I also wanted my team to win."
The Ridley grads actually separated last year when Avery began her studies at Dalhousie, while Emma decided to play an extra year at Ridley College.
"I was really impressed by how well she played," Avery says. "As an older girl at Ridley she was on the top line, playing with the best players. She was bound to improve."
Gerry Penner isn't surprised to see his older girls playing on different university teams.
"They planned that," he says. "They figured that once they got to university they were going to split and go their separate ways. They both wanted to go out east, though, because a lot of the girls from the Ridley hockey team were from there."
The proud father feels their experience at Ridley, where they also played rugby and lacrosse, prepared them for living away from home.
"We were fortunate enough at Ridley to have a very busy schedule that prepared us for university hockey," says Emma. "And we travelled a lot for games."
In the same program at different universities, both Avery and Emma have similar aspirations. They both plan to continue to play the sport they love until they graduate, and then attend graduate school with the hope of future careers in medicine. Neither has aspirations to continue playing competitively past their 5-year university eligibility.
And though they are more than three hours apart, they spend a lot of virtual time together when they're not facing off against each other.
"We average about three or five phone calls a day," Avery says. "And we use FaceTime. That's how we keep in touch, whether it's for half an hour or two minutes. And we play against each other once a month."
The Friday family reunion lasted into the evening, with dinner out after the game, but the difficult part was when Emma had to leave with her Tigers teammates for a Saturday game in Moncton.
After the Christmas break, the tables will be turned the next time they have an opportunity to all come together out east, either Jan. 15 or Feb. 9, this time in Halifax.