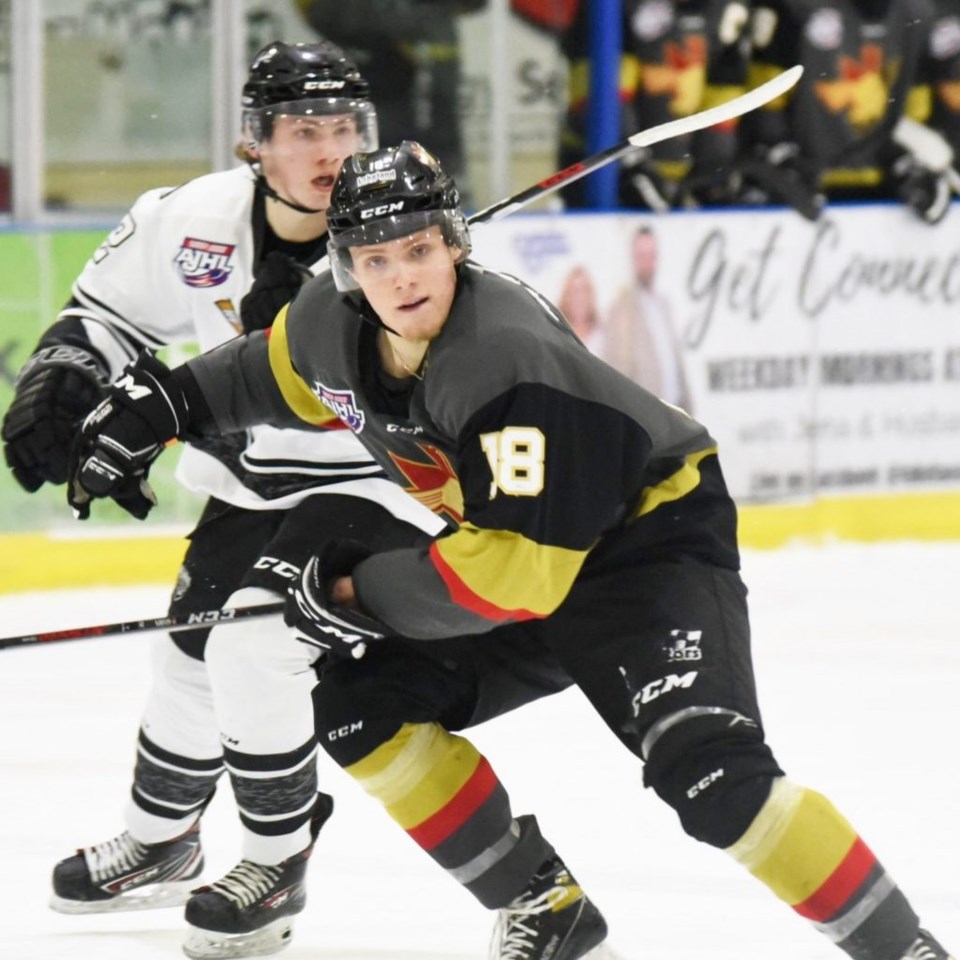 Matteo Giampa's hockey journey will soon be bringing him back home, following four years of pursuing his dream in Connecticut and Alberta.
The St. Michael Catholic Elementary School grad and former Holy Cross Secondary School student has committed to the NCAA Division I Canisius College Golden Griffins in nearby Buffalo, NY. He'll play one more year with the Bonnyville Pontiacs of the Alberta Junior Hockey League (AJHL) before joining the Atlantic Hockey Conference (AHC) team for the 2023-2024 season.
"I'm really excited, and my parents are super happy," Giampa says from his billet home in Bonnyville, AB, where he is completing his first season with the AJHL's Pontiacs. "They'll be at every game. I've skated there a number of times during my junior career, and I've done a couple of Junior Sabres camps over there. I love the rink, I love the facilities, and I love the staff."
"Everything's been great, Canisius has been great," he continues. "I'm tremendously honoured and grateful for the opportunity that they've given me."
After playing hockey for his hometown NOTL Wolves, Giampa moved to the Niagara North Stars AAA U15 team in 2017-2018. The following year he played for that organization's U16 team, with a call-up to the older U18 age group for a single game.
He captured the attention of Ontario Hockey League scouts, and in the April, 2019 OHL draft he was chosen in the third round by the London Knights. He was 15 years old.
Giampa never made it to the London camp, though. He had been playing his minor midget year with an injured wrist he didn't allow to heal correctly.
"I didn't want to get surgery and be put in a cast for my draft year," he tells The Local. "I wanted to play even if it was extremely painful. I ended up playing the whole season with a broken wrist. After the season, I went to a doctor and I ended up getting surgery. When the camp was going on I was in a cast."
At that point, he discussed his future with his parents Arc and Bonnie. He realized at the time he was a bit of a smaller player, between 140 and 150 pounds, and might need a little more time to develop to play competitively in a much tougher league.
The decision was made to set his OHL aspirations aside in favour of pursuing the alternative NCAA route, with the goal of earning a hockey scholarship to an American college. He withdrew from Holy Cross after his Grade 10 year and enrolled in the Frederick Gunn School in Washington, Connecticut.
"It was tough to move away from the family," he says. "We're a close-knit family, but I knew if I wanted to take the next step in hockey it was a choice I had to make. I want to play pro hockey for a living. I just went for it."
Known as The Gunnery, Frederick Gunn is a U.S. High School Preparatory, or Prep, co-educational boarding school founded in 1850 by Gunn, a well-known American abolitionist. Like many prep schools, The Gunnery is known for its athletics, and for feeding elite athletes into the U.S. college ranks.
"I loved The Gunnery," the 18-year-old says. "I loved the coaches, and the school itself is a great school. I learned a lot as a human, not just as a hockey player. The experience was a great one for me."
Matteo played 35 games in 2019-2020, amassing nine goals and 10 assists on the season. When he returned for his senior year the next fall, the pandemic was in full force, meaning hockey was out of the question. And after only a short time in his dormitory, an outbreak of the virus on the campus forced him back to NOTL, where he completed his year remotely.
"I did great, I had the best marks I've ever had in my life, even though it was all on Zoom," Giampa reflects. "My parents were happy I was home. I trained a lot during COVID, and kept my skills sharp. I shot pucks and stick-handled in the basement, skated on some ponds with my friends. I had to be creative."
Without a chance to show his skills in his senior year, Giampa knew he would have to impress college scouts some other way. When the opportunity to join the Bonnyville Pontiacs came up, he was chomping at the bit.
"This year has been kind of like a new beginning for me," says Giampa. "It's high-level hockey here. Everyone is big and strong and fast. It's a competitive, tough, hard-nose league. It's definitely added another component to my game and helped me develop as a player."
Now weighing in at 180 pounds and standing 6'1", much taller than either of his parents, Matteo has contributed 18 goals and 25 assists in 53 games for the third place Pontiacs, making him the third-highest scorer on the team. His wrist is fully healed, though he has missed a few games with some minor rib and hip injuries.
This past weekend he scored a goal in both games during a two-game road trip to Whitecourt, against whom the Pontiacs open the playoffs at home this Friday night.
Despite the cold temperatures, he's enjoying life out west. Mom Bonnie has been out for a couple of visits and both she and Matteo love his billet family, including their three kids. Bonnyville is a true hockey town, almost three hours northwest of Edmonton, where the RJ Lalonde Arena plays a central role in the small community.
He's enjoyed barnstorming throughout the province from town to town, and has had the chance to spend a day at the massive West Edmonton Mall with his teammates on a day off. He's been fascinated with the wide open spaces and impressed with the number of fans who attend AJHL games. He loves his coaches and says his fellow Pontiacs have been very welcoming, helping him to acclimatize to playing out west.
This year Giampa has been concentrating solely on hockey. He opted not to pursue a part-time job in favour of working on his fitness and skill set to get to the next level.
Obviously, the Golden Griffins staff took notice of his efforts. Now that he's earned a full scholarship with Canisius, Giampa anticipates maybe taking a couple of courses next year to reach ahead. He won't have to choose a major for his studies, he says, until his second or third year there.
In a press release on the Pontiacs' website, Bonnyville head coach and general manager Rick Swan says, "Matteo has all the abilities to become a great NCAA Division I player and it is great to see him rewarded for his hard work both on and off the ice. Coach Large and his staff are getting a total gem in Matteo with a very high ceiling. He will become an instant success to the Golden Griffins program and school."
Bonnie says she has been impressed in her interactions with Canisius head coach Trevor Large.
"He's Canadian," she raves. "He seems so authentic. He seems to really have the best interests of the players at heart. It's so amazing."
Interestingly, the Giampas may soon be helping another family member choose a U.S. college. Sixteen-year-old Madison, a Grade 11 student at Holy Cross, has been playing this year for the U22 AA Stoney Creek Sabres of the Ontario Women's Hockey League. By the end of this school year she is expected to be fielding offers from a number of American schools.
So, as Matteo will be coming home following another season playing on the wing with Bonnyville, Madison may be heading out to the next step in her own hockey journey. Arc and Bonny, though, will certainly be crossing the Peace Bridge regularly to cheer their son on.