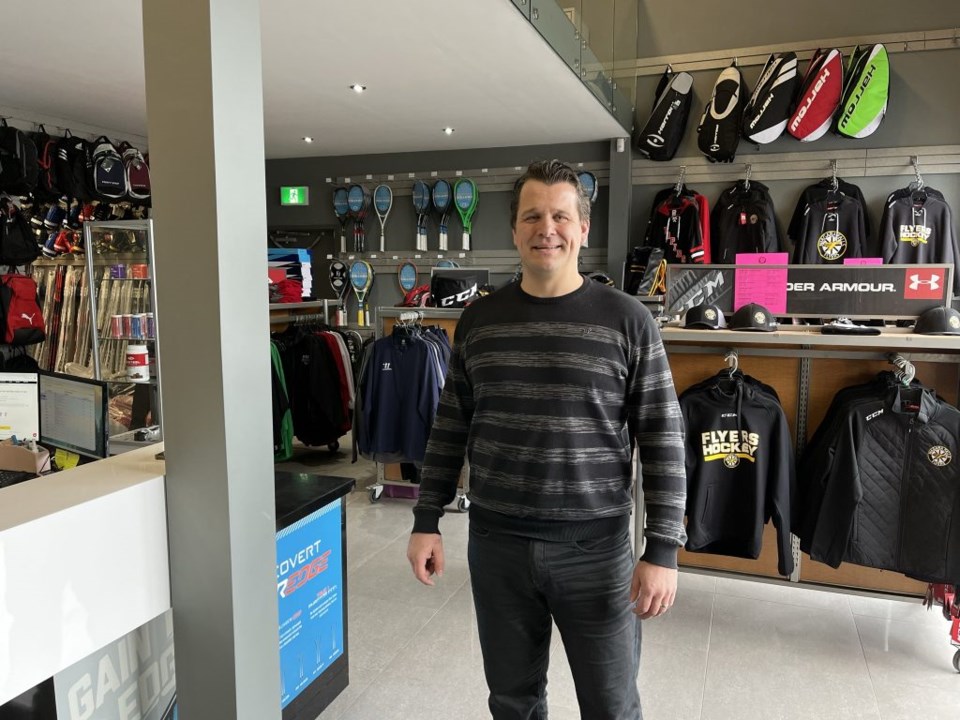 Niagara-on-the-Lake Wolves U11 house league hockey coach Mike Cwiertniewski was busy this weekend coaching his team at the club's annual March Break Tournament. Though his Wolves lost all three games they played, there was a general feeling of positivity amongst the players for having participated in the event.
That positivity fostered by the first-year hockey coach has led to Cwiertniewski being named the Ontario Minor Hockey Association's Coach of the Month for February.
Local resident Adriana Miele, whose son Michael is a goaltender on the team, got the ball rolling to nominate the father of two for the recognition.
"I wrote a letter to the OMHA to nominate coach Mike and coach Dan (Plomish)," Miele recalls. "I told another parent and she sent something in too. Two weeks later we got a letter that he was getting the award."
In a season during which Miele says the team has only won a single game, Cwiertniewski's encouragement and upbeat attitude at both practices and games has been a key factor in instilling a love of the game amongst his young charges.
"He's fantastic," she raves, "wonderful with the kids all the way around. He's encouraging to every one of them, encourages their strengths, makes practices fun every time. Even when we lose he only focuses on the positives."
The St. Michael Catholic Elementary and Denis Morris High School grad says the three girls and nine boys on his team were stoked to play in this weekend's tournament.
"Every game these kids go in with the attitude that they're going to win," he says. "But it doesn't matter what the score is. We had the tunes going in the dressing room before each game, they were happy, pumped up and ready to go. Every goal we get ignites them like crazy."
He gives credit to fellow coach Plomish for contributing to their combined effort to approach every game with the aim of ensuring the kids have fun no matter what the score might be.
"Our focus is to stay positive, have fun and to keep that mentality throughout the game," Cwiertniewski says. "You can't ask for anything more than that from these kids. We always say 'we don't know this team, maybe we can get a win today', and that keeps them going."
Cwiertniewski says Wolves coaching convenor Joe Pagnotta recruited him to take on a role behind the bench when Mike's 10-year-old daughter Ella decided she wanted to play hockey.
"She was in the CanSkate program, then figure skating," Cwiertniewski says. "Then, during the pandemic, she needed new skates. One of our friends gave her a pair of hockey skates. She played on a pond with a bunch of friends and had a blast, so this year she asked if she could play hockey."
Ella is hooked, and he calls her one of the hardest workers on the team. She's following in her father's footsteps in a way, as Cwiertniewski himself played minor hockey in NOTL before moving on to AAA in Niagara Falls. Later, he played for four years with the Junior B Thorold Blackhawks.
He thinks Ella will play hockey for many more years to come, and she's expressed a desire to continue playing in the community where she lives with her father, mother Alison and five-year-old brother Austin.
Mike, by the way, still laces up his own skates weekly. On Tuesdays and Sundays he plays in NOTL, while on Thursdays, his co-workers at Monkey Sports, a Niagara Falls-based sports retailer and outfitter, have a regular time slot for a pick-up game at the Gale Centre.
With so many different skill sets on his U11 team, one of two NOTL house league teams at that age group, he and Plomish put in extra effort to balance the players equally between each line. He's quick to credit each of his dozen players for working their hearts out every single game.
During Monday practices he emphasizes positioning and staying "in your lane" on the ice.
"At the U11 age group the kids are still trying to figure out the game," he says, "and they tend to chase the puck together and bunch up in the same spot on the ice."
Both U11 teams practise at the same time, working through drills together before splitting up into opposite ends of the ice. At the end of each session, they play games such as ball tag, ice soccer, or even a shootout where they can be creative and try whatever move they want.
"It keeps them motivated," he says, "but what they don't realize is that it's helping them with other skills such as balance, stability, stick-handling and shooting."
Having played competitively himself, he's had to shift his way of thinking toward a more developmental mindset with his U11 players.
"It's about where to be on the ice, or how to make a quick line change," he explains. "Keeping your head up, not bunching up. Focusing on the real little things right now that kids at this level have to develop more and more. It's about building their awareness of the fundamentals of the game."
Cwiertniewski also credits the parents for buying into the philosophy espoused by him and Plomish. And that has led to steady development for each player as the season has
progressed.
"A lot of the kids started quiet, but now they're getting into the game," he enthusiastically explains. "We got our first win in Fort Erie, I think we had seven or eight goals that game. It really fired them up. You can really see the progression that keeps coming and coming."
He's especially impressed by the improvement shown by Miele's son Michael between the pipes.
"You gotta see him play, he's like (former Buffalo Sabres goalie) Domenic Hasek out there," Cwiertniewski raves. "He's diving and kick-saving everything. Just when you think he's been beat he's making a glove save or a kick save. He's grown so much. I think next year he will make a BB or AA team."
Says Adriana, "one game Michael faced 63 shots on net. After the game coach Mike said 'Michael, think about it, you saved 54 shots today'. He always looks for the positive. After every game he makes them feel that they did their best. They always walk out of the arena with a smile on their faces."
And Cwiertniewski himself smiles the entire time he speaks about his team to The Local.
"I just want the kids to enjoy playing the game," he says. "I guess the fact I got this nomination means they are happy. When they're happy, that makes me happy, too. It's fun. I'm 40, and I want to see them still loving the game at 40 like I do."