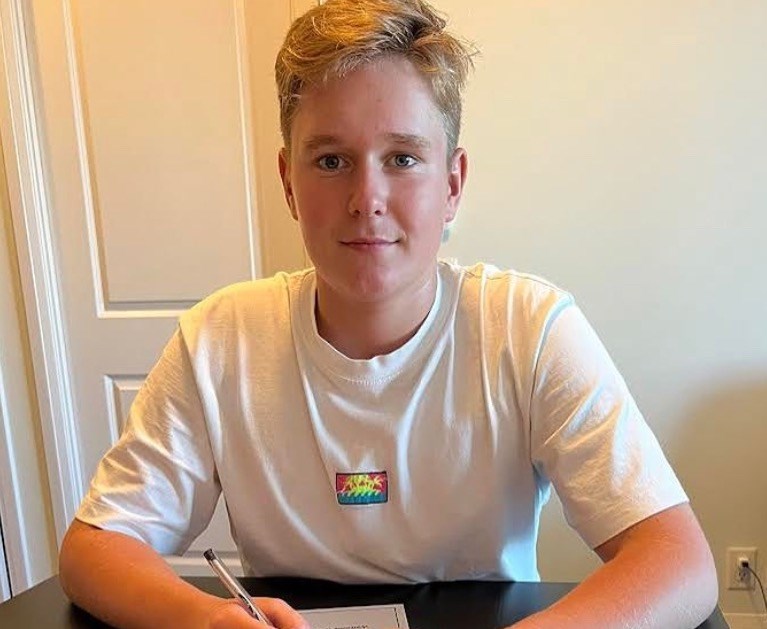 Though the Niagara Predators began their 2022-2023 Greater Metro Junior A Hockey League season with a 2-1 loss Sunday to their rivals the St. George Ravens, coach Kevin Taylor doesn't see a cause for concern.
"There's nothing to be upset about," Taylor said Monday evening. "It was a good first game. Sure, there was some sloppy play, but overall the guys competed. When they made mistakes, they listened to the corrections. They're eager to listen and learn. And the majority of everyone who watched the game said we should have won."
There were a lot of scoring opportunities for Niagara during the afternoon tilt at the South Dumphries Community Centre. But Ravens goaltender Luca Del Rizzo kept shutting the door with spectacular stops.
"He made some key saves," Taylor said. "We had enough chances, but he kept them in the game."
With St. George's Jacob Shuker in the box for interference, the Predators had an early opportunity four minutes into the first period, but a turnover at centre ice led to an even better opportunity for the Ravens Reece Furtado. He skated in on two Predators defenders and slipped the puck past Niagara goaltender Ryan Santini to open the scoring shorthanded.
Forward Leo Savin tied it up for the Preds with just two minutes left in that period. He received a backhanded pass just inside the blueline from teammate Riley Ellis and deposited the puck in the corner above Del Rizzo's blocker.
The second period was scoreless, with the Ravens outshooting Niagara 14-9, forcing Santini, who was named the game's first star for his 51 saves, to come up with some big stops of his own. The Predators squandered three power play opportunities during that frame as well.
Midway through the third period the Predators had a fast break on Del Rizzo that ended in a scrum in front of the net. Punches were exchanged briefly between Furtado and Predators captain Max Bredin.
It took quite a while for the officials to sort out the situation, but when they did, Bredin was assessed two minutes for unsportsmanlike conduct, St. George's Simon OTaki served a two-minute bench minor, and Riley Ellis, who seemed to have been pushed into Del Rizzo, was handed a five minute penalty for charging.
That left the Ravens with a four-on-three advantage. Furtado potted his second goal of the afternoon with about nine minutes left in the game.
The Predators mounted a number of challenges in those last nine minutes, including yet another fruitless power play, but Del Rizzo continued to come up big between the pipes.
"Our power play struggled," Taylor admitted. "We lost on special teams. It's something that we have to work on. But we've only had one practice on it."
In fact, Taylor had only had the chance to have his Sunday lineup together for a couple of practices before travelling to St. George. And just like last year, the team's first in Niagara, they are beginning the season with a short bench, having dressed only eight forwards, five defencemen and three goalies.
Russian players Askar Almanbetov, Georgi Kodzaev, and returning 6'3" forward Georgi Kholmovsky have yet to arrive in Canada. As well, Michael Santini was scratched from Sunday's lineup.
"When I got the guys together for our pre-game speech," Taylor laughed, "I realized I hadn't even given them a warm-up routine yet. We're kind of playing catch-up. I'm still learning about some of these guys. And we still have some players coming in, hopefully this week."
The head coach adds that playing junior hockey will take some adjustment for many of the younger players on the Predators. The team boarded the bus for the trip to St. George at 11:30 a.m. for the 3 p.m. start time of the game. They didn't get back on the bus for the ride back home until 5:30 p.m.
"Guys that play their first junior game," he said, "don't realize exactly how long the game is. It's a long day. And a long time in the arena. It can be mind-numbing, it's easy to lose focus."
Of the Russian-born Savin, the 16-year-old forward who scored the lone Niagara goal, Taylor couldn't say enough.
"He's worked really hard in practice," he said. "There are certain guys I know I can count on. If he sticks to what he's good at, he'll score all the time. It's nice that he got that goal because I know he's been working hard. He's been a big surprise for us since coming down for a skate from Vaughan. He really wants to be here."
The Predators host the Northumberland Stars this Friday night in their first home game at Virgil's Meridian Credit Union Arena. It will be Northumberland's first game of the GMHL season.
"We have lots of talent on this team," said Taylor. "It will be interesting to be on the bigger ice on Friday, so we can use our speed. There's a lot of upside to this team. We have some players still to come in. Once these players come in we'll be a definite contender for the top spot in our (South) division."
Game time Friday night is 7:30 p.m. Local rock band Bitter Pill, featuring defenceman Dawson Walker's father, will be playing the pre-game and intermission music live in the arena.
General admission is $10, students and seniors are admitted for $8, and children under 12 years old get in for $5.