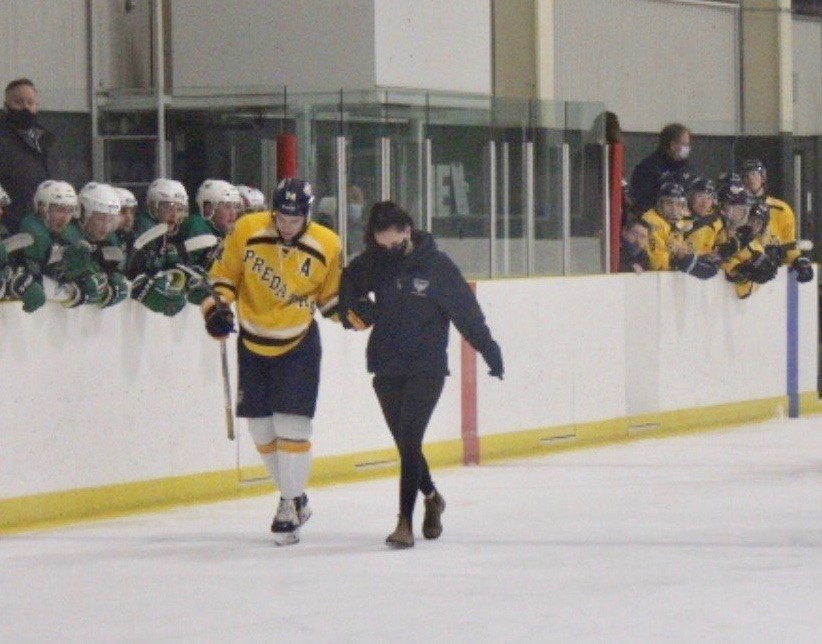 Samantha Marson would not set aside her hockey dreams after suffering a career-ending injury during a tournament.
In her last year playing midget (under-18) hockey in the Kitchener-Waterloo area, three girls crashed her net, pushing goaltender Marson hard back against the post. She came off the ice, but stuck around to watch the rest of the tournament.
The Cambridge native went home, telling her mother that she was fine. But the next morning she had trouble getting out of bed, so they went to the hospital.
Marson spent about three months mostly confined to her hospital bed, wondering if she would ever walk again, let alone skate. The incident had damaged her spine, from the L3 to the L5 vertebrae, or the lower lumbar region.
Doctors told her she might need surgery, but within a few weeks she was able to move her toes, and her journey to getting back on her feet began. After months of physiotherapy, she was able to finally lace up a pair of skates again.
Today, Marson is behind the bench for the Greater Metro Junior A Hockey League's (GMHL) Niagara Predators. She has taken on a double role as athletic trainer and assistant general manager, both of which represent her new goals in the hockey world.
"I know physically I won't be able to play anymore," she tells The Local. "I want to be a general manager and a sports lawyer. Having control and being able to run a team is something I've always wanted to do. Being a woman, and taking that next step in women's hockey, if girls can't play there are other ways to still work in the sport."
Marson says she started playing hockey at two years old and signed up for minor hockey as soon as she was old enough. She first took her position between the pipes because her older brother Shawn needed a goalie to shoot on. A fierce competitor, Marson says her fearlessness in goal comes from stopping shots by Shawn and his older male friends, both on the ice and in the driveway.
She played hockey alongside boys until she was 14, when she switched over to girls' leagues in Kitchener-Waterloo. While attending Preston High School, her girls' team coach was short on skaters, so she split her time between goaltending and playing forward for the Panthers.
After her injury, Marson felt strong enough to spend a season playing goalie while attending Lakehead University. She backstopped the Thunderwolves in nine games during the 2018-2019 season, finishing with a goals against average of 1.98 and recording 3 shutout victories.
But she felt she was risking her health too much in the goal crease, so she switched to playing forward permanently. She also left Lakehead to attend Paul Smith's College near Lake Placid, New York. Marson recorded the first-ever goal for that school's women's hockey Bobcats team on Oct. 26, 2019, the first of her three goals that night.
"It's the atmosphere," Marson says, about why she loves the game so much. "When it comes to hockey, you always have that second family with you wherever you are. You don't get that anywhere else."
A friend told her the Predators were looking for a trainer when the team moved from Toronto to Niagara-on-the-Lake. She had some experience helping out in that role previously for other teams, so she reached out to owner Robert Turnbull to express her interest.
The 21-year-old had already been attending Niagara College's sports management program, and had previously earned a few credits in kinesiology at university. She had her first aid training, then went through the process to earn her trainer's certification through the GMHL.
Turnbull and general manager Johan Eriksson quickly noticed how valuable Marson was becoming to the franchise, and the assistant general manager title was bestowed upon her to more accurately reflect her contributions.
"She did a ton of extra work over and above being a trainer," Turnbull says. "She was doing so many jobs that Johan called me to ask if she could be given the assistant general manager title. She transports players everywhere, she follows up on players' needs, she trains timekeepers and works with (play-by-play announcer) Mike Frena. She's invaluable."
Turnbull says Marson has an excellent starting skill set to become a general manager. He's been working with her to guide her toward making the right moves to get into position to realize her dreams.
"She's a 21-year-old with a 30-year-old's work ethic," adds Turnbull. "To me, age and gender mean absolutely nothing. If they can do the job and I can trust them, then they are the people that I'm going to move forward."
When told about Turnbull's comments regarding her work, Marson becomes humbled on the phone.
"The fact that he doesn't see my gender, but instead looks at the way I work and my skills, it makes me feel really good about it," she says.
In her travels with the team for Predators' road games, Marson runs into very few other women in roles like hers. She feels like a bit of a trailblazer of sorts because of that.
"Having the general manager title, it makes me feel that I'm making a difference," Marson says. "I want more females to feel that they can be included, beyond being just a scorekeeper or a trainer."
But make no mistake, she takes the trainer's role seriously. Marson had to help defenceman Logan Baillie deal with a knee injury suffered during the Predators' second game, a 4-2 loss to St. George on Oct. 3. He subsequently spent a number of weeks on the injured list.
"The biggest challenge is when you have to tell a player that he can't go back on the ice," she says, "You see it on their faces, they just want to play. But you have to be firm, and tell them their health comes first."
Recognizing that she might be a role model herself, she's quick to give credit to those who have inspired her along her hockey journey.
"I'm pretty close friends with (three-time Olympic and four-time World Championship medalist) Sami Jo Small," says Marson. "I work at her goalie camp every summer in Oakville. I look up to (four-time Olympic medalist) Jennifer Botterill as well. I met her through Sami. Both of them have helped and inspired me. They've shown, even after they finished playing, that women can do this."
Beyond her own potential role model status, Marson hopes this season with the Predators is the first step toward her one day dropping the assistant from her general manager title, while adding contract negotiation to her duties. And she doesn't rule out her skills and experience qualifying her for the role of league commissioner somewhere in the future.
One thing is certain about Samantha Marson. Nothing will stop her from achieving her goals.