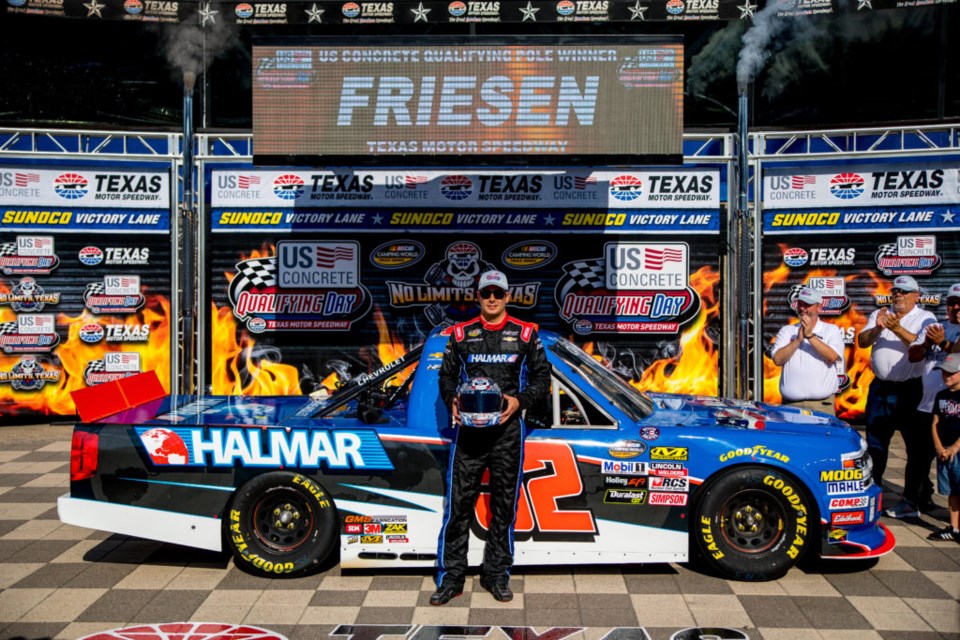 The number of exclamation points in his Twitter post says it all: "Finally!!!!! Thanks to everyone for the support!!"
Niagara-on-the-Lake native Stewart Friesen has finally taken his first victory lap in the NASCAR Gander Outdoors Truck Series.
After six runner-up finishes in the series, Friesen reached the milestone last Thursday at the Eldora Dirt Derby, held at Eldora Speedway in Rossburg, Ohio. He crossed the finish line with his number 52 Chevy a mere 0.728 seconds ahead of Sheldon Creed for his first victory.
It couldn't have come at a better time for Friesen.
Though he started out the previous week at the Gander RV 150 at Pocono Raceway with a fast practice run, earning a good qualifying position, the race didn't end well for him.
He broke loose in the corner before the first turn, collided with Anthony Alfredo's Toyota, and slammed into the outside wall. Failing to finish the race, he ended up in last place, throwing a serious wrench into his ability to qualify for the playoffs.
With the win last week, however, he automatically claims a berth to compete for the championship.
Friesen has more than 900 starts on the dirt in a number of different series, and grew up racing on the local dirt track stock car circuit. With this experience, combined with his second and third place finishes the previous two years at Eldora, Friesen knew this was his chance to make a run for his first win.
It wasn't easy, though. The race was marred by a number of incidents, and plenty of cautions. With many of the drivers experiencing their first race on a dirt track, there were challenges for the likes of Ross Chastain, who has won three times on the circuit. Chastain spun out after the Stage 2 restart, but came back to finish 12th.
Friesen feels his dirt track experience allowed him to maintain his focus. "I've been in a lot of races in the past where there were lots of stops, and the stage breaks in this one let us play a bit with the fuel strategy, too."
In an interview after the race, while holding his young son Parker, Friesen pointed to getting clean restarts as one of the keys to his win.
"I knew that was going to be tough. We just couldn't get a long run going, especially those first two stages. We could have been too hard on the tires, and we weren't using a lot of fuel, it was getting pretty slick. (Crew Chief) Tripp (Bruce) left it up to me — the driver always wants track position — so we took in and held him (Creed) off."
Friesen took the lead in the 94th lap from the defending champion Chase Briscoe, who had led the race from its start. Friesen held onto that lead for the rest of the 150-lap race, with Creed posing a huge challenge on the final two laps.
Following the race, a jubilant Friesen climbed out of his truck in victory lane, raised his hands in the air and pumped his fists. There was a definite sense of relief in having finally crossed a Truck Series finish line in first place.
Friesen agreed the win absolutely made up for all the hardships and near-wins over the last couple of years. He went on to thank all the great race fans who stuck with him, and kept pulling for his team.
His wife, Jessica Zemken, a sprint car driver herself, handed Friesen their young son Parker. Friesen planted a kiss on his cheek, exclaiming "alright, 'P', we won!"
Friesen says it was amazing to have his family there. His parents were in attendance, as well as his Modified crew from a race a couple of nights before. "To have my family there for my first win was icing on the cake," he says.
Friesen also made sure to praise his team: "Thanks to Halmar, Chevrolet, GMS Fab Shop for working their butts off the past couple of weeks. We've been down and out, and they keep working on stuff and fixing stuff, putting in long hours, I can't thank everybody enough."
With the victory, Friesen earned 54 points, vaulting him all the way to third place in the season standings, behind Americans Grant Enfinger and Matt Crafton.
The NASCAR Gander Outdoors Truck Series next visits Michigan International Speedway this Saturday for the Corrigan Oil 200. With his spot in the playoffs now confirmed, Friesen feels he can head to Michigan without his back to the wall, and run a confident race with little pressure.
Friesen's run at the 2019 Championship begins Thursday, Aug. 15, with the first playoff stop in Tennessee at Bristol Motor Speedway, for the UNOH 200 presented by Ohio Logistics.
In 2018, he finished second at Bristol, on his way to a seventh place season finish.
"It's a pretty unique short track, really fast," he says. "I'm glad the first playoff stop is there, after my strong run last year."
None of the seven playoff races will be run on the dirt. Though he admits one dirt race would play right into his hand, Friesen doesn't see this as a disadvantage. "There's a good mix of tracks in those events, and I'm feeling pretty good heading in to the playoffs."