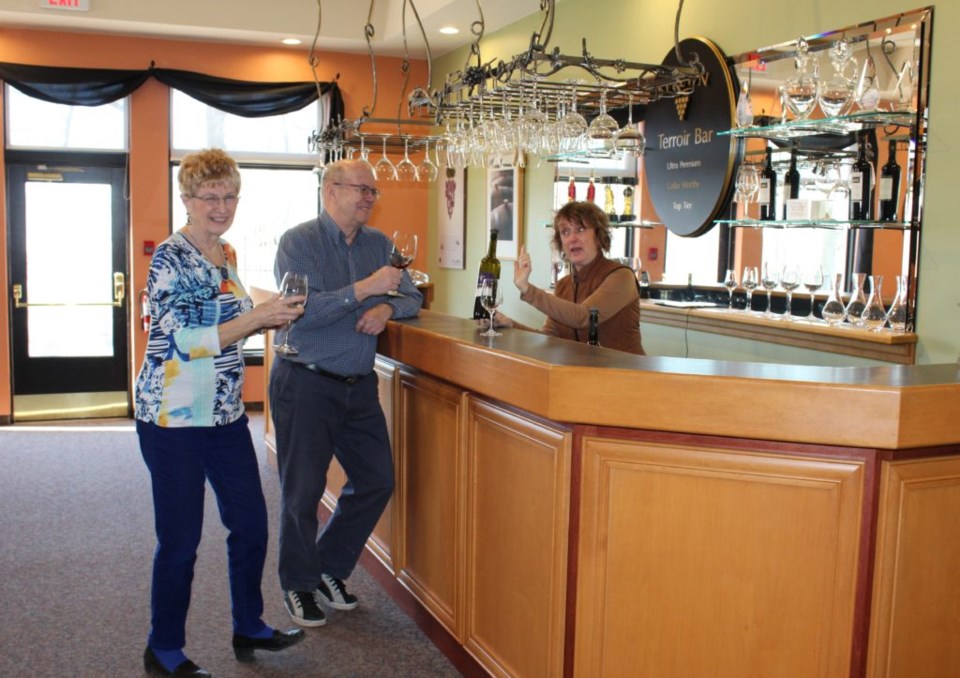 We all know how much difference a day makes — we've learned that very quickly.
"We are open for business" at Trius Estate Winery, staff said Sunday afternoon.
By Monday there were rumours of closing, and by Tuesday morning, tasting bars and restaurants within wineries were being shut down, under the direction of Premier Doug Ford, in an effort to "flatten the curve" of COVID-19.
In response to virus concerns, Sunday staff behind the tasting bar were donning black latex gloves and smiles. There was a faint scent of disinfectant in the air mixed with a springtime freshness, thought to be the new reality in the face of the current pandemic. Latex gloves, disinfectants, hand sanitizers and skin rubbed raw from diligent hand-washing while singing numerous choruses of "Happy Birthday" to ourselves. To be sure, local wineries were taking the advice of Health Canada very seriously, while balancing the desires and expectations of their customers.
But that wasn't to be enough.
Retail winery stores are staying open — at least they were on Tuesday — but tasting bars and all public events have been shut down.
Next door at Wayne Gretzky Estate Winery and Distillery, the message was the same. The roaring fire in the hearth that warmed guests as they attended tours and tastings was one of the last days they would be allowed to continue, at least until April 6.
Hinterbrook Winery had already addressed the situation by taking a proactive approach to ensure the safety of their customers. They had decided last weekend to suspend all in-store wine tasting and tours booked between March 16 to April 5, but remain open for online and phone orders.
There is no doubt that COVID-19 is taking a toll on wineries but it seems locals are remaining loyal to the cause, as Jane Langdon, owner of Strewn Winery, points out. She noted on Sunday that there had been a drop in the numbers of people coming to the winery in the last couple of weeks, but they were seeing more of their club members and locals. She said they have had some visits from locals visiting their retail shop to pick up a few of their favourites that they would usually get from the LCBO.
Langdon said that they do not usually see a large number of people in the winery anyway. Since they are a small business and not a volume winery they don't get that many people, so they weren't worrying about large gatherings. She takes pride in this model, she says, believing that with "fewer people, they have a longer, more personalized experience."
Langdon knew they were working on a day-to-day basis, monitoring the situation and adjusting accordingly, and that too changed Tuesday, with all events and tastings cancelled. They will keep their retail shop open, as long as they are able, and they are stepping up the number of wines available for order online.
"We're not sure what the next round of announcements will bring," she said, "but we want to do the right thing for everybody."
OLiV Tasting Bar and Restaurant, within the winery, has also closed.
Langdon says that she is "cautiously optimistic" this is a short term issue. As an incentive for customers that are unable to get to the retail store, or just choose to stay home, she is offering free shipping in Ontario, and a discount on shipping for club members outside of the province.
Langdon says she is very thankful for support from the locals, and from Strewn club members, such as Bill and Karen Colvin. The Colvins first discovered Strewn on a bike tour in 1999, and have been Barrel Members ever since. Currently living in Guelph, they have a son, daughter-in-law and two granddaughters living in Virgil. Since they were in the area, they decided to pop into the winery for a visit, where they were immediately greeted like family.
"We want to see our American friends, our customers and club members," says Langdon. "They support us so well, they appreciate the quality of our wines. We have a lovely town. We have heritage, culture, and wineries, but this town depends on tourism. We are blessed and we will get through this. I'm not sure what it will take but we will do whatever it takes."
For news of other winery closures, check online or on Facebook.
With files from Penny Coles.