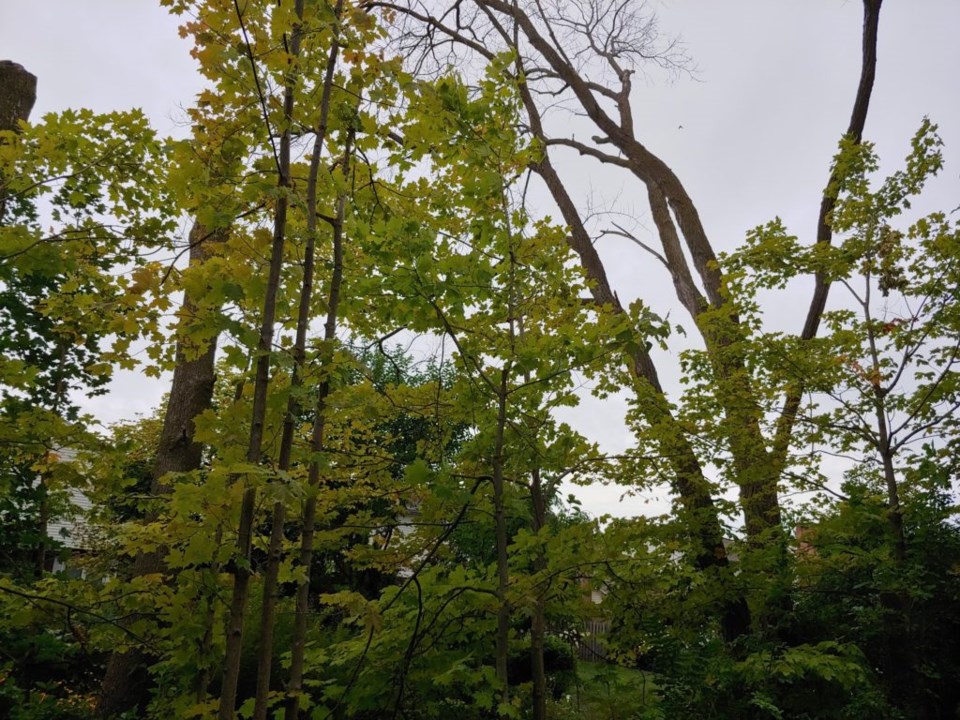 Peter Wilkie is a resident of East and West Line who walks the section of the Upper Canada Heritage Trail that will be the next phase of rehabilitation.
Last week, he was taken by surprise when he saw several stumps of mature trees that had been recently taken down between Charlotte Street and East and West Line.
He and other trail-users assumed it was in preparation for the trail to be widened and resurfaced, he says.
Instead, they discovered it was all about one large, dead tree that could cause some damage to private property and needs to come down, and a pathway that was being cleared to make way for a large crane deemed necessary to get rid of that dead tree.
"The emails started flying, and then I was told that the crane can only move one way, and the only way out would be to Charlotte Street. That could mean taking out another 50 trees. I was gobsmacked to hear that."
At the heart of the issue, he says, is whether the second phase of rehabilitation has to be as extensive as the section between John and Charlotte Streets, which has a gravel surface and has been widened to three metres.
"A number of people in the community are concerned about the wide roadway being extended behind the Rand Estate," he says.
That section, from Charlotte Street to East and West Line, is much more tranquil, with overhanging trees and wild flowers planted along the sides of a narrow path, says Wilkie.
Some of the residents who live in the vicinity, and are regular users of the trail, would be happy to see some wood chips spread across it, he says, leaving it in its natural state.
Although there is some discussion about how many mature trees have already come down — he counted 34, the majority of them large — and how many more will be cut, he says the number isn't the issue as much as whether it's necessary for a large crane to be used.
"Has anybody looked at alternatives, or did somebody just decide it was a good idea to go in and take down all those trees? Did anyone tell anyone they were going to do this? Maybe a crane is needed, but did anyone explore other options?"
And if the trail is to be widened, he asks why. "We don't need a roadway. It's a nature trail."
Tony Chisholm, vice-chair of the Upper Canada Heritage Trail, confirms there are two separate issues.
One is the need for the dead tree to come down, which has been determined by the Town's operations department. It's their responsibility to figure out how best to safely remove it, but he's been told no arborist would take down a large dead tree without a crane — it would be dangerous to do so.
The other issue is the design for the second phase of trail rehabilitation, and that has yet to be decided.
"As a committee, we've asked the Town to come up with a design for the second phase."
That too will come from the Town, under the direction of Kevin Turcotte, acting director of operations, not the trail committee, but Chisholm says there will be plenty of opportunity for residents to see the design and comment on it before a decision is made, through Join the Conversation on the Town's website.
"We're hearing from some people already, that it's a nice nature trail, and they don't want to see it widened. The Town says there are standards for maintenance," he says. "We'll discuss it at our next meeting."
It's a discussion that will take place over time, taking public comments into consideration, Chisholm says, including looking at whether it can be narrower and less intrusive than the first phase.
He stresses no decision has been made at this point. "That's at least a couple of months away."
Coun. Gary Burroughs is also onside with leaving the second phase of the trail in a more natural state. "It's not a highway, it's an historic railway track," he says. "I think they're making it a much wider path than it needs to be. I think we're going crazy on this trail. I'm hoping it won't be a race track."
He too questions whether alternatives have been considered for removing the dead tree. With a new tree bylaw in place, he says, "we tell people all the time not to cut down trees. And then we go and cut down trees. It's so hypocritical for us to have a bylaw and then take down our own trees. It doesn't make sense."
Tracey O'Brien-Dim lives on East and West Line at Concession 1, and is also not in favour of having the trail rehabilitated. It's very different from the section between John and Charlotte Streets, and should remain as it is, a natural trail that runs through farmland, she says.
Her husband has taken on the job of cutting grass on it, as her father did, and Two Sisters Winery also has the grass cut around the vineyards.
"A lot of locals on the trail help maintain it, cutting branches down and trimming trees," she says. "I walk my dog on it two or three times a day, and my kids enjoy the woods."
She hopes this portion of the trail, which has its own beauty, can be left alone, its natural aesthetics and tree canopies untouched, the wildlife and birds undisturbed.
She suggests the money that would be spent on rehabilitation could be put to better use opening the final portion, which is inaccessible, so at least the entire length of the trail could be open to the public.
Despite hearing that no decision has been made about the section from Charlotte Street to East and West Line, O'Brien-Dim also questions whether the tree-cutting the Town has undertaken is to access one dead tree, or whether it was considered a good time to do it, in preparation of widening the trail.
Lord Mayor Betty Disero walked the trail from Charlotte Street Tuesday, with Turcotte, other town staff, and trail committee chair Rick Meloen.
She too has been assured the only way to remove the dead tree is with a crane, and that some trees were cut to make room for the equipment.
"I'm pretty sure an arborist can't climb a dead tree. That's what I was told."
But just to be sure, she's asked Turcotte to make one more phone call to another arborist to see if there are other options for removal.
Disero says some trail users walked with them Tuesday, and thought a decision on the widening and resurfacing "was a fait accompli."
She assured them the decision hasn't been made, and they will have an opportunity to express their opinions before the design is finalized.
She will also ask about the design, and whether the path needs to be as wide as the first phase, she says.
Randall, also along for the walk, said whatever the decision is, there will still need to be access for ongoing maintenance, which will be the Town's responsibility.
If residents have ideas about what they would like behind their homes, she says she's happy to facilitate that conversation.
"Maybe there is some sort of compromise to make the trail passable, without making it into a highway."