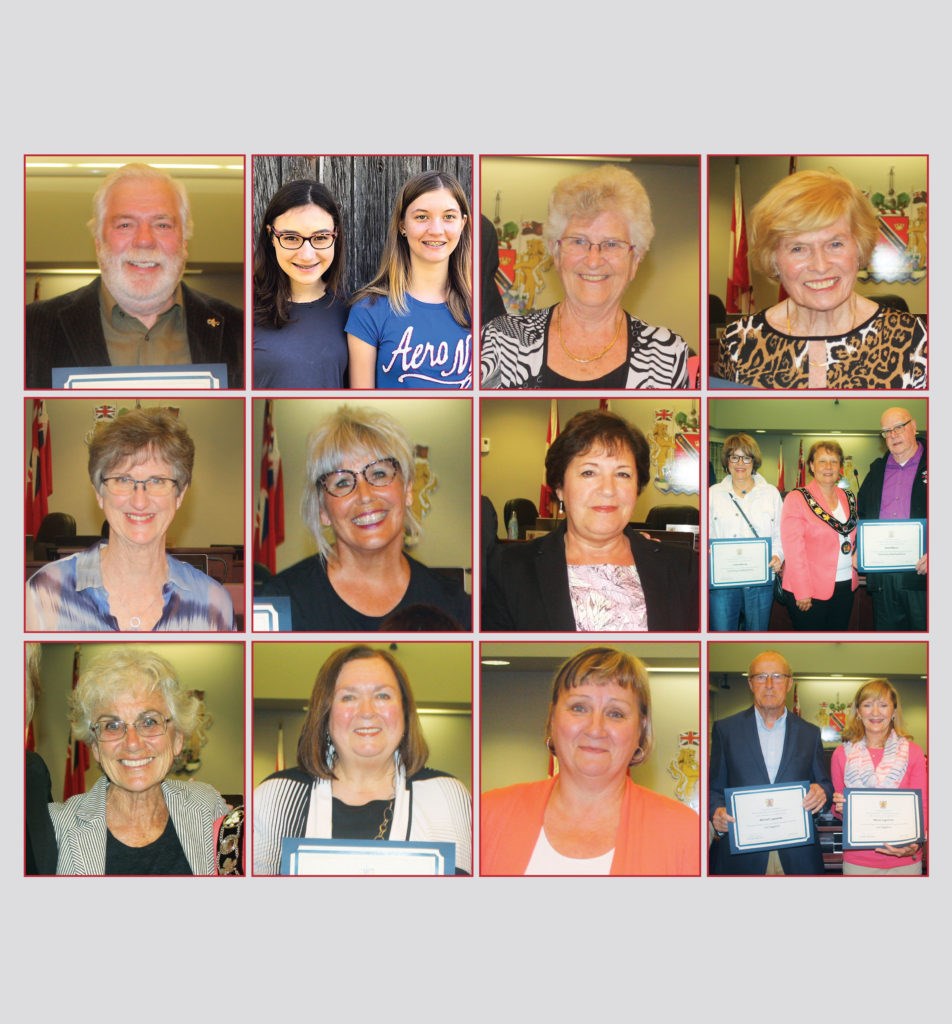 Giving out volunteer awards is one of the most important and rewarding undertakings of the year, said Lord Mayor Betty Disero at council Monday evening, as she handed out the first annual Lord Mayor's Volunteer Awards.
"We know it's the volunteers who make Niagara-on-the-Lake such a special community. Although 100s of volunteers have been publicly thanked over the years through these awards, there are always many more who work quietly behind the scenes and don't come to our attention."
To all the volunteers who do so much to make Niagara-on-the-Lake a great place to live and work, said Disero, "thank you."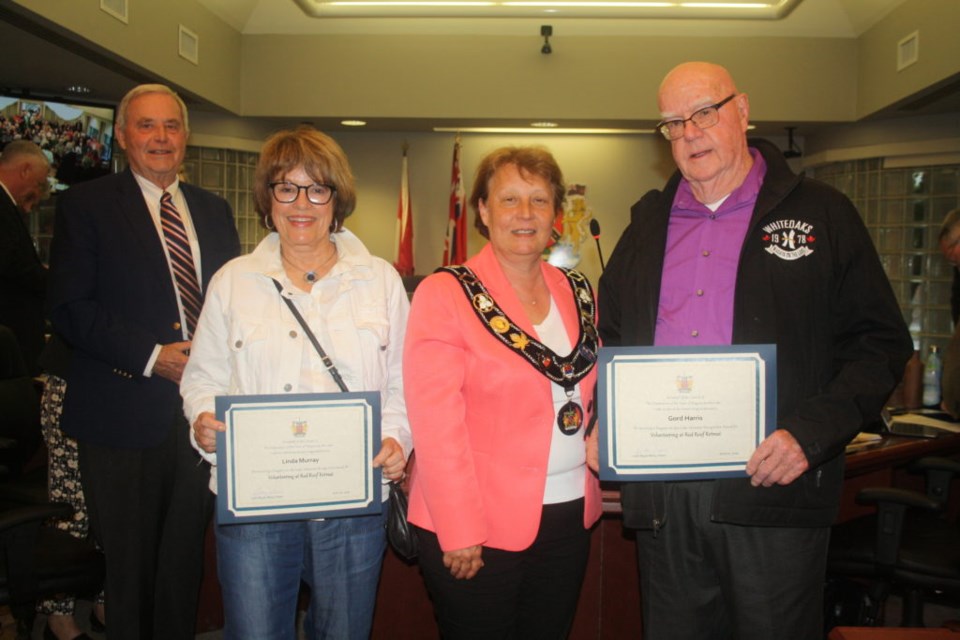 Linda Murray and Gord Harris – Contributing to the youth/education sector
Gord Harris has been volunteering at Red Roof Retreat for the past 15 years. Originally known as the "grass cutting guy," he has been taking care of the 11-acre property weekly through the spring, summer and fall. He loves to visit the staff and special needs children who attend the Red Roof programs, and takes time to visit the animals and help with their care. "He is a regular and a friendly part of what makes Red Roof Retreat so special," said Disero, and is "a very worthy recipient who represents quiet giving and the value of volunteer time to make places a little brighter," said Disero.
Linda Murray quickly got involved in her community when she moved to NOTL. While volunteering at the Shaw Festival, she went on a tour at Red Roof and immediately fell in love with its work with special needs children, in particular with the farm and animals. Since 2011, Murray has been helping Mondays and Fridays to feed and care for the animals that are so loved by clients and the community. Through all weather, she shows up to make sure the beloved four-legged friends are comfortable and taken care of. Murray generously comes in for extra shifts when needed and helps in emergencies, as life on a farm always has things that come up.
"Red Roof is so fortunate to have Gord and Linda there to take on important roles in the Red Roof community," Disero said.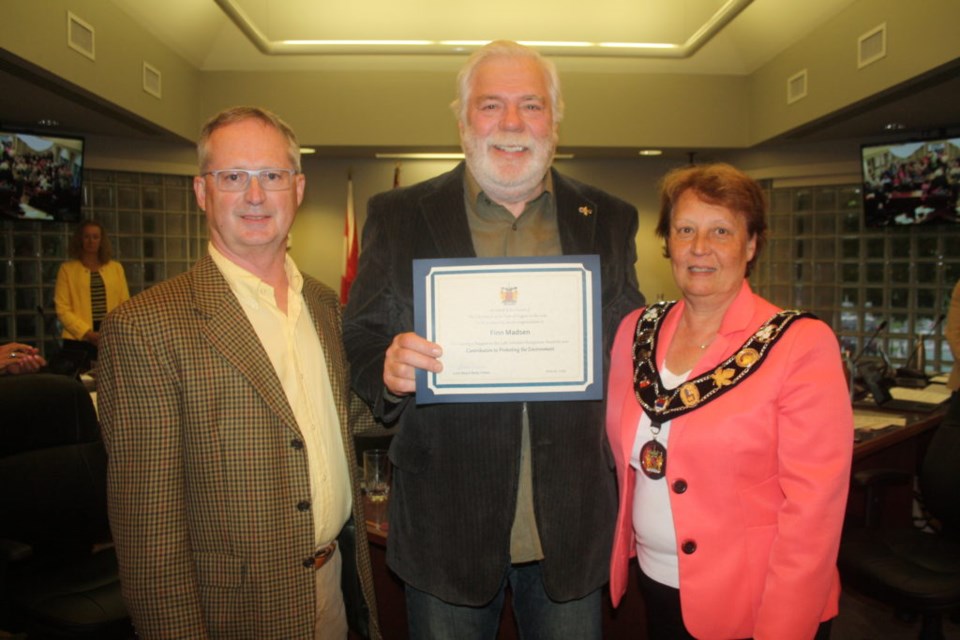 Finn Madsen – Contribution to Protecting the Environment
Finn Madsen has been involved in the community for many years. He joined the Board of the Harmony Residents group in 2007, and has been the chair since 2012. He was also a member of the UNESCO Committee and Communities in Bloom Committee for the Town.
Madsen "strongly believes the Lakeshore Road property owned by Parks Canada should be preserved and protected, and that there is an opportunity not only to create a legacy for NOTL residents and visitors alike, but also a place for young children who are our future," said Bisback.
Over the years he has spent countless hours doing presentations on a local, municipal, regional and federal level. He has recruited several knowledgeable and capable board members and a vicechair, that will continue his vision as he steps down as chair.
Madsen has always worked in the background, never wanting recognition for his time and effort. However he has always ensured someone else gets the recognition they deserved, and now it's his turn, and well-deserved, said Bisback.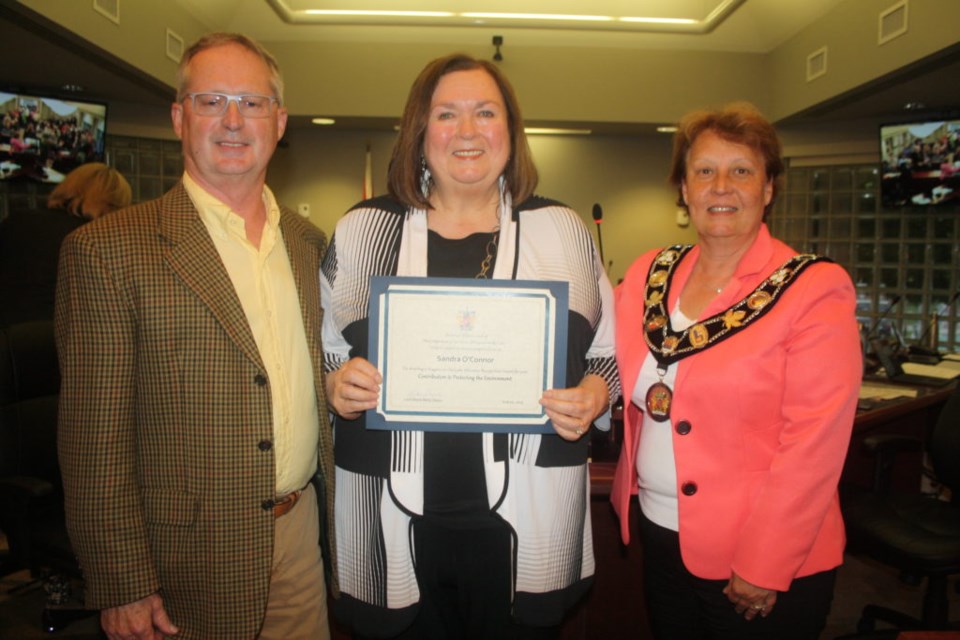 Sandra O'Connor – Contribution to Protecting the Environment
In 2015, the Board of the Niagara-on-the-Lake Conservancy asked Sandra O'Connor to chair an Urban Tree Bylaw initiative on private property, and she has led the work on this extremely important environmental issue since then. She has spent her time seeking input from community associations and distributing information. She has worked tirelessly in pursuit of this goal, galvanized support and developed relevant and well-researched documents. O'Connor also serves as a board member of the Preservation of Agricultural Lands Society (PALS), an organization dedicated to supporting Niagara's farmers and the fruit industry, and promoting food land preservation.
During her tenure she has supported the need for a Niagara Tender Fruit Land easement program to help the farmers and preserve the necessary, and extremely limited tender fruit land base. O'Connor has also helped PALS update its educational materials regarding Niagara's unique history of fruit farming.
Her background in physical geography and conservation laid the foundation for her dedicated support of the environment, and her work is appreciated, Bisback said.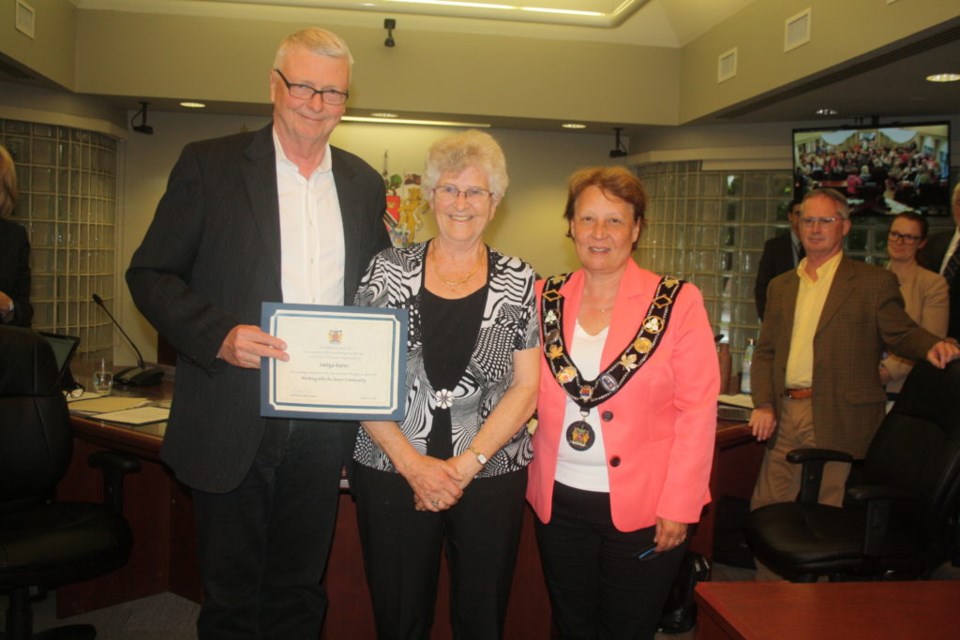 Helga Rahn – Working with Seniors
Helga Rahn is a wonderful asset to our community, said Coun. Stuart McCormack. She volunteers at the Niagara United Mennonite Church; Pleasant Manor Retirement Village; Christian Thrift Benefit Shop; Niagara Warehouse of Hope and the Virgil Women's Institute. She has been volunteering with the Christian Benefit Shop once a week since 1975 and she recently received her 20-year volunteer pin from Pleasant Manor Retirement Village. In addition, she has spent many hours making milk bag mats and quilting, with the results of her toil being sent to third world countries. Rahn's many years of community service are worthy of recognition, earning her one of the first annual Lord Mayor's Volunteer Awards.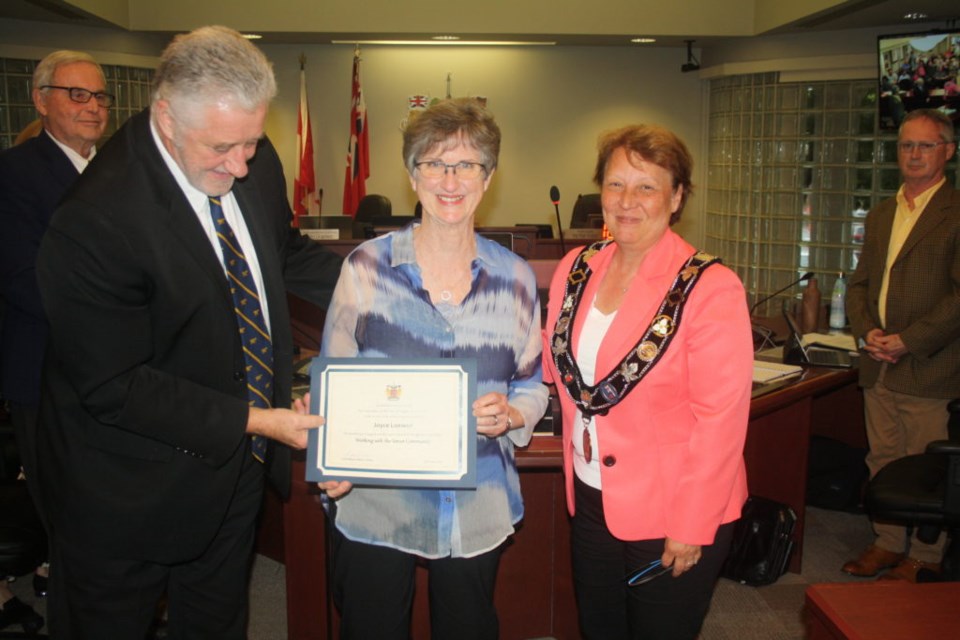 Joyce Loewen – Working with Seniors
Joyce Loewen is a retired nurse who has volunteered for more than 20 years in palliative care. She is always keeping up with the latest technology so she can assist with chores in the office. Her nursing skills and palliative care training are superior. She not only helps through the palliative care service, but if there is a need to assist someone in the community who has recently had surgery, or is ill or dying, she is there — always with food in hand, willing to listen, and offering to stay overnight, if needed. "Thank you, Joyce, for spending so much time helping those in our community," said Wiens.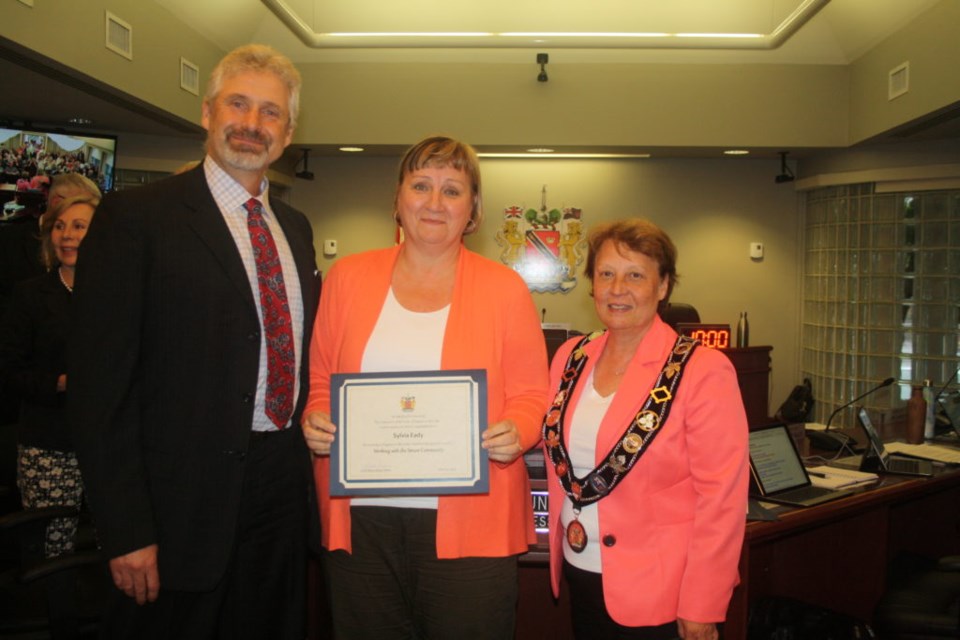 Sylvia Eady – Working with Seniors
Sylvia Eady is an empathetic and energetic volunteer in our community, said Coun. Erwin Weins. She is a valued and long-time employee of the Niagara-on-the-Lake Public Library. Outside of her work at the library, she spends a significant amount of time helping those in the senior community. She quietly volunteers her time to get to know the seniors and drives them to various appointments, visits with them and learns about their lives. "Her dedication is paramount and she truly cares about the well-being of those residents whom she meets," said Wiens. Not only has she succeeded in her duties at work, she continuously goes above and beyond in working for the senior community, earning her a volunteer award in that category.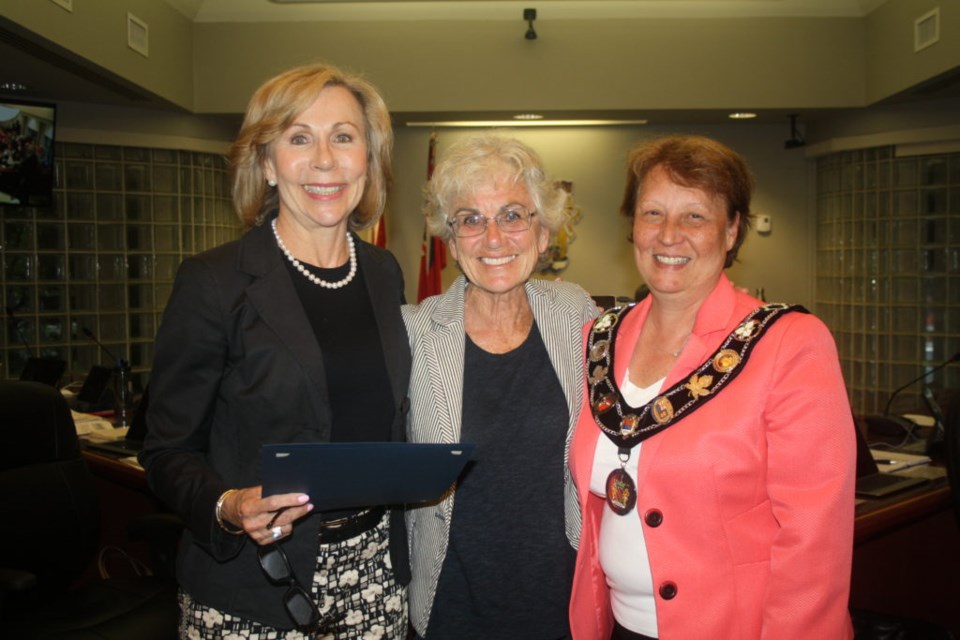 Lise Andreana – Contributions to Culture
Lise Andreana's dedication to the Niagara Pumphouse Arts Centre board of directors, her incredible leadership skills in her role as chair and passion for the arts in Niagara-on-the-Lake deserve to be recognized and celebrated, said Coun. Wendy Cheropita.
The Niagara Pumphouse Arts Centre has a very dedicated board of directors who are passionate about supporting and advancing lifelong learning opportunities in the arts through its school and galleries, emphasizing community involvement and collaboration. Since being elected to the board in 2016, Andreana has taken on the role of chair and has worked tirelessly to advance its mission: to engage, enrich and celebrate our diverse and growing population through the visual arts. She has volunteered 1,617 hours just over the past year toward this mission. As chair, she was determined to build the board, in her words, "one skill set at a time." She sought out the unique skill sets complementary to those of the existing board members and built an exemplary board, said Chiropita.
Andreanna has a unique ability to recruit new volunteer support which has enabled the Niagara Pumphouse to grow existing events, develop new programming and take on new challenges, and is well-deserving of the volunteer award for her contribution to culture.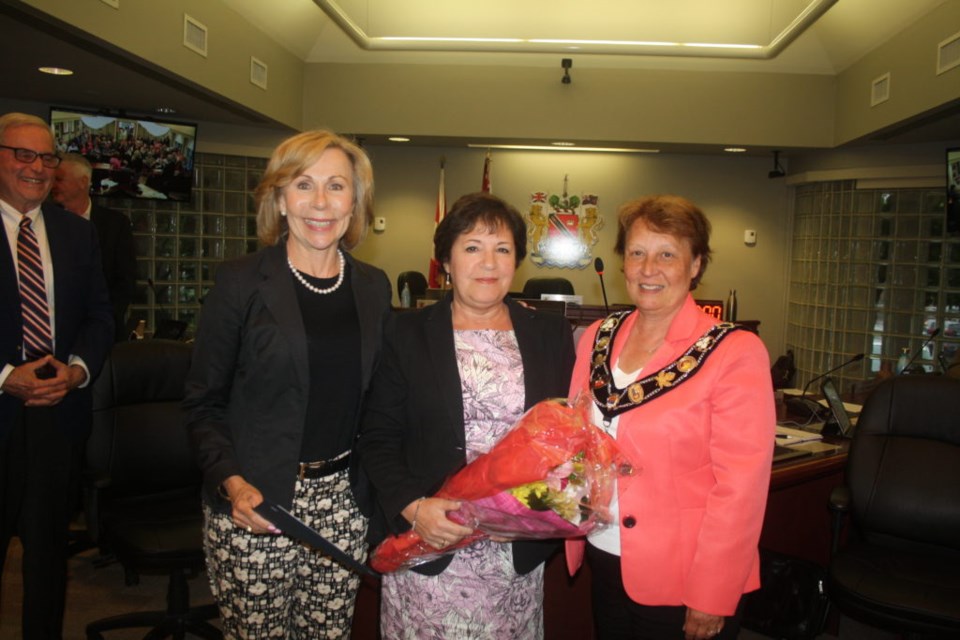 Cheryl Morris – Contributions to Culture
Cheryl Morris is the definition of volunteerism. Since joining the Shaw Guild in 2013 she has held various positions but it's her contributions since 2017 for which she was recognized.
Morris has been the driving force behind transforming the Shaw Guild's volunteer management system to a web-based application known as My Volunteer Page (MVP). With more than 300 volunteers engaged in a dozen different roles, and donating more than 13,000 hours, changing the scheduling process was a daunting task. She was the leader every step of the way, from selecting the application, customizing it, restructuring scheduling processes, developing training materials, conducting a pilot program, training over 200 members and providing first-level support, which ranged from classroom instruction to making house calls for anyone who needed a personal touch. She also took on the role of communications chair. In that capacity, she has revised and improved all Guild communications, including the website and monthly newsletters. And, in addition to her contributions to the Shaw Guild, Morris finds the time to sit on the board of the Niagara Pumphouse Arts Centre, act as marketing lead for the 2019 Canadian Snowbirds event, and be a member of the Town's Heritage Trail Committee.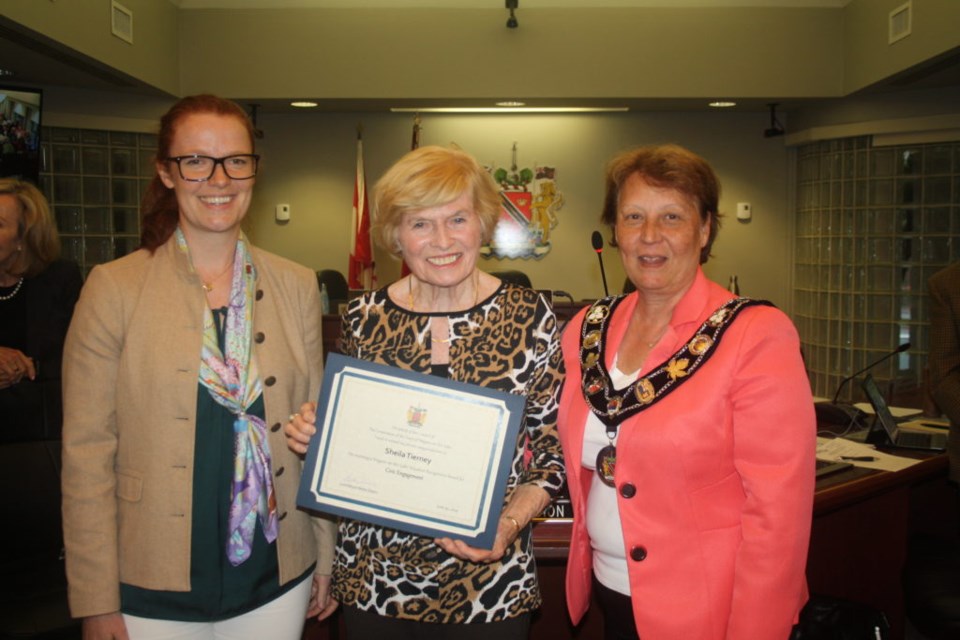 Sheila Tierney – Civic Engagement
Sheila Tierney is a dedicated volunteer, and has been working with the Canadian Cancer Society for more than 50 years. She has organized the successful April door-to-door canvassing in Niagara-on-the-Lake for several years with the help of Jackie Boyce. She also organizes the successful daffodil pin sales which involves coordinating Canadian Cancer Society volunteers in different locations for two weekends in March to sell pins outside of local businesses.
Over the 50 years she has volunteered for the Canadian Cancer Society, she has been a driving force behind many fundraisers, such as the Golf for a Cure event held annually at the Niagara-on-the-Lake Golf Course. She has also been on the local Canadian Cancer Society board as president for many years.
Money she helped raise for this important cause has been used for the Wheels of Hope program, which supports those in our community dealing with cancer, taking them to doctor's appointments and cancer treatments.
Tierney is an outstanding dedicated volunteer and spends many hours behind the scenes, organizing these campaigns and events for the Canadian Cancer Society, said Cameron, and a perfect choice for an award for community engagement.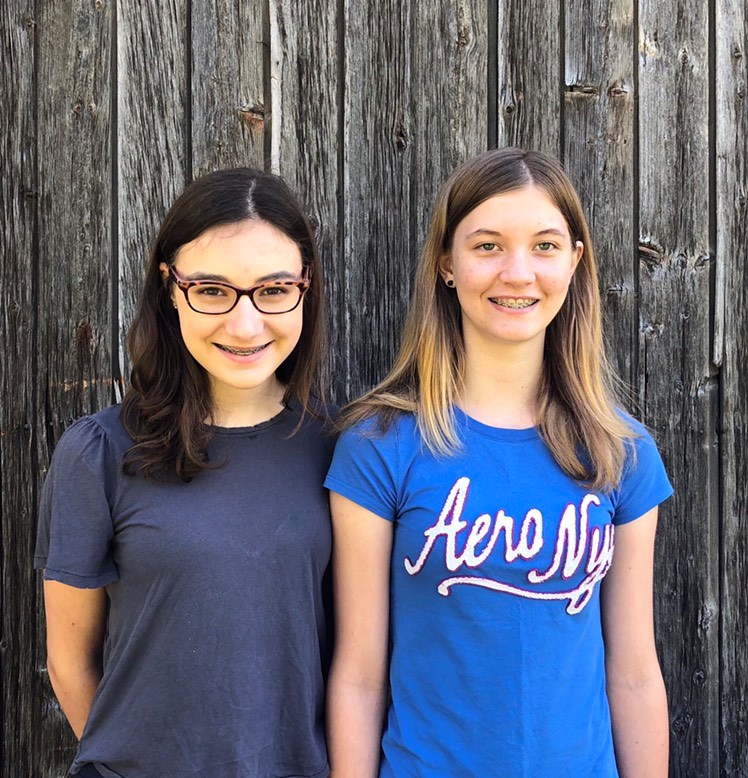 Kaitlyn Lambert and Elena Berardocco – Volunteers Under 21
Kaitlyn Lambert and her friend Elena Berardocco, both 13 years old, are true leaders in our community, said Coun. Norm Arsenault. The two of them planned a climate strike in front of Town Hall in Niagara-on-the-Lake on March 15. This idea was spurred by the worldwide climate strikes taking place all over the world, which also started from the encouragement of a young girl in Sweden, named Greta. More than 950 climate strikes were organized for March 15 and Kaitlyn and Elena wanted to attend one — but the nearest were in Buffalo and Hamilton, so they started their own in their hometown. Their goal was to urge local decision-makers to remember to not only plan for the present, but to be mindful of the legacy we leave behind for future generations.
"Kaitlyn and Elena are the future generation," said Arsenault. "They're leading their peers, taking time to educate the public, and are determined to ensure change starts now, earning them recognition for their dedication in planning an important event."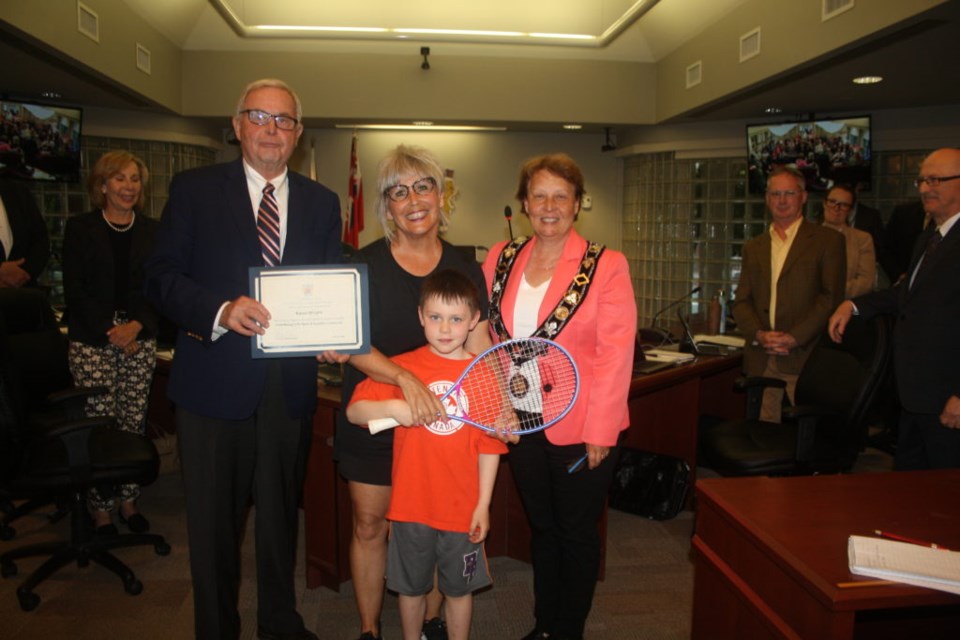 Karen Wright – Sports and Recreation
Karen Wright has spearheaded a new tennis program called Tennis 4 Kids, geared specifically at children ages six and up, which she runs out of the community centre. Her program has allowed children from NOTL to engage in fun, safe and engaging lessons. She provides all the equipment, coordinates additional volunteers so the child/teacher ratio is very small which allows for more one-on-one instruction.
Wright is a huge advocate for tennis and her love and enthusiasm for the sport is inspiring. She is energetic, passionate and extremely professional, said Burroughs, and she encourages children and parents to maintain an active lifestyle. "It is not often one encounters a person so dedicated and tirelessly promoting a sport and making it accessible to all abilities and backgrounds." Her commitment to player development is unwavering and has earned her a well-deserved award for sports and recreation.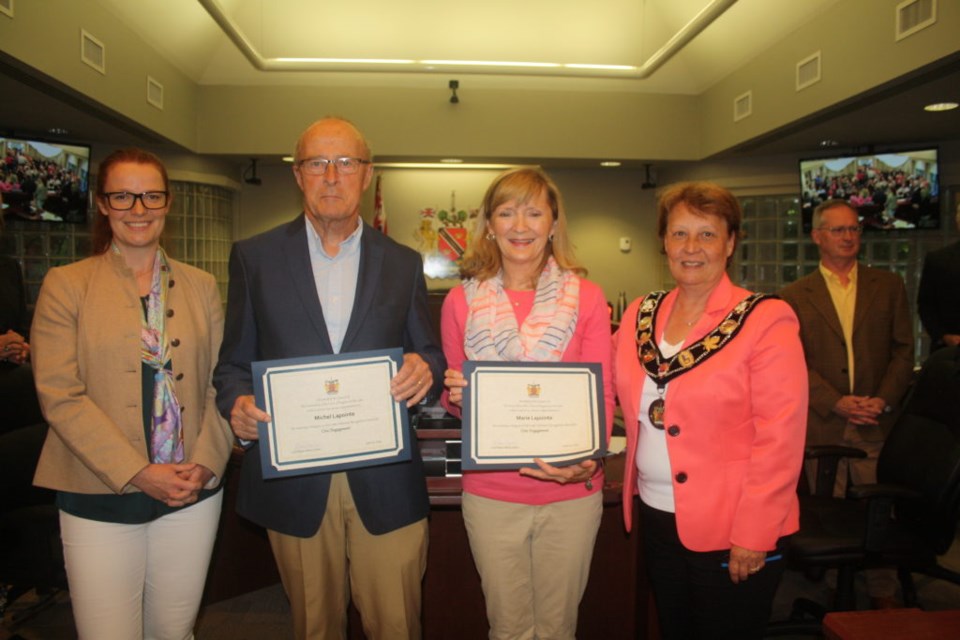 Michel and Marie Lapoint - Civic Engagement
Michel and Marie Lapointe were nominated together for all of their hard work in the community.
Marie Lapointe is whirlwind of generosity and kindness, said Coun. Clare Cameron. "Since moving to NOTL she has used her considerable talents helping in formal and informal ways." She has been a long-time volunteer at Crossroads School in the library and classrooms, with projects and with individual learning, as well as tutoring many students with a range of needs outside of school throughout the region. She was also a volunteer at Parliament Oak School before it closed, and was an active member of CARE, the organization that tried to keep the Old Town school open. She helps migrant workers with translation and supports some in working toward their GEDs. She campaigns for the Canadian Cancer Society, is a member of the Shaw Guild, and has supported the Terry Fox run for several years.
"Michel Lapointe is a long-time, steadfast, hardworking, humble volunteer, helping so many in our community," said Cameron. Formerly a volunteer for Search and Rescue operations, he has campaigned for many local charities, including the Heart and Stroke Foundation, is a member of the Shaw Guild, and has assisted with the Terry Fox Run. He spends a great deal of his time working with the bike program for migrant workers, obtaining and repairing bikes for them. "He is a good friend and neighbour as well, shoveling snow for people, helping with repairs and projects, spending time with elderly folks, and supporting others who support the community," said Cameron.