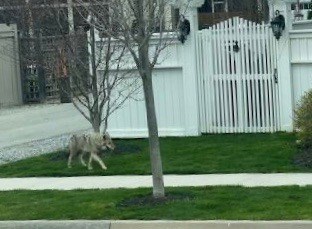 As many residents have seen the video of a coyote attack on social media, the town discussed and approved a coyote management plan Monday night.
CAO Marnie Cluckie explained the document, called a canid management plan to include foxes, should they be an issue in town, is intended to be dynamic and modified "as we move along and as we have more best management practices," such as documenting sightings of foxes and coyotes.
It also includes an escalation process that will become a document for staff to implement as necessary, and, Cluckie explained, it proposes "strengthening the language in the animal care and control byaws to better discourage wildlife feeding."
It includes some of the challenges with euthanizing coyotes, in response to discussions about relocating or euthanizing the animals. It explains "you really want to tackle this from a behavioural perspective," said Cluckie. That method has seen success in other communities, she said.
Coun. Gary Burroughs suggested staff should contact a coyote bounty hunter, who understands the situation in NOTL, and might be a good resource.
The management plan starts with education, said Lord Mayor Betty Disero, asking "where does this process end? How far do we take it?"
Cluckie explained observation of coyote behaviour begins with sightings, moves to encounters, to unattended pet attacks, livestock loss and intended pet attacks, to an incident, an unprovoked attack on a human and then a provoked human attack, "and of course we would take serious measures," she said.
The response to behaviour, after education and hazing, goes on to aversion conditioning, through extreme behaviour that could lead to euthanasia, Cluckie said. Coun. Clare Cameron noted that all councillors have been getting messages about some sightings in the community, and "there is still something sitting vey uncomfortably with me, an aspect of this that feels like we are just waiting for someone to be attacked, and all of this logic kicks in, unfortunately after an incident has happened."
Cameron said that like in a lot of situations, "all the great advice from experts doesn't instantly make people feel okay, or feel safer." The town still has a job of selling to do to convince people the plan is enough to deal with the current situation, she added.
"People need to feel confident where that threshold would be. Are we waiting for a small child to be attacked? Are we waiting for a pet to go missing? Are we waiting for people to be injured physically before a coyote might be injured?" It feels like the safety of a coyote is being considered above the safety of a human, she said
Cluckie said she can understand that might be the perception the public has, but "we're not. We're just recognizing what has been effective in the past and what has been ineffective, based on best practices."
She said there has been only one reported fatality of a human by a coyote since the 1800s. Coyotes see small dogs as prey, so taking measures in that regard is really important, "but rarely is a person attacked."
Coun. Wendy Cheropita lives in a neighbourhood where coyotes have been a problem. She said she sees people walking every day "with baseball bats and other things they can hit the coyotes with, so people are going to start to get more aggressive."
At the town's virtual meeting Wednesday to discuss the coyote issues, "it's important we should address the emotions," she said, and make residents realize "we're putting humans first." Despite the town having discussed coyotes for months, she said, "it's really getting worse."