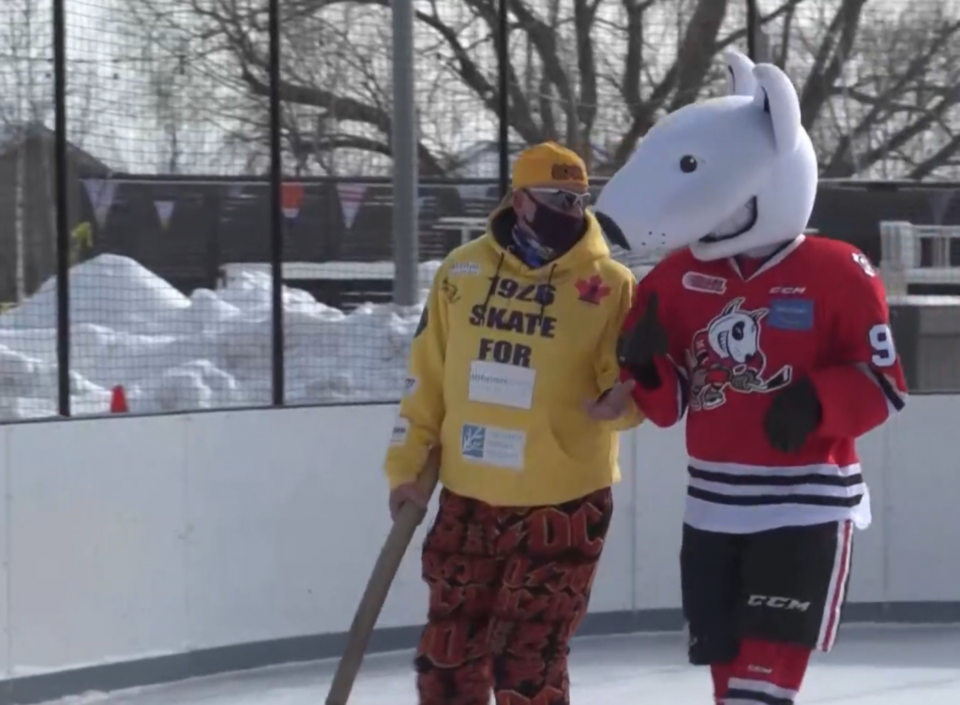 Steve McNeil's personal dedication to raising funds for and awareness about Alzheimer's Disease stems from his late mother's prolonged fight against the malady.
"She was the ultimate hockey mom, she raised five of us," the Etobicoke-area mail carrier and hockey referee told The Local last Wednesday afternoon during his marathon skate at Wayne Gretzky Estates Winery. "She battled Alzheimer's for the better part of 20 years, and she was in a nursing home for her last 11 years. I saw so much that hardened me in a sense, and that's what made me do these skates."
McNeil has been doing these skates for over 10 years now. Each one lasts 19 hours and 26 minutes, representing the year, 1926, that his mother was born. What began as a way to blow off steam after an especially challenging visit at the nursing home has now brought him across the country raising funds for local chapters of the Alzheimer Society of Canada.
"I would get in my truck and I would have an empty, hollow feeling," he explained. "I always had my skates in my truck, and if I saw an outdoor rink, I'd stop, put my skates on, put my music in my ears and skate. Three hours later my wife would call me saying 'where are you?'"
The idea hit him to turn his outlet into a marathon fundraiser while he was officiating a hockey game one night. He approached Rob Ford, the mayor of Toronto at that time, asking for permission to remain on the Nathan Phillips Square ice for 19:26. Armed with Ford's approval, he hit the ice and completed the marathon. Today he says that city council contacts him every year to help him with his arrangements.
He's been across Canada twice, making a point to stop in each of the seven cities that play host to NHL hockey teams. The last two years have put a bit of a damper on his usual itinerary, with COVID-19 restricting his ability to take his mission far and wide.
Niagara-on-the-Lake was one of eight stops this winter on what he is calling his Ontario Skate-cation. His plans were to visit 10 cities in the province to mark his 10th anniversary, but two locations were cancelled just before he started.
It's his second time visiting the Gretzky Estates and coincidentally, this year's skate took place on the Great One's birthday. Because of provincial restrictions that were still in place last week, a limited number of participants were allowed to accompany McNeil for a few laps around the rink, and each had to register prior to the event.
Samantha Marson, the Niagara Predators trainer and assistant general manager, was there to skate with McNeil for the second straight year.
"He's such a different character, the atmosphere he brings, he gets lost in his music skating around and dancing," Marson said. "It's a great cause, too. You never know in life what can happen. The hockey community comes out and supports him wherever he goes."
Teena Kindt of the Alzheimer Society of Niagara said that McNeil's efforts had brought in donations totalling $1651.70 to the local chapter as of press time. She was hoping that by the end of the week that total would reach the magic number of $1926, which would still be significantly lower than the approximately $3,000 raised at last year's event.
"January is Alzheimer Awareness Month, and with our annual walk moving to May this year, this is a great opportunity to showcase our local chapter," said Kindt. "He's a fabulous man, and we're very fortunate to have him here again this year. It brings great exposure."
Kindt explained that the funds raised during the 1926 Skate stay in Niagara, supporting the organization's wellness programs which are not funded by any government agencies. The local chapter needs to raise about $600,000 a year to maintain the level of service offered through their programs.
McNeil took to the ice just after 12 a.m. Wednesday morning. By the time The Local caught up with him he had been skating for more than 13 hours and was showing no signs of fatigue. On the contrary, he assured anyone who asked that his stamina has never been a problem for him during his marathons.
Without fault, each visitor who spoke to McNeil was handed a sharpie and asked to sign his yellow hoodie, which was adorned with the logos of his local sponsors. Lord Mayor Betty Disero's signature found a spot just above that of IceDogs mascot Bones.
At the end of each marathon he removes the hoodie and presents it to the local Alzheimer Society chapter. It usually finds its way onto the auction block eventually, raising more funds for the cause.
The eight-city Skate-cation continues this Friday with a stop in Windsor. McNeil will be in Peterborough on Feb. 12, and wraps it all up with a stop at the famous Weber's Burgers on Highway 11 near Orillia on Family Day.
"I'm just trying to get out and make people aware," McNeil said. "I've dealt with Alzheimer Societies from coast to coast. Some have the resources, some don't. I'm just trying to make an even playing field for everybody."
He continued, "COVID has shown us that even though our seniors mean so much to us, we've dropped the ball in a lot of ways. This is a good opportunity for communities across Canada to get involved with their Alzheimer Society."
Kindt says there is still time to donate, and suggests that a contribution of $19.26 would be appropriate if possible. Donations can be made at www.alzheimerniagara.ca/donate or at https://www.1926skate.com/donate.