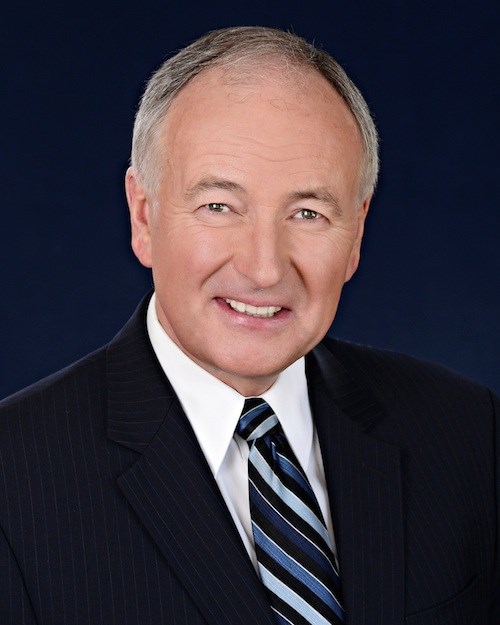 Rob Nicholson is one of those very fortunate people who decided as a youngster what he wanted to be when he grew up, and has done exactly that very successfully, becoming the longest serving member of the Conservative Party.
He has decided it's time to move on to a life after politics — the representative for the riding of Niagara Falls, Niagara-on-the-Lake and Fort Erie has announced he will not seek another term.
He's been a candidate in several elections, he says, and always makes his decision about running six months out. "We're about six months away from the October election, so it's time," he says, although he's stepping away from a career he has loved.
"I'm very grateful to the people who have given me this opportunity."
Nicholson tells a story of how he came to know he wanted to be not just a politician, but to make a difference in people's lives.
When he was in Grade 5 at Valley Way Public School in Niagara Falls, his teacher encouraged her students to read the news of the day so they could discuss it at school, he recalls.
Nicholson took his assignment to heart and read the Niagara Falls Review, learning about the Cuban missile crisis, which was the big story of the day.
"I read about Kennedy and Diefenbaker, and learned they were not quite on the same page. I asked my parents, who were not political at all, about Diefenbaker, and my father explained the prime minister was concerned about fishermen, farmers and seniors."
That answer clinched it for Nicholson — he decided whose side he was on, and wrote a letter to tell Diefenbaker that. He also mentioned he'd started a class
fan club for the prime minister.
"Of course a girl in class also started a fan club for the Liberals," he says.
He not only got a "beautiful letter" in response from Diefenbaker, he received a call from him years later — as leader of the opposition, in 1965 — saying he'd be at the Serbian picnic grounds in Niagara Falls, and offered to meet with Nicholson, who was 13 at the time.
"When I met him, he asked me if I wanted to be a Conservative MP. I sure did, I told him."
As he gets set to move on to other avenues of service to his community, more than 50 years after that conversation, Nicholson says of his political career, "It's been a dream come true for me."
Now 66, he started helping out on Conservative campaigns in Niagara Falls in the 1960s — he remembers being given a bunch of tea bags and told to hand them out at school, telling his classmates to "have a cup of tea with a Conservative"— and worked on every campaign until he was ready to put his name forward in 1984.
A lot of people remembered him from his days helping out, he says. When the vote was held, 1,700 people showed up, "and I managed to win."
He was re-elected in 1988, 2004, 2008, 2011 and 2015, and held several positions under three different Conservative prime ministers, including parliamentary secretary, minister of justice and attorney general.
He was elected to regional council in 1997, 2000 and 2003.
He has pledged to work on at least one more campaign — he will help opposition leader Andrew Scheer as he tries for a Conservative victory in the October federal election.
Nicholson admits to feeling "somewhat emotional" about his decision not to run again, but recalls his defeat in 1993 to Liberal Gary Pillitteri, which was followed by more good years for Nicholson. He went back to practising law, and won a seat on regional council.
He remembers telling a reporter after the election he wanted to do more work for his church. "I won't write that," she said, dismissing the notion helping out at church could somehow replace a political commitment.
But almost 30 years later, that is still one of his goals. A member of St. Patrick Roman Catholic Church in Niagara Falls, Nicholson says when he was so often out of town, he felt he couldn't give as much time to his church as he wanted, but he will now.
There are other groups and organizations he has wanted to work with but couldn't as a politician, he says, but that too has changed.
"When you're in the business of service to people, trying to make a difference, that's what brings you satisfaction," says Nicholson. "I'm hoping to continue to provide service to the community."
He also plans to get to the gym more often, and although he has done a lot of travelling during his career, he has told his wife Arlene when they go on vacation now, "we can go for longer periods of time. We don't have to be back in eight to 10 days."
He hasn't eliminated the possibility of running for local government again, but says "I'm not expecting to. I would like to do a few other things I haven't been able to do."