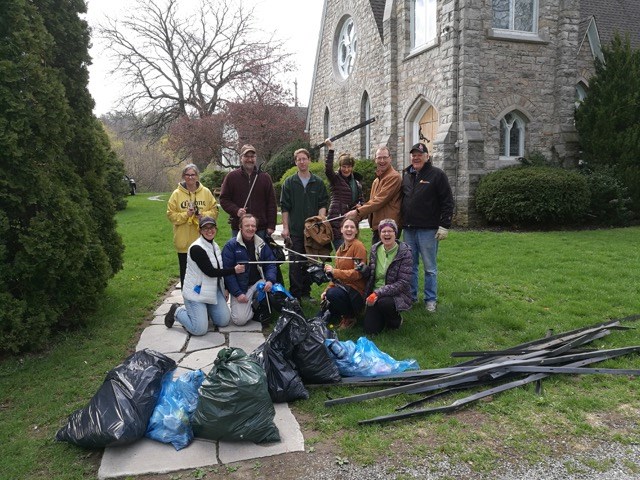 The Queenston cleanups started with three residents who called themselves the Friends of Queenston: Jim Armstrong, Graham Keene, and Doug King. The idea may or may not have been developed in a hot tub.
This was several years ago, and the event was subsequently paused for several years. Three years ago Adrian Schoot Uiterkamp and Armstrong started it up again, "because Jim and I are very nature-oriented and environmentally friendly," says Schoot Uiterkamp.
"This is also about trying to connect with Queenstoners," says the community-minded man from the Netherlands. "'Cleanup' has two meanings: cleaning up the town physically, as well as a loose active connection, an informal getting together."
The 24-year Queenston resident goes on to explain it's a Queenston Residents Association event: everyone from the community is welcome.
"Number one, it's about nature. Number two, meet your community residents in a different way," he says.
According to Schoot Uiterkamp, most people — about a dozen of them — return every year. "It's just good fun."
Resident Sue Stecyk makes homemade goodies, cookies and muffins: "We start and finish with those," he says, and points out it will only be cancelled in the event of heavy rain.
Schoot Uiterkamp says the bulk of the collection takes place on Niagara Parks Commission property, along the river's edge, paths, and at the lookout point. "We start at the library and then send groups out, depending on how many people show up," he says.
"I like that younger people come because they climb embankments and along the escarpment and the river's edge. The older crowd takes the easier routes. We delegate accordingly; people do what they can do."
Willowbank students, many of whom live in the village, have been encouraged to join in.
He says between the wind and the raccoons — who take out the whole garbage bag to find what they want — there is a lot of trash around. "Off-season, Niagara Parks can't keep up with the garbage bins.
I don't blame too many people — I don't even blame the raccoons."
The local tells of Scott, "an early morning person in town, who walks every morning with a garbage bag and picks stuff up," says Schoot Uiterkamp.
"He says he sees things in the same spot everyday: coffee cups, beer cans." Schoot Uiterkamp speculates the wind blows things out of pickup truck beds, where people toss them, innocently believing they're not littering.
"Last year we collected 30 bags of trash," says the event organizer. "We try to separate the recycling into clear bags so it can be processed. We have found full tires — people are dumping sometimes," he says. "We have found TVs, boards, odds and ends, metal chains, and planks and other material from renovations."
"I pick up the filled bags in my truck and drop them off at the overflow parking lot
of the boat ramp, and then I let [the NPC] know," he says. "They pick everything up between 1 and 2 p.m. and dispose of the waste."
"This is a nice story," says the former stay-at-home dad who now works for the parks commission.
"The first year we did a cleanup, I collected the bags in my truck and delivered them to the drop-off point, then parked my truck in my driveway. Another truck drove by, and the driver stopped and asked if I had been dumping garbage. He had seen me drop off the bags and was concerned. I explained the situation, and was grateful he followed up, especially since he did so without confrontation. I like that people speak up about dumping."
"Now we have safety vests — for safety, and for professionalism."
Schoot Uiterkamp explains the potential confusion of the event's name. Earth Day is officially April 22, and his event is on April 6. "I called it 'Earth Day' cleanup on purpose and not on Earth Day," he says.
"There are so many events going on that this provides an alternative day. But even if there was no Earth Day we would do this. It's a community event. I don't care about the date, Earth Day should be every day; Earth Hour should be every hour. We should be conscious every day," he says.
"We should all do as many things as we can do to take care of the Earth," he says with conviction.
To participate in the cleanup, meet at the Queenston library on Saturday, April 6 at 10 a.m. Garbage and recycling bags are supplied, as are trash grabbers and some safety vests.
It is recommended people bring their own gloves. Cleanup ends at 12 p.m. Questions can be emailed to Schoot Uiterkamp at [email protected].