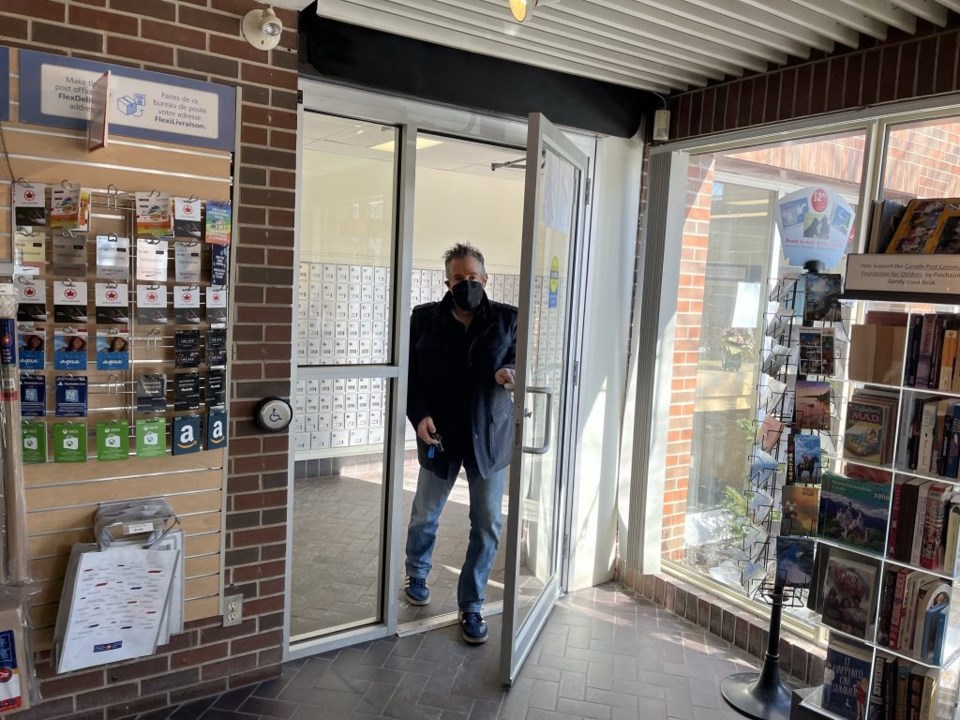 A daily ritual for many who live in Old Town Niagara-on-the-Lake just got a little more normal.
On Friday, Canada Post lifted limits for customers allowed inside the building. Gone are the days of one visitor in the box lobby at a time, and there is no longer a cap of two customers in the retail area. And, miracle of all miracles, the door between the two indoor spaces has now been unlocked. It is now possible to collect one's mail and walk directly up to the counter to retrieve an awaiting package that was too large to fit in one's mailbox.
When the news was conveyed to me last Friday, it seemed the staff at the Queen Street post office was as excited about it as the residents who were there to retrieve their mail. Staff member Valerie Novacek, who recently had been joking that the pandemic restrictions would change by the year 2030, was overjoyed when she informed me of the changes.
Forgive me if I am making a mountain out of a molehill, but to me this is indeed a momentous occasion. I might even put forth the idea that this is a true turning point after just under two full years of this COVID-19 pandemic.
As NOTL Post Office employee Doug MacNeil reminds me, Canada Post operates under federal statutes, while other locations along Queen Street fall under provincial guidelines.
As of this Tuesday morning the province had lifted all indoor capacity limits and vaccine passports were no longer required for entry into places such as restaurants, theatres, gyms and casinos. But Binning got the go-ahead from Ottawa on Feb. 25 that indoor capacity limits were no longer required.
Hearing the news at the post office five days before the provincial changes made it seem that much more momentous.
When I tell people who are not in the know that I have to go to the post office to pick up my mail I am always met with a quizzical look.
Some laugh, and ask if we have party lines on our phones as well, conjuring images of Eddie Albert and Eva Gabor in Green Acres answering their phone only to find a pig oinking back at them, hoping to connect with local celebrity swine Arnold Ziffel.
It's a quaint little quirk that comes with residing within areas of NOTL where there is no home mail delivery.
In fact, I myself may have graced my now-wife Mishka with one of those quizzical looks in 1999 when we were first dating. We saddled up two of Jackie and Fred Sentineal's horses and trotted to the loading dock behind the post office to pick up her mail one afternoon. The staff in the sorting area loved it, and deemed Mishka and Dusty the horse local celebrities in a way.
Visiting the post office is a quirk I soon grew to love. For 21 years it was part of my daily ritual. And I do mean daily, as I usually make a point of visiting the post office Monday through Friday. I've come to know the names of most of the staff, and often stay long past my welcome socializing with them.
When my children were little they loved being handed the responsibility of holding the key and opening the mailbox. And ours is on the second row from the bottom. For many years, directly in line with our mailbox, a staff member had placed a teddy bear that both of my kids eagerly looked for every time.
I know I am not alone in my love of those daily visits. Canada Post is almost like a town hall, a place where residents come together and often run into one another, stopping to take time to catch up.
My daily visits, however, were reduced to weekly during much of the pandemic. With fears of the spread of COVID-19 and its various variants, it made less sense to so frequently put oneself out there where there could be risk of bringing the virus home to family.
And when I did visit, I dutifully followed pandemic protocol, wearing a mask and waiting outside two metres away from the box lobby door and from anyone else in line, until whoever was in front of me walked out with their mail. That was the case through rain, sleet, snow and frigid temperatures.
I know it wasn't easy for many. The Local received several inquiries about the indoor limits, wondering why during the colder temperatures more people couldn't be admitted or why one couldn't walk through the door into the retail area without having to line up again outside. As Binning would reply, the head office made those rules and nothing could change without their go-ahead.
Then there were the people in line who sometimes lost their cool, watching as someone emptied their mailbox and subsequently stood at the sorting table leafing through envelopes like a kid from the 1960s going through a pack of baseball cards looking for a Mickey Mantle.
I once witnessed a woman three spots behind me in line walk past everyone to open the door to say to someone inside, "there are people outside waiting to get in, can't you sort your mail at home?" When the sorter in question slowly inched out the door with the aid of her cane in one hand and a pile of mail in the other, I hope the impatient woman felt just a little embarrassed at her tirade.
Thankfully, those uncomfortable moments should be coming to an end. Binning, though, informed me Monday that people have been slow to pile into both indoor spaces, and the door dividing the box lobby from the retail area has not been swinging off its hinges.
Perhaps that's because they didn't yet know about the change, or perhaps it's because they were still being cautious. I would assume it's a little bit of both. It will take time for many of us to ease into feeling comfortable after living this way for so long.
I'm still wearing a mask as I return to my daily visits, and I'm still giving people enough space to ensure the highest level of comfort in all social situations.
But as we move forward into a NOTL that feels a little closer to normal, isn't it great that some of our daily rituals, as benign as they may seem, can again be enjoyed? I bet even Arnold Ziffel would oink in agreement.