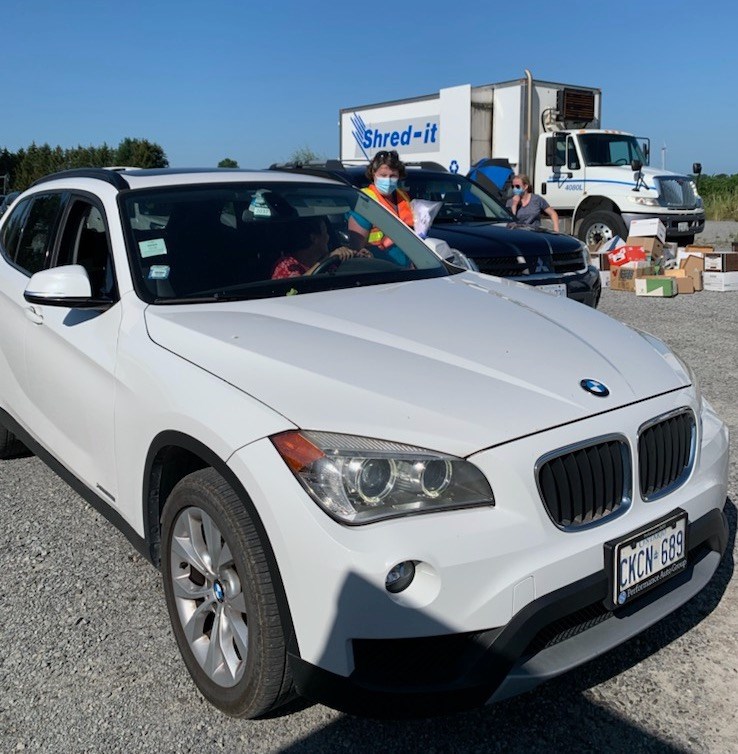 Shred-it, an annual fundraiser supporting palliative care, returns this Saturday.
Bonnie Bagnulo, executive director of the Niagara-on-the-Lake Community Palliative Care Service, says she was fortunate to be able to hold the event even during COVID, when so much else was cancelled.
Although the Meridian Credit Union continued to sponsor the fundraiser, as it has from its earliest years, they were unable to offer their usual volunteer help or hold it at the credit union due to their internal COVID precautions.
Instead, Sean Simpson offered Simpson's Pharmacy's Niagara Stone Road parking lot, where a safe and easy
plan for drop-offs was organized. It was a great set-up, with an entrance and exit, and space for people to stop, and allow their boxes of material to be taken from trunks with no physical contact necessary, says Bagnulo.
"It was great for us all to get together, and have some fun," she adds, "and the more opportunities we have to spread the word and raise awareness better."
Not much has changed about the event — the cost for shredding is $8 per bankers box of documents,
and $20 for three boxes. And the same set-up will be used in the Simpson's parking lot this year.
The support and sponsorship of the Niagara-on-the-Lake Meridian Credit Union also continues.
It's happening this Saturday, so it's time to go through the boxes of old documents piling up and taking space in your basement.
The number of boxes and the revenue from shredding the documents in them have stayed pretty steady, says Bagnulo, partly because people who are aware of the fundraiser choose to hold on to their boxes so they can support palliative care programs.
The goal of the event has always been two-fold — it gets rid of important papers safely, avoiding the possibility of identity theft, while helping a very important local
organization.
This year, she says she has heard from one local company that expects to drop off about 100 boxes. "I'm beyond excited," she says, thinking of the many services palliative care offers.
Meridian Credit Union pays for the Shred-it trucks, so all money raised can go directly to serving palliative care clients, their families and caregivers, as well as the services it offers.
If there has been change during the pandemic, it is that the services the palliative care organization offers has increased.
Their mission and goal remain the same: To offer community support volunteers and services free of charge to help achieve optimum quality of life for their clients and their caregivers, and to ensure every individual and family living in NOTL with a life-limiting illness will have access to high-quality, coordinated hospice palliative care.
There are about 50 volunteers who visit residents in Upper Canada Lodge, Niagara Long Term Care and Radiant Care Pleasant Manor, with almost 70 clients currently in those homes, says Bagnulo.
Volunteers are also seeing community clients — about 77 currently — in the privacy of their own homes, with illnesses such as dementia, cancer, heart disease, stroke, renal failure, pulmonary fibrosis, multiple sclerosis, COPD, HIV and other auto-immune diseases, as outlined by Bagnulo in a recent presentation to the Rotary Club of NOTL.
Palliative care volunteers offer "emotional support, compassionate listening, companionship and caregiver relief in their own home and in the three local long-term care facilities."
Volunteers are educated through Hospice Palliative Care Ontario, explains Bagnulo, completing a 30-hour training course. They are also required to have a police screening as they are working with the vulnerable sector.
Volunteers go into homes from two to four hours once a week, or on an agreed-upon schedule with the client and caregiver. They can provide transportation to hospital appointments, "and provide a great deal of comfort, thus matching our motto - You are not alone."
The palliative care organization also offers bereavement services, including one-on-one companionship. Volunteers offer support while loved ones are adjusting to their new loss, and can provide them with coping skills and guidance if necessary.
If requested, phone bereavement support can be provided for up to a year following the death of a loved one, with a volunteer calling on the phone or through Zoom if preferred.
As well, community wellness support is offered, through community events and workshops held throughout the year, with a trained facilitator conducting a group that can run once a week for three consecutive weeks.
These community events are a way to "celebrate, mourn and work through the passing of a loved one in the way of grief walks, memory boxes, celebration of life, workshops, life-legacy" and other ways of supporting those grieving.
They recently started a bereavement walking group that is open to anyone grieving a loss, says Bagnulo, meeting at a designated spot in NOTL, and facilitated by bereavement support volunteers. They currently walk for 45 minutes, and meet at the end of the walk for a brief discussion if they choose.
The palliative care lending library is full of titles that help loved ones grieve, and children understand the grief process. There are devotionals such as Grief One Day at a Time, and many other titles to choose from, as well as CDs and DVDs.
Equipment available for lending to clients includes walkers, wheelchairs, transfer chairs, canes, raised toilet seats, commodes and shower benches, ROHO-brand cushions, sheep skins and mattress covers.
The Shred-it event is this Saturday, Aug. 13 from 9 a.m. to 1 p.m., or until the two Shred-it trucks are full.
For more information call 905-468-4433.