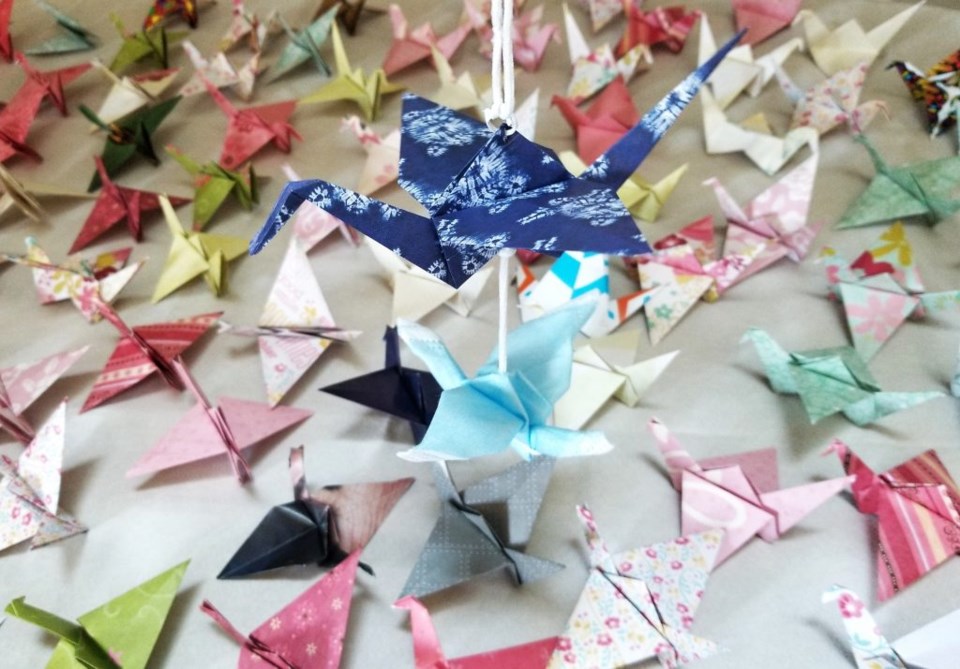 This month, Niagara Pumphouse Arts Centre staff will be working on installing a new art exhibition consisting of 1,000 paper origami cranes at the Niagara-on-the-Lake Community Centre. The exhibition of these colourful cranes will serve to honour the dedication of essential workers and thank them for their service. There will be a reception for the opening held at 2:30 p.m. on March 24 to mark the two-year anniversary of COVID-19 lockdowns in Ontario and Canada.
In January, the Pumphouse embarked on a project to produce 1,000 origami paper cranes to honour essential workers and to make a wish. According to board chair Lise Andreana, an ancient Japanese legend says that any one person or a group of people who fold 1,000 origami cranes will be granted a wish by the gods, or bring happiness and good luck.
"When the exhibit opens, we invite everyone to see the remarkable and stunning origami cranes on display that represent the collective effort of many volunteers and organizations. Fulfilling the legend of the crane, the assembly during the opening ceremony will make a wish for the end of the pandemic," said Rima Boles, art centre director.
Each delicate crane was constructed by Pumphouse staff and members of the community. "We have had incredible community support, with volunteers coming in droves to participate in this project" adds Boles. "It was inspiring to hear stories of neighbours, families and friends folding cranes together, in-person or online."
Even members of the town council have joined in. "I am honoured to be a part of sharing such a wonderful message with our community, and would like to thank the Niagara Pumphouse Arts Centre for their leadership in this heartwarming initiative," said Lord Mayor Betty Disero. "I am looking forward to seeing all of the origami cranes displayed at the Community Centre, including the 50 made by CAO Marnie Cluckie and me. It is my hope that community members will look upon these cranes and reflect on the dedication of all essential workers throughout this pandemic."
According to several websites, a group of cranes can be referred to as a dance, a sedge, a swoop or a construction.
In this instance, it seems appropriate that this construction of cranes will be seen flying the windows of the community centre until April 7.
When the exhibition is dismantled the Pumphouse will be donating a strand of the cranes to nominated essential workers. The public is invited to nominate an essential worker to receive a strand of origami cranes from the exhibit by sending an email to [email protected]