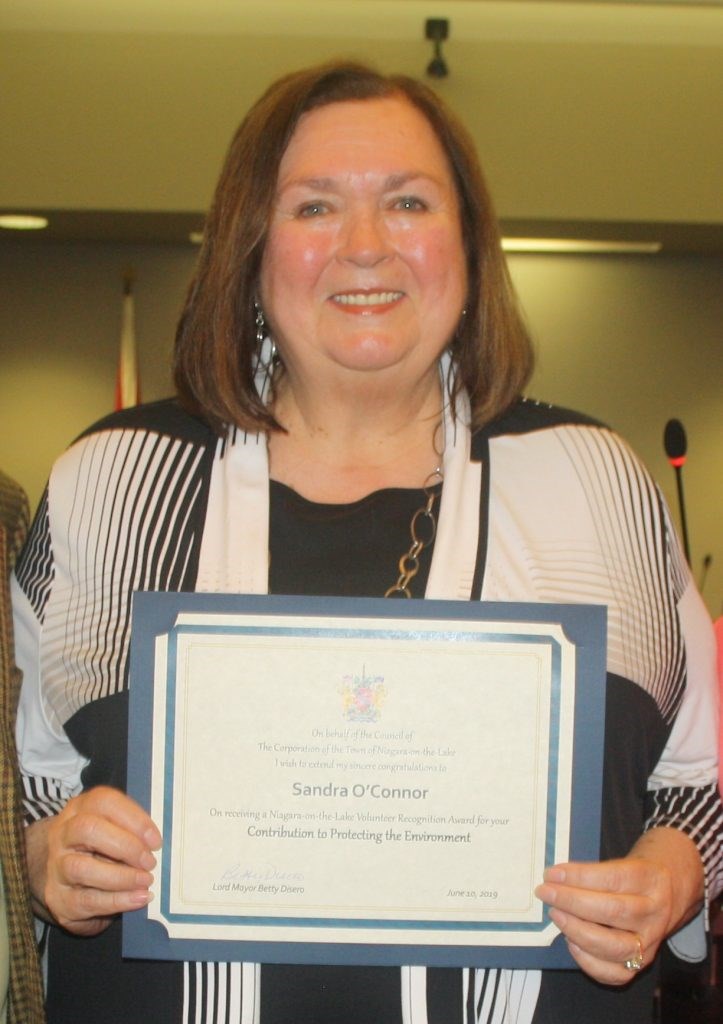 Sandra O'Connor is taking her second run at a seat at the Niagara-on-the Lake council table after stepping in to fill a vacant spot halfway through this term.
She was appointed in July, 2020, when Stuart McCormack resigned. After a brief discussion, council took the customary route and appointed O'Connor, who had come in ninth for the eight seats up for grabs in the 2018 election.
She says she has felt honoured to serve the town, has listened to the issues, done her homework, and has "tried to bring a balanced, respectful and researched approach to their resolution."
She is excited at the possibility of having another four years to serve, she says, and has enjoyed being able to work for the benefit of residents.
She feels in her time on council she has been instrumental in pushing forward certain issues, and hopes for the opportunity to see through to resolution others not yet completed.
Her goals are to: develop a climate of trust with all of the communities, including the rural areas, by being inclusive and responsive; be responsive and accountable to all constituents; ensure what makes NOTL special is maintained and enhanced; and serve with integrity, honesty and transparency.
O'Connor identifies the environment, sustainable development, healthcare infrastructure and sustainable tourism as priorities for the next term of council.
O'Connor graduated from Brock University, where she studied physical and urban geography, and worked for a variety of organizations, including the Ministry of Natural Resources, Natural Resources Canada, the Natural Sciences and Engineering Research Council. She also represented the Green Party in a previous federal election.
She is accustomed to working with research and data, and to "getting the facts before I make a decision," she says.
Protecting and improving the health of the environment is an issue that is close to her heart.
That includes maintaining the boundary of the greenbelt and protecting agricultural land, increasing the town's tree canopy, ensuring adequate green spaces in urban areas, implementing the NOTL Climate Change Adaptation Plan, and other issues, including creating "environmental policy based on evidence."
She would like to see each town report on current issues before council include the impact of staff recommendations on the environment, she says, such as the transportation master plan, which does not address whether its recommendations are good for the environment, whether roads are going to "destroy a forested area or go through a park."
Those issues should have been addressed "at the time we're putting the transportation master plan together."
Sustainable development, another of O'Connor's priorities, to her means balancing growth in town "with the natural resources and ecosystems upon which our economy is based."
In addition to finalizing the official plan and completing secondary plans, the town needs to develop "strong and clear zoning bylaws to implement our OP objectives," including reducing the maximum height allowed, increasing minimum setbacks, and reducing built lot coverage.
The OP, she says, "needs to be reviewed again to align with the regional plan. I'd also like to see more focus on the environment, and have another look at the plan, such as where we will have increased density, look at zoning heights and setbacks, and make sure all our plans are complementary."
In recent discussions at council about the draft transportation plan, expected to come to council in August, she spoke of the need to ensure all are aligned with each other, including the official plan, secondary plans, and the transportation and recreational facilities master plans.
She would also like to see the consideration of green infrastructure in the Glendale area, and a look at increasing the heritage district.
O'Connor has recently been lobbying the region to return a nurse practitioner to town, one not tied to the family health team and their patients, to offer health care locally to those who don't have family physicians.
"I'm really excited about continuing to work on healthcare with Niagara Health," she says, and as NOTL's population grows, to lobby the region and the local MPP "to assist in voicing our healthcare needs."
In the province and across the country healthcare is suffering, she says, and her goal is to do what she can in NOTL, to help locals. "Every little bit helps. My perspective is anything we can do to help our area, any additional help we can get, will be worth it."
Sustainable tourism, one of the main economic drivers for the town, O'Connor says, has to be balanced in socio-cultural, economic and environmental aspects, and will be aided by the municipal accommodations tax.
The tourism strategy document should be completed next term, and the needs of residents and visitors addressed, with the municipal accommodations tax helping to contribute to this balance by paying for tourism infrastructure.
She would also like to see bylaw enforcement strengthened, short-term rental densities controlled where necessary, and expanded paid parking areas.
O'Connor says she stands on the record of her accomplishments in the two years she's been on council.
"I've tried to be transparent and accountable, and solve problems when people bring issues to me. I do my research, present data, and make the best decisions possible."