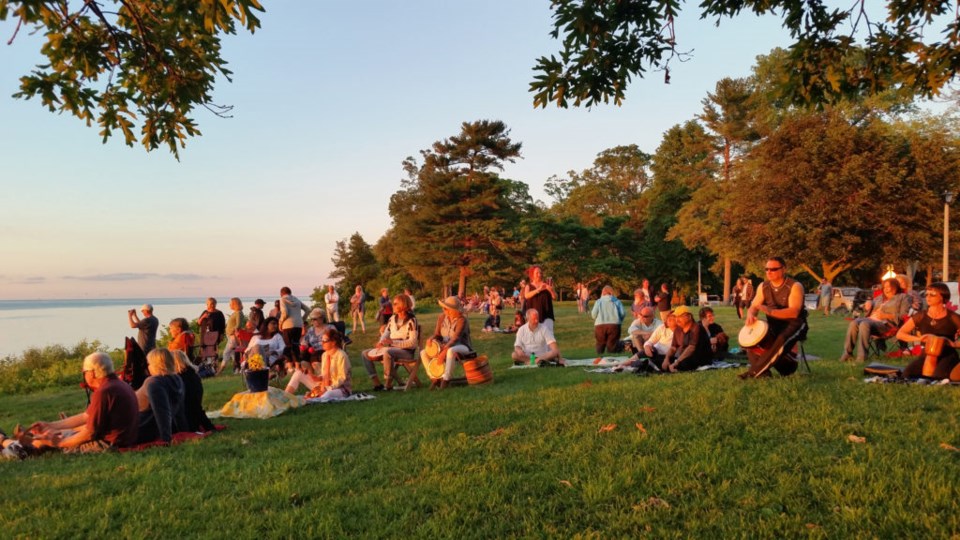 The Summer Solstice event, Drumming Down the Sun & Yoga in the Park, is cancelled at Ryerson Park.
It would have been its ninth year if COVID hadn't interrupted this annual celebration of the longest day of the year, Tuesday, June 21, says Carla Carlson, one of the organizers of the event.
Carlson says she and NOTL resident Loretta Pietrobon came to the difficult decision they couldn't host the celebration this year, for a number of reasons — most importantly, they discovered there is no parking near the park now, "which confounds the event," says Carlson.
She and Pietrobon will be searching for a new NOTL location for 2023, a spot along Lake Ontario where the setting sun is visible, not like the first year at Queen's Royal Park, where they discovered on the evening of the solstice the park doesn't have a view of the sunset.
Carlson is inviting residents to join one of the other two locations for yoga and drumming down the sun. This will be the 25th year at Lakeside Park in Port Dalhousie with yoga, starting at 7 p.m. and then drumming down the sun until it sets.
At Charles Daley Park in Lincoln, yoga starts earlier, at 6:30 p.m., with The Yoga Vine from Beamsville, for free yoga and solstice tea. Then join master drummer Zephie James on the west beach to drum down the sun.
Bring a blanket or yoga mat, lawn chairs, and anything to shake, rattle or drum, says Carlson.
She is asking for donations to help defray organizational expenses, and the cost of park permits, with a portion going to the Niagara Land Trust.
For further information please contact Carlson at 905-562-3746 or www.niagaranaturetours.ca