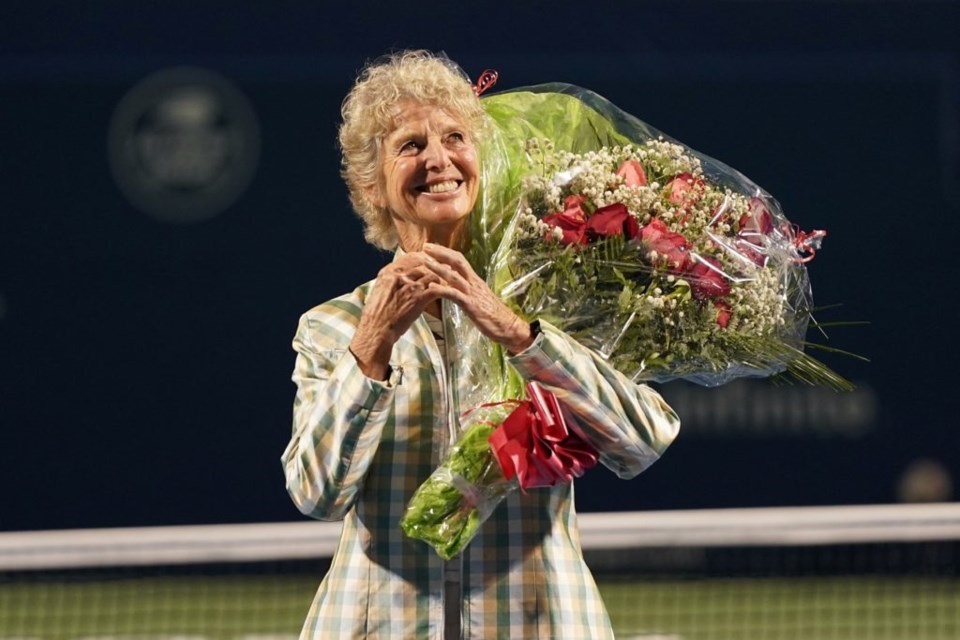 When Rosemary Goodwin relaxes in her sun room overlooking Rye Park, she can see the tree that was planted in memory of her husband Don.
The cheery, comfortable space at the back of their home was where they spent the last weeks of his life last summer, Don stretched out in a chaise, facing the park.
"We were very fortunate to be able to keep him here, right to the end, thanks to Dr. (Karen) Berti. We didn't see many people. Our friends understood that, and supported us."
Those were intense days, although quiet and peaceful, just the two of them making the most of every moment of the remaining days they would have together.
Don Goodwin died of pancreatic cancer on Aug. 21, 2018, leaving Rosemary grateful for the time they had together, but desolate at her loss, and unsure how she would go on without him.
"We had been together since 1982. I was so fortunate — that's what I have to keep telling myself. I had him in my life for 37 years."
Don had retired after a successful career in broadcasting with the CBC, on air and in management, and was heavily involved in sports promotion, often as a master of ceremonies at prestigious events. The man Rosemary describes was not only at the top in his chosen career, which he loved, but also a mentor to young people in sports, warm, caring, witty, and highly respected by all who knew him. "He was also the smartest person I have ever known. He was so smart. Any time I had a thought about anything, I could sit down and talk about it to the smartest person I knew. Now, when I have an idea, I ask myself, 'how would Don deal with this,' and I get drawn down the path of the conversation I would have had with him."
Often the talk would be about tennis — it had been a passion of Don's when they met, and although Rosemary had no involvement in the sport at that time, she grew to share his interest, eventually becoming heavily involved as a volunteer in the Niagara-on-the-Lake Tennis Club.
When Don died, Rosemary says, "there was no funeral, no memorial service. That was what Don wanted. And there is no way I would have been able to turn around and plan one, get dressed, receive people and talk to people. It amazes me that others can. But friends were reaching out, asking what they could do, what did I need, and I didn't know the answers to any of their questions."
She understood she needed to be with people, but "I couldn't just sit and and chit chat. So I got in touch with Joan (King, organizer of the Terry Fox Run), and asked for a dozen Terry Fox T-shirts. She scrambled to see what she could find, and a tennis friend emailed a few people who might join me on the run."
She quickly had a dozen people offer to walk with her. It was a beautiful day, along a gorgeous route, strolling with friends and having "easy conversations" with all of them before they completed the five-kilometre walk, she says.
Several of Rosemary's friends also had bibs, saying they were running for Don, but in Rosemary's mind, it wasn't just about him —it was about several losses others had experienced, including two women, members of the tennis club, "way too young to die from cancer. They were in my thoughts, along with others who have lost parents, loved ones, those who are ill and being treated, those who have passed away from cancer. Everyone has been affected — you can't find anyone who hasn't been touched by cancer. That's why the Terry Fox Run is so powerful."
Despite participating just three weeks after losing her husband, she says she found the event uplifting. "There was this huge mass of people, parents with strollers, people walking their dogs, kids on scooters going by. It's a wonderful cross-section of people and families. It represented the spirit of Terry Fox, that indomitable spirit, and he challenged us to do the same. I think that's why it's such an extraordinary experience. And Terry Fox was such an inspiring figure — sometimes I think we forget that."
For those of a certain age, says Rosemary, "we remember him running from the Maritimes to Ontario, with hardly anyone knowing about him. There was no attention paid to him in the media. Then all of a sudden he was in Ontario and there were people lining the streets, passing pails to collect money along the line. People were cheering for him, the media started taking note of what he was doing, and we got a closer look at who he was. He was such a gentle spirit, so unassuming. He wasn't ever a 'this is about me' type of person. And when it turned tragic, when he needed medical care and eventually had to stop, his job was unfinished. He wanted to run sea to sea, and when he couldn't, he wanted us to pick up the torch where he left off. He's become a powerful national symbol, and what we're seeing is the ripple effect."
When she and her friends finished last year's run, nobody wanted it to end, so they extended the visit, lingering over coffee for a short time.
"I don't think anyone anticipated it being such an uplifting event," she said.
The year since Don's death and her Terry Fox Run participation has been "horrible and wonderful," says Rosemary.
She hasn't spent a lot of time going out with friends, telling them she's not really up to accepting invitations. Those she has accepted, including two trips to the theatre, which Don loved, proved to be very difficult.
But it has also been a year of celebrating the public person who was highly respected in his career, at events that Rosemary has been invited to attend.
At the Rogers Cup tournament in August, Tennis Canada unveiled a sign proclaiming the broadcast booth in the corner, where he had worked for 35 years, the Don Goodwin Public Address booth. It was a very moving ceremony, she says.
He was also honoured at the Sports Media Canada banquet, and the awards that have been handed out for years, named to honour renowned sports writer George Gross, were this year renamed the George Gross Don Goodwin awards, or GGs, at the annual event, which Rosemary was also invited to attend.
In his career, Don joined the CBC coverage crews of Olympics, Pan Am, Commonwealth and Canada Games — he was instrumental in instituting the Canada Games — as well as prestigious international tennis, squash and badminton tournaments. But the time in his life for which he may be best remembered, says Rosemary, came in 1989, when he was just about to retire from CBC. He had announced all kinds of important sports events, but never the news. At that time, he was in CBC management, and there was a strike by those in the broadcasters' union, which included Knowlton Nash and Peter Mansbridge, who announced the 6 p.m. news and The National at 10 p.m. Don was the only member of management who had on-air experience, and for what was intended to be a day or two, he read the news for those two popular segments, seven days a week during the strike that ended up lasting a month. By then, he had developed a fan base amongst those who recognized and appreciated his warmth, and he continued to be recognized this past year, with events to honour his memory.
"I felt like it was a whole year of being with people who cared about him, who remembered him," Rosemary says.
"Now I feel I have to stand on my own two feet. I have to move on, and I'm not sure I know how to do that."
She will rely on tennis to help her, she says.
"Tennis was a huge part of Don's life, although it was not in my life at all when I met him. Everything I know about tennis, everyone I know through tennis, everywhere I've ever been related to tennis, has been because of Don. It's where I feel most comfortable. And there is still so much to do, in such a positive way."
She plans to attend the Davis Cup in Madrid, Spain, this fall where Canada will be one of 120 countries participating, and will go to Melbourne, Australia this winter for the Australian Open after visiting her brother in New Zealand. She will also go to Wimbledon, where she has been invited as a guest, because of Don, she says.
"It's not hard to fill a life with tennis. And I feel as if, step by step, he's with me."
When Rosemary walks her five kilometres this Sept. 15, she will do so as part of a tennis team. Organizer Joan King asked her to consider creating the team, which meant doing something very similar to last year, only giving it a name.
There haven't been a lot of teams in NOTL in recent years, she says, with the exception of Team Pillsy.
Cousins Joe and Mike Pillitteri get so much attention for the cause, and raise so much money — their goal is $100,000 this year — she wonders if others are intimidated, realizing they can't generate that much publicity or revenue, and shy away from the idea of forming an official group with an online presence.
Rosemary has created Niagara Tennis, and that necessitates naming a captain and setting a goal. She bought another 25 shirts from King for Team Tennis 2019 members, and set a goal of $500, which has already been surpassed.
She also organized a champagne brunch at her home for the team after the run, and says her friends have already been asking what they can bring.
"I really didn't want them to bring anything. I told them if they have a few extra bucks, rather than spending it on wine or flowers, give it to the Terry Fox Foundation. But nobody likes to come empty-handed, so I asked them to bring their own place-setting. That way they won't be empty-handed, and when they leave, they'll take their dishes with them."
That was one of the times she relied on Don, channelling her thoughts through him. She had a problem to solve, thought about it, and found her answer. "It was totally a Don solution, the kind of answer he would have come up with."
This year, the run will feel a little different, but Rosemary expects she will still enjoy it quietly, again with easy conversation, soaking up the atmosphere and the beautiful route. She is also grateful for her team of friends who are coming out to help her make a difference, to be part of an effort that will help eradicate the scourge of cancer.
"There has to be a day in the future when people will say how dreadful it must have been when we didn't understand cancer, when we couldn't cure it. They'll be saying that when it's finally gone, when the world is rid of it."
And part of the reason it will be gone, she says, will be the people who put their confidence in Terry Fox and the foundation set up in his name.
To register for the walk, or to donate to Niagara Tennis or any team or participant, go to terryfox.org.
The Sept. 15 five-kilometre NOTL run begins at Simcoe Park, with registration at 9 a.m. and the run at 10 a.m.