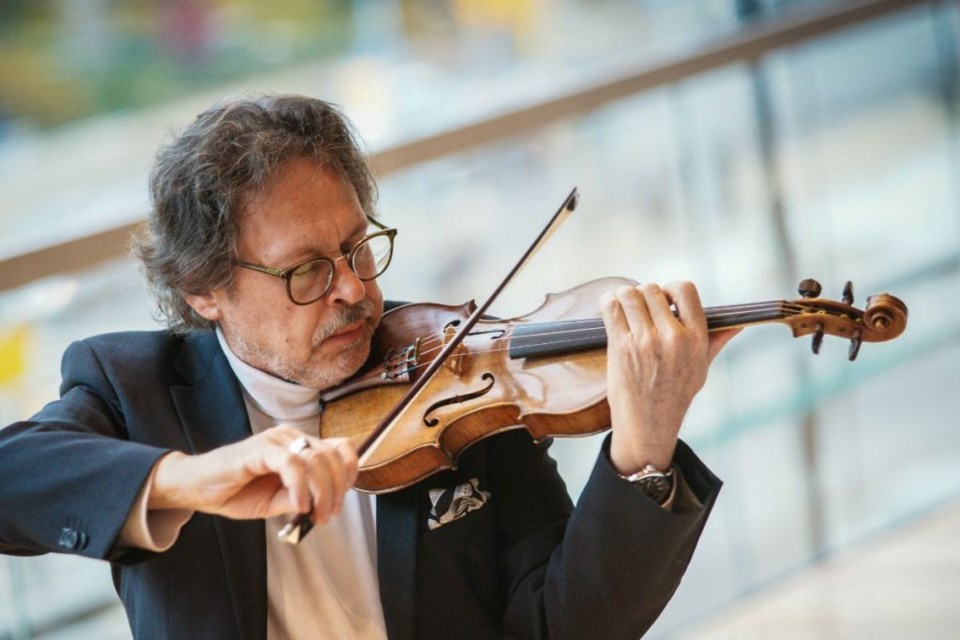 Music Niagara artistic director and co-founder Atis Bankas couldn't just sit back and watch the invasion of Ukraine by Russia without doing something about it.
The Lithuanian native reached out to that country's ambassador Darius Skusevicius this week to enlist his support in organizing a special concert planned for this Friday, March 11 at Lithuania House Banquet and Event Centre on Bloor Street in Toronto.
"I called the ambassador, then I organized some volunteers from the Lithuanian and Ukrainian communities to put the program together," he tells The Local. "The musicians are mostly from the Toronto Symphony. They were very supportive of the idea."
The concert takes place on the anniversary of the day in 1990 that Bankas' homeland became the first republic to declare its independence from the former Soviet Union. After that many other Soviet republics followed in that country's footsteps.
"Lithuania shares that common interest for independence with Ukraine," Bankas says. "Every country that used to belong, so to speak, to the Eastern Bloc, has the same fear, that they're next. What would preclude Putin from coming to Canada, even?"
Bankas expresses frustration with the West's guarded response to Putin's current aggressions. He feels it is a timid response that has been unsuccessful in deterring the Russian leader.
"He's killing civilians," Bankas says, exasperated. "He's committing war crimes. Look at the buildings. Look at the corridors that were made for civilians to escape. They bombed the train, they bombed buses, and they put the corridor leading to Russia or Belarus. Is that some kind of joke, that to escape you have to go there?"
In a statement sent out to Music Niagara supporters via email, Bankas expressed the local non-profit organization's support for the citizens of the county under siege.
"In solidarity with the people of Ukraine, Music Niagara condemns Russia's unjustified war that has already caused countless unnecessary deaths of civilian population and a humanitarian crisis of unimaginable proportions," the statement reads. "Along with millions of people of good will world wide, including American Federation of Musicians of the United States and Canada, Music Niagara Festival supports all the people on all continents that speak out against Russia's military aggression and calls for an immediate end to barbaric atrocities against Ukrainian people."
Bankas says showing support for the Ukrainian community is important right now. He also fears an escalation from the Kremlin.
"If Putin decides to push the button, he'll push the button, no matter what," worries Bankas. "Who is he to decide whether the country wants to be independent? He has no right to invade and to kill people."
Titled For Freedom - Yours and Ours, the concert will feature Bankas on violin along with more than a dozen other accomplished classical music performers.
Violinist Tanya Charles Iveniuk, Oboist Colin Maier, pianist Victoria Kogan and accordion player Matti Pulkki have all appeared in previous Music Niagara performances. Others, such as clarinettist Eric Abramovitz, violist Rémi Pelletier and flautist Kelly Zimba Lukić are colleagues of Bankas with the Toronto Symphony.
Presented by Ambassador Skusevicius along with representatives of the Ukrainian Canadian Congress, Lithuanian Canadian Community, and other dignitaries, the program begins at 7 p.m. As it is a fundraiser, donations are requested ahead of time to the Ukrainian Humanitarian Appeal at cufoundation.ca.
Admission to the concert is free of charge, but registration at eventbrite.ca/e/for-freedom-yours-and-ours-tickets-290980920767 is mandatory. Capacity is about 400 guests.