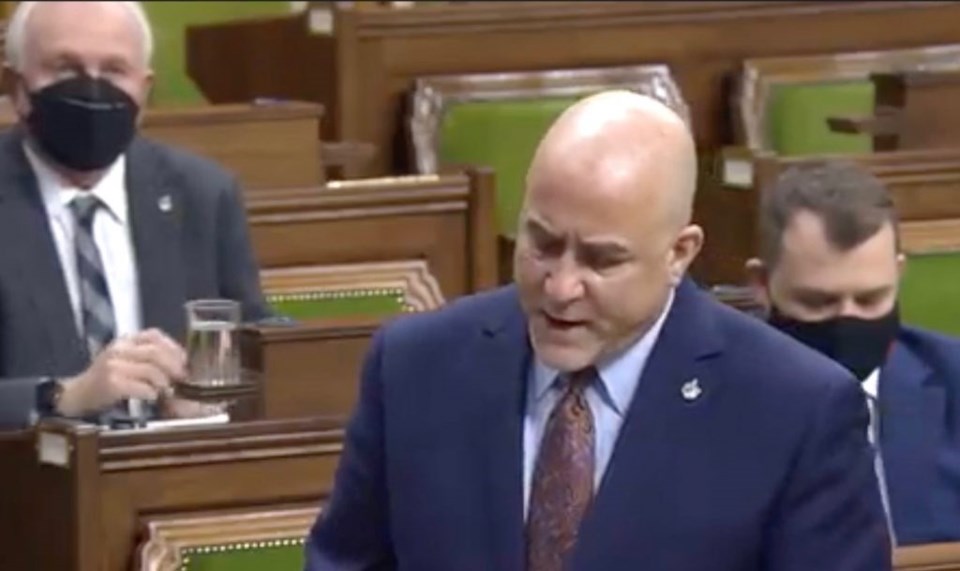 Conservative MP Tony Baldinelli has strong feelings about what is happening on the streets of Ottawa these days.
When the Niagara Falls riding representative had the opportunity to make his first speech of the 44th Parliament Monday, he didn't miss a chance to express his disappointment with the Liberal government leadership: "missing in action, as thousands of protesters from the 'freedom convoy' have camped in the nation's capital and blockaded downtown Ottawa for over a week now."
By Monday night, the prime minister appeared in Parliament at an emergency meeting, but Baldinelli had made it clear by then it's time to return to a more normal life.
"Let me be extremely clear. There is no question that vaccines are critically important in our fight against COVID, and to help us get there. Canada's Conservatives have consistently taken this position throughout the pandemic.
They have encouraged all Canadians "who are willing to get their shots," he said.
"I am fully vaccinated, and I encourage everyone who can to get vaccinated as well. It is the best tool we have, but it is not the only tool."
Conservatives are also strong proponents of rapid testing, but those are in short supply, he said, hard to find and expensive to buy. Rapid tests offer early detection of COVID, and can be an important tool to let those who are vaccine-hesitant and unvaccinated "carry on with their lives responsibly."
He also called out the federal government for delaying approval of Novavax, a protein-based vaccine some have said they will take as an alternative to mRNA vaccines, and criticized excessive spending unrelated to COVID, while prices of everything from groceries to gas, rent and housing prices are skyrocketing.
"It has been two long and difficult years, and some say it still feels like March 2020, when the country-wide lockdowns first started. From the very beginning of COVID, the Liberal government was grossly unprepared for the pandemic," he said, linking what was occurring "outside the walls of this place today" to the government's "unpreparedness for the pandemic."
In an email to The Local, Baldinelli said "the frustration and disappointment which led to the protest in Ottawa in the first place, in many ways, mirrors the calls, emails and letters I have been getting from constituents throughout the riding."
He understands and shares the frustration from the protesters on the streets in Ottawa, he added.
"We are now two years into this pandemic, and it is all too clear that the Trudeau Liberals have failed to ensure Canadians have the tools necessary to not only respond to, but more importantly, live with COVID-19, so we can all get on with our lives and move forward."
Baldinelli says he supports peaceful protest, but "at the same time, I absolutely condemn those disturbing actions we saw from some individuals apart from this protest. Canadians have a right to peaceful protest, but they have no right to harass, threaten, and disrespect others, and no right to denigrate our national monuments. The despicable actions of some, including displaying hateful symbols, disrespecting the Tomb of the Unknown Soldier, altering the Terry Fox statue, and harassing employees and volunteers at local homeless and women's
shelters, were deeply troubling, and I strongly condemn them."