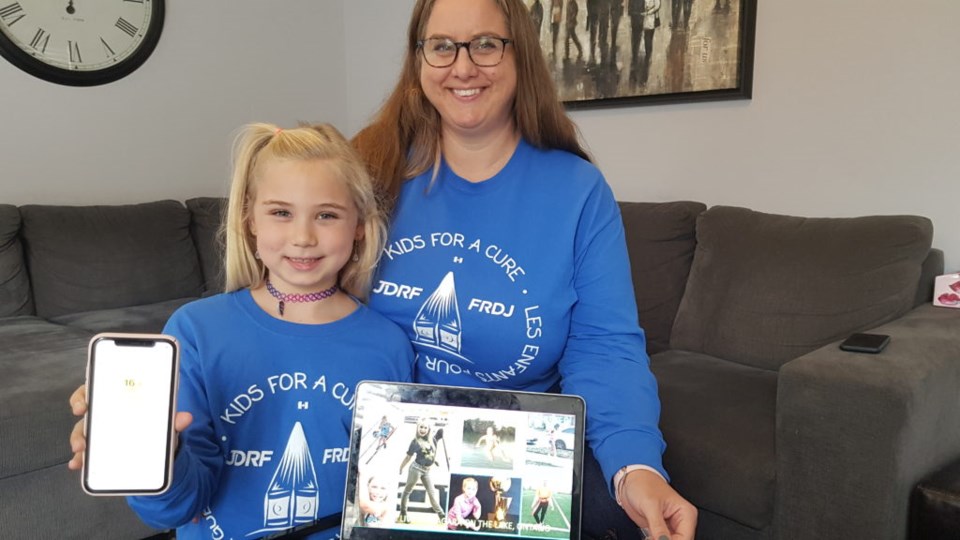 Maya Webster likes to explain to people what a day in the life of a kid with type 1 diabetes looks like — a disease, she stresses, for which there is no cure.
The spunky, animated and articulate nine-year-old, diagnosed with diabetes when she was just two, has become an advocate for support from the federal and provincial levels of government, and to do that, she openly talks about the struggles of living with the disease.
She displays the pod she wears, with its tiny needle that delivers a steady dose of insulin; and she explains the expensive Dexcom continuous monitoring system that tracks her glucose level without requiring regular finger-pricks, sending readings to her cell phone so she knows when her blood sugars are out of whack and need adjusting. The alerts also go to her mom Christi's phone, so she can be sure Maya follows through if she is trending too high or low. After all, says Christi, "although we've made sure from an early age she understands, and we've taught her to be somewhat responsible for herself, she's still just a kid."
The glucose pod has to be changed every three days, and although Maya has particular locations on her body for them that she prefers — her stomach is her favourite spot for it, she says — she has to move them around, to prevent scar tissue from forming.
Maya also describes what a good day or a bad day with diabetes feels like. The bad days are fewer now with the continuous monitoring system, but they still occur, although they're difficult to predict or avoid.
Sometimes, they're caused by lack of sleep, she says, or by too much sleep. They can occur because she's eaten too much, or because of what she has eaten; they can be brought on by dehydration, hormones, stress, and peer pressure. On bad days she may feel dizzy, tired, or shaky, and her hands don't always work the way they should.
"But what's really confusing about all of this is I can eat small meals, cut back on activities, get enough sleep and drink enough water, and still not feel well."
"She can be stressed about school, about a test or something else coming up, or she can be getting sick with a cold or something we don't know about," says Christi. "There are so many factors she has no control over."
It's important to Christi to clarify that type 1 diabetes is an autoimmune disease. "It's nothing we did, or Maya has done. She just happened to draw the short straw."
When people think of diabetes, Maya says, they most often picture older people with type 2, whose lifestyle can somewhat control their illness, not of kids such as herself, with type 1, and what their lives are like. She goes to Beacon Christian School in St. Catharines, where Christi says staff have been great about accommodating Maya's needs and doing their part to keep her safe. She has an educational assistant to help monitor the information from her Dexcom system, and follow up when adjustments are necessary, often turning to something sweet to eat to increase her sugar level.
Maya says eating candy "makes me happy. But kids just think I'm lucky because if my sugar is low I get to eat candy. They don't see the times when I don't get to do things other kids do, when I can't take gym or play at recess."
The good days she strives for are when she has her usual high energy level, and can just be a kid, taking part in all the activities that other nine-year-olds enjoy. For Maya, that means participating in sports. Her favourite is football, but she also likes basketball, gymnastics and swimming, although most of that has been put on hold during the pandemic.
She has two good friends she calls "diabuddies," girls her age who also have type 1 diabetes.
"They are going through the same struggles in life as I am, because it is a struggle," she says.
Christi explains there are events arranged for children with diabetes and their families, which are helpful, "when the world's not broken." They've been cancelled during COVID, but families remain in contact with each other, providing support, advice, and bouncing ideas off each other, she says. "We look to each other for support, and we work better together as a team."
Maya's school friends also support her and love her, says Christi, and do a very good job of including her and being protective of her.
"But they don't necessarily get it," says Maya.
She met her friend Ava, who also has type 1 diabetes, at an event arranged by the local juvenile diabetes chapter, when they were both just four years old.
"We've been friends ever since," says Maya. "We were both diagnosed at the same age. We both have the same story. It felt very, very good to meet her and talk to her."
She says they can be in the middle of a conversation about something that has nothing to do with their shared disease, "and then diabetes pops up. Or we can be in the middle of a conversation about diabetes, and it flows to something else totally unrelated."
When they are having low days, "only diabuddies understand how that feels," she adds.
In recent weeks, Maya has been busy with virtual meetings that include Niagara MPs, Canadian senators, and others she believes can help her in her drive for awareness of the disease, and a cure.
Last year, she was actively involved, went to Ottawa to talk about diabetes, and met with MP Tony Baldinelli.
She has also been advocating, with the help of MPP Wayne Gates, for the Province to fund continuous glucose monitoring technology. It has greatly improved Maya's health, reducing the frequency of hospital stays, and improved the quality of life for her and her family, granting her more independence and offering a feeling of security for her parents. "It helps keep her safe," says Christi.
But not everyone has private insurance to cover the cost, or can afford it themselves.
In the summer of 2019, Gates took on her cause, going door to door with Maya to get signatures on a petition to present to the legislature, asking for funding for the continuous glucose monitoring system through a provincial program that covers assistive medical devices. She knows how important it is to her, and although her family has health benefits that cover the cost, she believes it should be available to all who need it.
Gates also hosted Maya at Queen's Park the day he presented the petition to the legislature.
There has been no decision on the funding, says, Christi but she has to believe it will happen. "Government works slowly, and we don't know what effect COVID has on what it's doing, but hopefully we'll hear some good news soon."
November is National Diabetes Awareness Month, and Maya has been chosen one of about 35 JDRF delegates aged five to 18 from across the country for Kids for a Cure, taking part in virtual meetings last week with other kids, Niagara MPs, and senators.
During those meetings, she explains why finding a cure is so important, using an online scrapbook she and her mom have put together to tell her story.
When talking to Baldinelli, she asked, in recognition of the 100th anniversary of the discovery of insulin next year, "that the government donate $15 million for research, and renew its partnership with the Canadian Institute of Health and Research."
Maya also asks that a national diabetes strategy be created, and for more people to have access to the disability tax credit.
To help reach those goals, she suggests writing to the federal Minister of Finance to support pre-budget recommendations, and joining the All-Party Juvenile Diabetes Caucus, which meets twice a year.
All Maya's efforts are aimed at finding the cure "beyond insulin," which, she stresses, keeps her alive, but is not a cure. She points to the progress that has been made since insulin was discovered, and the advances in technology that have improved life for her and others like her. She looks forward to a time when she can stop worrying about counting carbs, stop watching what she eats, "and be happy be happy be happy," she repeatedly exclaims. "That would really make me so happy."
When that cure is found, she says, "I can live free of diabetes, and I can be a kid."