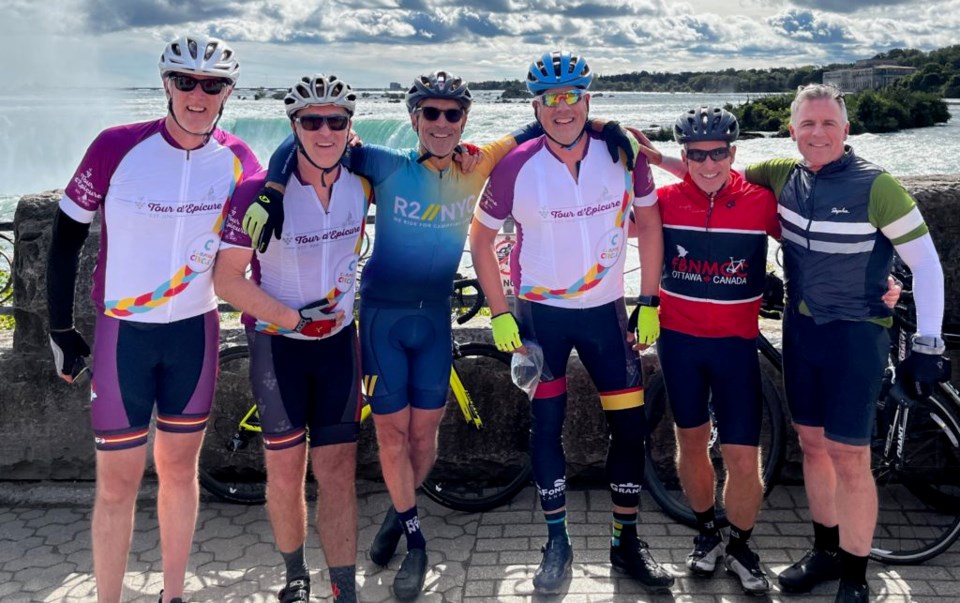 Long-time Niagara-on-the-Lake resident Keith Simmonds is being remembered as a larger-than-life figure who always went out of his way to support his family, his friends and the community.
Simmonds lost his life in a tragic accident Saturday morning while on a charity ride with a group of about 30 friends. He was struck by a truck and was pronounced deceased on the scene.
Del Rollo, vice-president of corporate affairs for Arterra Wines, counted Simmonds as a close friend. He was also on that ride that was raising funds for Campfire Circle, a charity that operates camps in Ontario for children fighting cancer.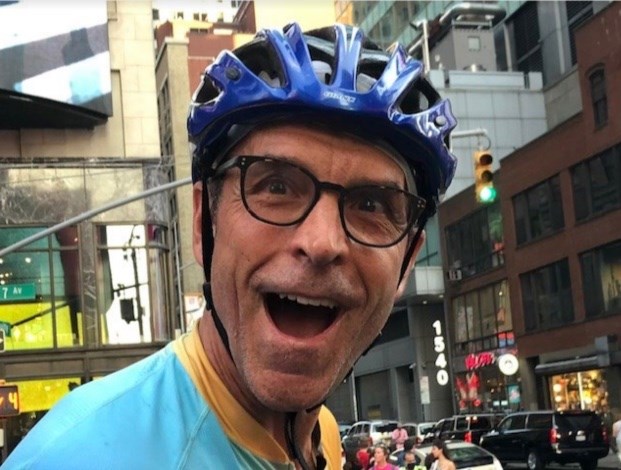 "Keith lived life to its fullest every day," Rollo told The Local Monday. "What was magical about Keith is that he was able to pull everyone along with him on that ride. He worked hard at it and he invested time into friendships. He truly worked hard to make sure he was involved in all of his friends' lives."
Rollo met Simmonds, who came to Ontario from western Canada to be the general manager of Great Wolf Lodge in Niagara Falls, through the tourism industry. He credits former Jackson-Triggs winemaker Frank Hellwig, now operating his own winery in Australia, for bringing the two together.
"Keith embodied the term 'servant leadership'," said Rollo. "It was never about him, or about Great Wolf Lodge. It was always about making the world a better place, doing what he could to give back, and really being a steward of the community here in Niagara and beyond."
Local business person and stand-up comedian Joe Pillitteri may know more about how much Simmonds gave back to the community than many others. Pillitteri was almost speechless Tuesday morning thinking about Simmonds, choking up as he spoke to The Local.
"It is that much of a loss," Pillitteri said. "Every show that I've been involved with, for as long as I've been doing comedy for charity, particularly for the Terry Fox Show, he would just say 'what do you need?' before I could even ask. He would be at the event, he would have already raised a good amount of money from whatever he donated, and he would be pumping up the crowd, throwing in meals and a massage. And he would make sure they knew that was from a massage therapist, not from him personally."
"We realized today that if this were a Venn diagram, Keith would be in the middle of so many circles of people who now know each other really well," Pillitteri marvelled. "Whether it was through yoga, or 'broga', or our supper club, or cycling, or lifting, or stretching. He was just one of those guys, he was that one person who just kept everything going when it comes to adult friendships."
On a creative level, Pillitteri also admired Simmonds for his keen sense of humour.
"He was a great guy to test material out on. If it wasn't funny, you'd get the stare, these deep eyes focused on you, saying 'is the punchline coming?,' but if it was funny, he would convulse. His reaction was strong and infectious. He had this real genuine laugh. If it was good around the table with Keith leading the laughs, I knew it was something I had to do."
Niagara Falls Mayor Jim Diodati also refers to Simmonds as a good friend, though they first became close through their mutual involvement in the Sleep Cheap charity event in that city.
"It started almost 18 years ago," he says. "Great Wolf Lodge was a tough nut to crack at first, but they were on the top of the demand list for where people wanted to stay. He ended up sitting on our committee that decided where the money we raised would go."
In a tweet posted by Diodati on the weekend, he referred to Simmonds as Mercer. That's due to what the mayor sees as Keith's uncanny resemblance to famous Canadian comedian Rick Mercer.
"I told him that one of the first times we met," Diodati laughed. "Every time he emailed after that he signed it Mercer. As a matter of fact, I haven't called him Keith in years. I almost forgot his name."
"He has touched us all in so many ways," Diodati added about Simmonds' impact on the community. "It went way beyond tourism. He was part of the fabric of the community. We welcomed him here and he welcomed us. Right from when he arrived from the west coast, he became an integral part of our community."
Keith was born in Edmonton, Alberta, and graduated from the University of Alberta with a Bachelor of Arts degree.
Following graduation, he tried his hand in the banking industry, but knew quite soon it wasn't for him. He packed up and moved to Whistler, B.C. where he managed The Grocery Store. It was there that he met his future wife, Toby.
Soon, the couple moved to first Fernie, then Invermere, BC, where Keith worked in ski hill operations. Besides cycling, skiing the mountains was one of his favourite pursuits.
Following those stops, there was a short time for the couple spent in Red Deer, Alberta, where Keith managed a hotel. Their boys Ben and Nick, now 21 and 20 years old, were born in Banff.
While the family lived in Red Deer, a head-hunting company reached out to him on behalf of Jim Pattison's Ripley Entertainment, who was looking for the right person to manage their new property in Niagara Falls.
Keith and Toby and the boys moved to Niagara-on-the-Lake in October 2005 while Great Wolf Lodge was still under construction. He immersed himself in the NOTL community as well as the Niagara Falls tourism scene. And for anyone who knew him, it was always evident that no matter how busy he was, Toby and the boys always came first.
More than 17 years later, though, Simmonds' name has become synonymous with the resort.
"He was the driving force at Great Wolf Lodge, and will be missed immensely by all pack members," said lodge human resources director Anne Marie Malleau in an email to The Local.
A news release issued by the Jim Pattison Group, Ripley Entertainment and Great Wolf Lodge says they are all saddened by the loss of their "passionate leader" and "head howler."
"He took great care in supporting his work family and instilling a sense of pride in everything that his team did," says the release. "Keith often referred to the lodge as the little log cabin on the Parkway, and was instrumental in ensuring the success and growth of the company's Niagara Falls location."
Andrew Howard, director, CEO and president of Diamond Estates, says he treasures the fact that he had the chance to call Simmonds a friend. Saturday's charity ride was for an organization called Tour d'Epicure, started by Howard and Rollo to support Campfire Circle, and Simmonds, says Howard, was always a core part of their efforts. This weekend's ride had raised $60,000 for their cause.
"Keith had ridden with us a number of years, raising money for these kids' cancer camps, Camp Trillium in particular," Howard said Monday. "He was always so giving of his time. And the week before our ride Keith raised another $450,000 with his team through his ride to New York City."
"He's amazingly philanthropic," Howard told The Local. "I've always joked that there's only one Keith. To make more of him might have been too hard on the total system. He was so big, not in stature, but in personality. If you met Keith once, you knew him. So much energy, so much caring, so much affection."
Howard says his cycling group has come together around the loss of Simmonds after meeting with grief counsellors and sharing their memories of their friend.
"This group has galvanized, and we'll raise $300,000 to $500,000 next year in his name," said Howard. "A plan is coming together to honour Keith, and we're taking it to the next level. We're in the process of building a whole new dock system at Camp Trillium. It's about a $200,000 build and we now want to finish it for Keith next year."
A celebration of the life of Keith Simmonds, hosted by Pillitteri, will be held this Sunday, Oct. 2 at the Niagara Falls Convention Centre on Stanley Avenue at 11:30 a.m. The public is welcome.