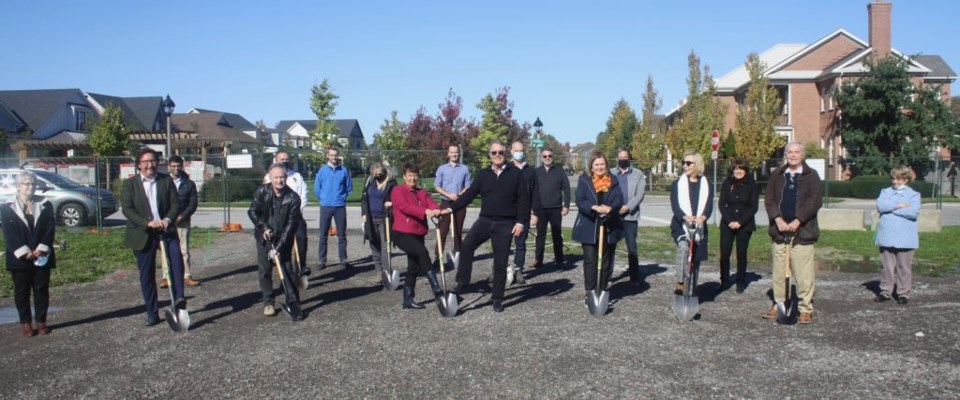 The long-awaited ground-breaking of the new medical centre in The Village took place last Wednesday, with Lord Mayor Betty Disero, town councillors and Regional Coun. Gary Zalepa on hand to help celebrate the occasion.
Standing on the open field behind the Garrison Village Plaza, local developer John Hawley reminisced about a time, 25 years ago, when most of the surrounding area was open field. The medical centre is an important addition, he said.
There were congratulations all around, with Hawley thanking "all who made this happen." He expressed his gratitude for the town working with him to get to the point where the project is ready to move forward.
Hawley has been to council twice, first to ask for development charges to be deferred until the building is completed and rented, and more recently, for a conditional building permit so he could begin construction. On both occasions, councillors were enthusiastic about the project and willing to help get it moving.
Disero expressed her gratitude to the Hawley family, "for stepping up" and taking the initiative when health team doctors didn't know where they were going to go.
She said she was thrilled to see the project move forward, as is her mother Lena, who was also on hand for the celebration, saying she will be happy to be able to walk to the health hub to see her doctor.
The doctors in the former hospital building and other health team members were given assurance by council that they could stay on Wellington Street until the new facility is ready for occupancy.
Patients of the Niagara North Family Health team doctors who will relocate to The Village look forward to the completion of the new building, including Village residents, said Hawley.
Located on Garrison Village Drive beside the CIBC, the 8,000-square-foot facility will be home to physicians Iram Ahmed, Tim Bastedo, Karen Berti, Samreen Malik and Pratik Kalani, as well as executive director Mary Keith and other members of the Niagara North Family Health Team. The site also includes a new facility for Life Labs.
Completion and occupancy of the building is expected to be June, when members of the Niagara North Family Health Team now in the medical clinic in Virgil, including nurses, nurse practitioners, social workers, dieticians, an occupational therapist, a pharmacist, and chiropodist, will relocate to the new facility. They will be moving out of the Virgil medical centre in January, when their lease will expire, until their new permanent home in The Village is ready for them.
Family health team doctors in the Virgil medical centre are expected to remain there, however, says Dr. Ronan O'Leary, "at this time we don't have anything signed, so we have no firm plans as of yet."