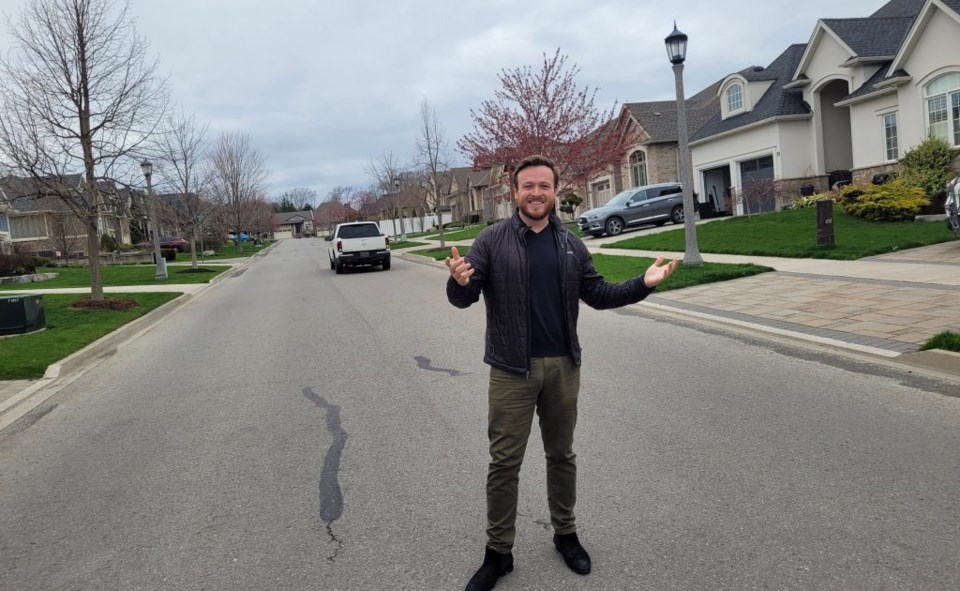 Scott Robinson, a Niagara-on-the-Lake resident working in development and housing advocacy, is hoping the town will take some positive steps toward remedying the housing affordability crisis in town, and the lack of rental housing.
At Monday night's council meeting, he presented councillors with a "small, uncontroversial solution" that the town could adopt which could have a significant impact on housing, without changing existing streetscapes.
Robinson was asking for legislation to allow secondary suites and accessory dwelling units as additions to existing properties, allowing for basement apartments, apartments above garages or detached rental units in a backyard.
Most commonly, he said, "these units are used for an ageing parent, for that transitionary time between living independently and needing full assisted care. Or they're used for a young adult transitioning from living with their parents to independence."
The third most common use is as long-term rental units, he said, and NOTL currently has three times fewer rental units than the Canadian average. "This would help us address that inequity." It's also an excellent compromise "for those people who are anti-development, anti-change or want to preserve neighbourhood character."
NOTL has the most expensive housing market in Niagara, and is one of the most expensive towns in Ontario, he said, with the average home sale price during the past months more than $1.2 million. "That's crazy. That's over three times higher than what the average Canadian household can afford." The rental market is also bleak, he added, and those units that do exist are increasingly expensive.
"Think about what that does to our demographic diversity," he told councillors.
In a presentation to the Diversity, Equity and Inclusion Committee, which is supporting his request to council, Robinson said allowing secondary suites and accessory dwelling units "adds gentle density to existing and desirable streets."
If just 10 per cent of homeowners in NOTL chose to add a second unit, one of every 10 homes, it would add 800 new rental units to town, with no change to the built environment.
It would also allow for additional units to use existing town services, without the need for more infrastructure in pipes or paved roads, he added. "This is an environmental sustainability and climate change solution."
He spoke to the diversity committee members on this premise: "that you cannot accomplish your goals to have a diversity of age, race, socioeconomic status and lifestyle, if you do not first have a diversity of housing types. It is logical, for different types of people, you need to have different types of housing. You need both large and small homes, urban and rural homes, for sale and for rent, expensive and affordable. If you have only a few types of homes available, you will only have a few types of people living here."
o have a diverse population, "you need to first have a diversity of housing, and Niagara-on-the-Lake does not."
According to a recent regional economic report, "7,000 of the 11,000 jobs in town are filled by people who don't live in town," he told councillors. "That didn't surprise me, and it doesn't sound like it would surprise Minerva," he said, referring to Chamber of Commerce president Minerva Ward's delegation to council just before Robinson's, which included discussion of the lack of affordable housing and scheduled public transportation contributing to a labour shortage in the hospitality industry.
"I've known my whole life that most of the servers at the restaurants don't live in town," Robinson said. "The workers at the wineries and the people at Vintage Inns, they can't live in town. My friends, the people I went to Parliament Oak with — while a lot of them now work in town, they can't afford to live in town."
And elderly neighbours who have lived in town for decades are being forced to move to the surrounding cities, because there are no options for them, he said.
Robinson stressed according to the town's Official Plan, secondary use units cannot be used for vacation or short-term rentals — they'd have to be for long-term rentals, six months or more. Many progressive municipalities in Ontario are approving these unit types by-right, "meaning that if an application comes forward, and it meets the predetermined criteria in the zoning bylaw, it is approved by-right," he added.
Other municipalities in Niagara are well ahead of NOTL, and can be a great role-model, he said. "In 2015, the Liberal provincial government mandated the use of secondary suites. Niagara-on-the-Lake is just way behind on that. In 2019, the Conservative provincial government mandated both secondary suites and accessory dwelling units, so Niagara-on-the-Lake is way behind on that too. The NDP also agree — it's included in their election program."
The new regional Official Plan says all municipalities must allow for secondary suites and accessory dwelling units, he added. "This is going to happen, it has to happen, and we want it to happen. Let's make it happen."
Niagara-on-the-Lake could choose to drag its feet, put up a bunch of barriers, and continue to be exclusive, he added, but the status quo is not working. "Over the past 20 years, looking at census data, the town has continued to become more old, white and rich. To reverse the trends, we need to take action. You could lead with your values, and be inclusive."
Robinson asked for four motions from council: to amend the 2017 and proposed 2019 Official Plan to allow for secondary suites and accessory dwelling units as a permitted secondary use on all detached, semi-detached and townhouse dwellings; to create an inclusive zoning bylaw that permits these units, and sets out pre-determined requirements. If an application meets these requirements, it would be approved by-right; and that the town encourage the construction of these units by eliminating all financial and administrative barriers; and the town actively and enthusiastically encourage the construction of these units, with funding allocated to create a webpage to inform residents, and an annual advertising campaign.
The fifth, catchy step, he said, could be to celebrate. "We will have done a great thing. We will have become more inclusive, we will have allowed for growth without urban sprawl," and will be able to welcome people to live in town. There are massive barriers that need to be addressed now, he said, including expensive site-specific amendments in the few neighbourhoods of town where secondary suites are permitted. Zoning by-right would eliminate that, and would add "gentle density" with no new infrastructure required. "You're actually making town infrastructure more efficient."
Regarding parking, he said, answering a question from Coun. Gary Burroughs, he wouldn't suggest what the zoning requirements should be, but secondary suites would work on more than 95 per cent of properties in town, where there would be room for one more car.
"There would be some that wouldn't qualify, and wouldn't get it," said Burroughs. "That makes sense to me," replied Robinson, adding the zoning wouldn't apply to all areas, only to those that meet the requirements as set out by the town.
He said it would be his dream that it would be a permitted secondary use across NOTL, in all five communities and all rural properties, meeting housing needs for everyone. But details would have to be set out in the zoning bylaw, he explained.
"There are properties in NOTL where it wouldn't work," he said, specifically speaking to accessory units in backyards, such as in The Village, but there would be other areas of town where they would work.
Lord Mayor Betty Disero asked Robinson to clarify that the province and region are saying all municipalities should allow secondary suites or additional residential units, and he confirmed they are authorizing secondary suites or additional units by-right. "I'm not asking for more than that, which is why I thought this would be an easy yes," Robinson said.
The official plan needs to be updated, to allow for what the province and region are mandating. NOTL could choose to really drag its feet and to put up as many barriers as possible, to happen in as few areas as possible, but he said he is asking for the opposite, to use it as a tool to make NOTL as inclusive as possible and to allow for demographic changes that are desirable.
Coun. Wendy Cheropita spoke of discussions she has had with several residents living in rentals, some young and in hospitality, and some with the Shaw, who were having to leave their rental units because the owners wanted to turn them into short-term rentals, where they could make more money.
Robinson's request, Cheropita said, "is answering to me a number of things that are really critical," including keeping young people from leaving town. "I personally love this idea and endorse it 100 per cent."
"I would love to approve this in principle," she continued, and would ask to send it to staff to work out the details.
Coun. John Wiens suggested that as staff consider the details, they could include a stipulation that the secondary suite or additional unit couldn't be converted to a short-term rental for a specific time limit.
Councillors voted unanimously to send Robinson's suggested motions to staff to study.
Correction:If just 10 per cent of homeowners in NOTL chose to add a second unit, one of every 10 homes, it would add 800 new rental units to town, with no change to the built environment. The printed story in The Local said one per cent.