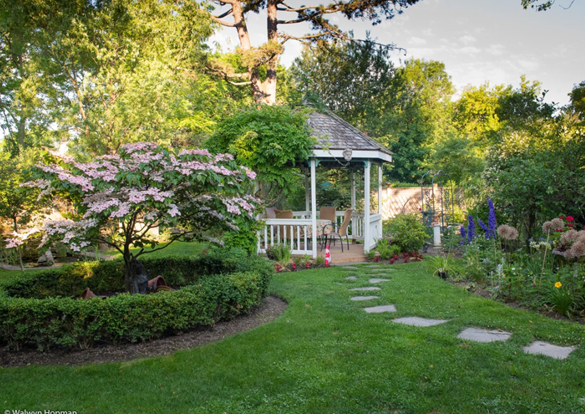 The Niagara-on-the-Lake Horticultural Society is planning its 30th annual garden tour, which will be quite different from previous years.
Instead of the usual eight gardens chosen by a committee, the horticultural society is asking NOTL residents to nominate their garden, or one of a family member, friend, or neighbour, that visitors would appreciate the chance to visit on July 9, the day chosen for this summer's event.
The "open tour" is a way to celebrate the milestone anniversary, the reopening after two years in a pandemic, and to recognize the town's proclamation that 2022 is the Year of the Garden, says garden tour committee chair Cindy Grant.
With two years of the tour cancelled due to COVID putting off the 30th anniversary celebration, this year seemed the right time to branch out and try something different, says Grant.
To add to the celebratory nature of the tour, it will be free. "Since we have not been able to have the tour in the last two years, the society wants to give back to the community, and the broader gardening community this year."
Committee members are hoping for 25 to 30 gardens for the self-guided tour, and having five in each of the five communities of NOTL, and in the rural areas. Hopefully there will be clusters of gardens, so visitors don't have to drive too far, and some new gardens for them to see which have not been involved in former tours, of the horticultural society or the Shaw Guild — in previous years there has been overlap. "In the past it's been mostly Old Town gardens, and it's becoming slim pickings to get new, interesting gardens and garden owners who will agree," says Grant.
The open tour model, which is done in many other areas, including a popular one held annually in Buffalo, NY, will showcase a wide selection of gardens. Tour guests will be invited to visit and enjoy gardens at their leisure throughout the day.
It's been especially difficult to get garden owners onboard during COVID — many have been hesitant about having their gardens crowded with visitors, says Grant.
She hopes, and expects, to have a similar turnout as other years, with about 1,200 visitors, but gardens should be less crowded since there will be more of them, spread over a larger area.
Some aspects of the tour are being scaled back, as the committee tries to keep it simple — there will be no flashy coloured flyers, although a map will be provided, and no associated events or entertainment in the gardens.
Whatever pandemic protocols are in place will be followed, and even if vaccination passports are no longer required by the province, the committee will have to make a decision about whether to request them anyway for the comfort of garden owners, volunteers and participants, says Grant.
The committee is looking for all types of gardens – perennial, annual, organic, pollinator or butterfly, water garden, cottage, modern, small, or even vegetable gardens. They also want to know which gardens are accessible, but that will not be a limitation to signing up.
Committee members will do some vetting to ensure gardens will be interesting for visitors, Grant added.
"Your garden does not have to be perfect or 'done' – we're looking for all types of gardeners' gardens that our visitors can learn from and enjoy. You do not have to commit your entire garden to the tour – we can showcase just the front or the back garden or even a garden at the side of your home."
If you would like to submit your garden for consideration in the Open Garden Tour on Saturday, July 9, please submit the form, which can be found at www.notlhortsociety.com/garden-tour-2022-sign-up, no later than Tuesday, March 15.