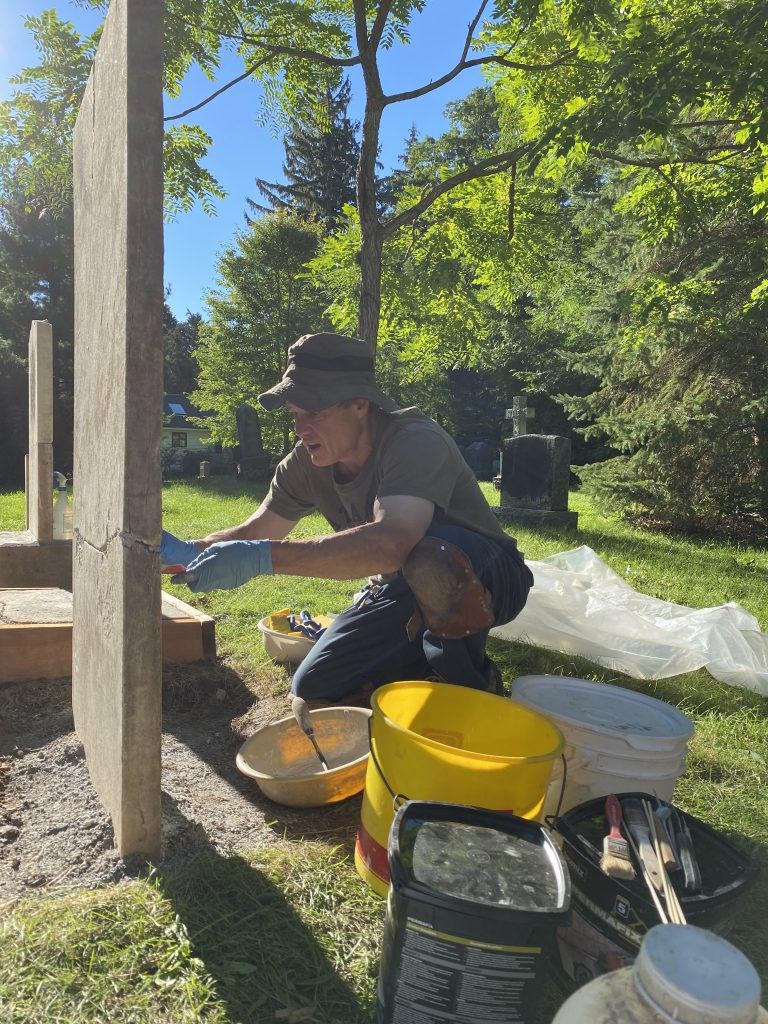 The work of preserving cemetery monuments at St. Mark's Church isn't new.
It probably began about 1838, says Donald Combe, when a 1782 memorial stone was discovered in excavated rubble during the construction of the church transepts. It was brought inside, affixed to a wall, and then moved, mounted on the wall in the south transept.
Preservation and restoration work has continued in the cemetery over the years, at first "patch and repair by the enthusiastically unskilled," continues Combe, church sexton and co-author of Saints, Stones and Sinners, which identifies historic monuments and stones in local cemeteries.
At one point restoration was urgently needed because of damage caused by fallen trees during a particularly bad storm. Some of the work has been carried out by experts and students from the School of Restoration Arts at Willowbank.
However, the church cemetery board was aware that much more was needed, says Combe, "if the stones and their history were not to be lost to the ravages of time and acid rain, pollution and other factors exacerbated by climate change."
Last year, as part of a program by Commonwealth War Graves Commission, and Canada Remembers, an initiative of Veterans Affairs Canada, historic cemetery specialist Alan Ernest, from Carlisle, Ont., undertook much-needed repairs to veterans' monuments in the cemetery.
Funded by six member governments, the work of the commission began more than a century ago and continues around the world, wherever there are veterans buried from the First and Second World Wars.
Veterans Affairs Canada works with the commission, says Ernest, helping to improve the standards of grave markers of more than 300,000 fallen Canadian Armed Forces members at home and around the world.
Ernest has restored thousands of historic marble, limestone, sandstone and granite monuments, and also works with the Town of Oakville's Historic Cemeteries Restoration Project, the largest such project in Canada, now in its 12th year.
The Commonwealth commission and the veterans' affairs project "brought me to Niagara-on-the-Lake to look at the situation here a couple of years ago, and last year I returned to do the work," he says.
He restored 20 markers, funded by the federal government, and returned this year to work on another 21 for the church, from their list of those most in need of work.
He also repaired another five stones for families who had monuments in need of work, he says.
The project for St. Mark's isn't finished, and he hopes to come back to continue the much needed restoration.
"There has been lots of deferred maintenance, and it takes a while to catch up," he says.
Ernest says he spent one or two days a week in NOTL over the season, which for him is April to November, typically working long days, beginning at sun-up. St. Mark's is actually a "small proportion" of his work for the year. Oakville, and the Town of Lincoln have cemeteries which have kept him busy, but St. Mark's has the oldest stones, some from before the War of 1812, and some broken, lying on the ground in pieces. As much as he enjoys the challenge, it can take up to two months of letting those pieces dry before putting them back together, he explains, and then going on to the next stage of restoration.
Although his task at St. Mark's is restoration of old, damaged stones, repair work in cemeteries is ongoing, from damage caused by tree branches falling, vandalism, and sometimes lawnmowers which get too close to stones. "There is always a certain amount of maintenance required."
He takes about a month off at Christmas, then, since his work is physically taxing, "I have to start doing exercises and stretching to make sure when April comes, I'm ready for it."
Leading up to his work in the field, he visits cemeteries to assess monuments and gravestones to see what needs to be done, he says.
St. Mark's volunteer Sally Mitchell credits Combe as the most knowledgeable about the cemetery as the church's historian and sexton. He suggests what needs to be done to restore the most historic monuments, and Mitchell gets to work trying to make things happen — her job is raising the money to support the restoration project. Ernest then examines the stones, provides an estimate, and with his team, gets to work.
Generous gifts and donations, together with receipts from garage and other sales raised $21,500, funding this year's restoration of monuments, says Mitchell.
It is the board's intent to move forward, as money allows, and continue the task, says Combe.
"We encourage donations to the designated restoration fund, or gifts to a specific monument restoration. This cemetery has been in continuous use since 1782, and is the final resting place of both our little known and celebrated ancestors. This burial ground is an important part of our Canadian heritage."
In the printed edtion of The Local, Al Ernest was identified incorrectly. The Local apologizes for the error, especially to Mr. Ernest, and for any inconvenience it may have caused.