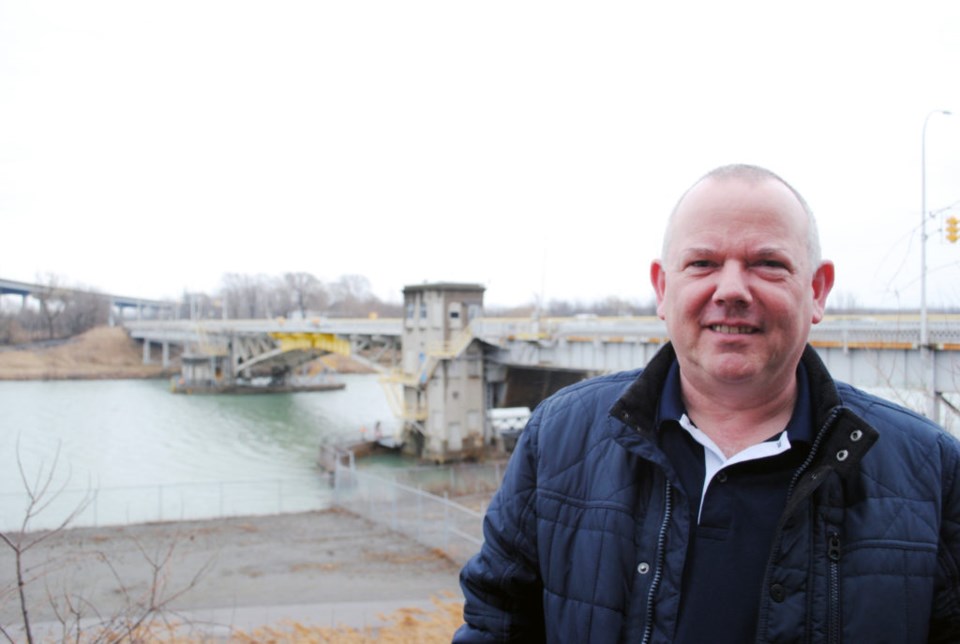 The canal season is back, and if you haven't been "bridged" yet, you're likely to find yourself in a ship-cursing line-up sooner rather than later.
One of the last people you might be thinking about under those circumstances is Niagara-on-the-Lake resident David Craig, despite his job with the St. Lawrence Seaway Management Corporation.
In 2017, more than 38 million metric tons of cargo were carried by 2,270 vessels through the seaway — everything from steel to salt, petroleum to wheat. While we need the safe transportation of these goods, we don't like to wait for them to cruise the canal during our commute.
"The Welland Canal is a big chunk of the seaway," says the electrical designer and inspector. While he has no control over the schedules of the boats and bridges, he is key to the functionality of a service worthy of our awe, as well as our occasional profanity.
"I do the electrical drawings, so when a contractor comes on site they know where all of the electrical elements are," says Craig. "I also handle the integration between traffic lights and traffic gates," he says in his strong Scottish accent, full of burrs. "There are hydraulic pumps, which used to be rope and pulley systems — the seaway systems in Montreal still use the rope and pulley method."
"The seaway needs to make itself more attractive to ships, to be able to process as many as possible, because they're paid per ship," he explains. "One way in which they have done this is to provide hands-free mooring, beginning about four years ago. Instead of guys in the lock trying to tie off ropes and potentially injuring themselves while also taking up precious time, vacuum pads come out and pull the ship into its berth. Three pads suck in and release the ship. We are one of the only places in the world to provide this hands-free system."
Craig says this means there are fewer people working on the locks, "But this coincided with retirements and redeployment. This was considered 'natural wastage,' with no jobs lost," he says, and further explains this project was not his responsibility, because he was too junior at the time, but was involved at arm's length.
Regarding the vagaries of the transportation system's economy, he says, "In the five years I've been working for the Seaway I've seen the finances go up and down because of the shift in what is being shipped. Coal, flour — there are ebbs and flows. If the crops in the prairies are poor, the number of ships carrying them goes down."
"We are also in competition with the CN [railway transportation], and some years we just can't compete. Some years are better than others. There is always pressure on the seaway to cut costs — for example the hands-free system. The bridges are all remote now, although we can still have people on-site."
Craig is a solid man whose currency is humour, having learned it as self-protection in the shipbuilding yards as a youth in Glasgow. With a soupcon of British comedian Ricky Gervais, Craig has a twinkle in his eye and finds the joke in everything. His career has taken several surprise turns.
"Shipbuilding was my first job," he recalls. "I built warships in Glasgow. Many of the world's major ships, including the QE2, were built there. I did my apprenticeship on those ships during the Falklands War. I worked on the control panels, which would launch weapons that could take or save someone's life." He pauses. "You just didn't think about that."
Craig continues with his recollections. "What I miss is the ships' launch day. When we built these enormous ships — bigger than the ones you see in the canal — they were up on blocks. You could walk under them. It was quite a sight to see them go off the blocks and into the water for the first time. I don't think that's something you ever get tired of. Lady Diana — the Duchess of Cornwall — launched the HMS Cornwall, which I had worked on. She was standing just a couple of feet from me."
He remembers the tone of the docks. "Shipbuilding is rough — the language, the male energy — and an apprentice is everybody's victim. It taught you to be quick, and to always have a joke ready. I'm glad that was my grounding. But here in Canada, the way we learned to talk, to mock each other, to be a bit mean with the jokes, is not appropriate," he says, and describes having to consciously change the way he interacts with people.
"Every time I go back to Scotland I prepare for that dark humour bred from poverty and hardship," he says.
"We've been back a few times, for weddings and funerals. My mum's funeral was a great party. But I realized that every time you go to a funeral you get nearer and nearer to the front pews. At my mum's funeral I said to my aunt, 'I suppose the next one will be yours.' We laughed." And he laughs with the memory.
His career evolved away from the water for a time. "I went to the University of Scotland as a mature student, having previously been an electrician. I was a commercial interior designer, with an honours degree. I designed bars, restaurants, and office complexes," he says. "I had also trained as a locksmith before becoming an apprentice electrician."
The intense stress of the work as a commercial designer nearly killed him — literally. "I had a heart attack at 40 from the stress of my job." This provoked a decision to make a major life change and move to Canada. "My electrical licence was transferable; the plan was to work for myself. I got my provincial licence, then found out you needed a master's licence. It didn't occur to me there would be such a thing. In the meantime I found work drafting, having had previous experience."
The Craigs moved to NOTL in September of 2006. "After the heart attack, we decided we could move anywhere in Europe, but realized there was too much bureaucracy, and potential language barriers. So we looked at the countries most English-speaking people consider: Australia, or Canada," he says. "We decided Australia was too far away, and Canada was just far enough away," he laughs. "My wife had family in Vancouver, and I had school friends in Toronto, so we decided to spend one week in each for research."
"We had the idea of having a B&B. We thought it would be great — we didn't realize how many there were already. We got in touch with a Scottish couple who recommended NOTL, so we booked a week here in May. By September of that year we had bought a house, found a job, and settled in."
Craig found himself in a series of interesting, but not dependable jobs. The economy was flagging. "I worked at Neptunus Yachts in St. Catharines, where they designed multi-million-dollar yachts. In 2008, the value of the American dollar went up, and the higher prices drove the company to close."
Later, a friend from that company called him to say they had found a job at Can Ecosse Engineering, a business run by a Canadian and a Scot. "I worked there for three or four years, but the work was drying up. It was a family firm, and those were tough times for them. I felt guilty taking wages from them," says Craig.
At this point the creative soul needed feeding, so he decided to try his own business — called Miniagara — making laser-cut detailed wooden models of local historical buildings. "I planned the business for a year before starting it," he says. He had hoped to find people who would be able to paint the models, but generally found the work wasn't up to his very high standards.
"I was working against the tide. The idea is still there," he says, eager to resurrect his passion for creating tactile pieces. (Craig says his dream job would be to create theatre sets, or "work for Disney, creating rides and sets, using unlimited imagination to create magic.")
At the same time he was managing an acreage with a dozen fruit trees and raised vegetable beds — another passion. "I was growing peppers and making hot sauces. I also grew a fig tree, and made chutneys," says the garden and kitchen creative. "I grew ghost peppers and dehydrated them and then ground them into a powder. I learned that if you stress peppers by letting the soil dry out and then watering it minimally, you can force the plant to create more capsaicin, making the peppers hotter."
While fig trees are relatively rare in Niagara, the eager green-thumber had to try. "A friend from work had a few fig trees, and gave me one. I had a 600-foot greenhouse and trained the fig tree along its walls. I'm going to be getting a cutting off that tree this spring," he says.
The gregarious Craig, who enjoys a wide social circle with his wife Loraine, says, "I was at a party speaking to a friend who worked for seaway. They said the company was looking for a temporary electrical draftsperson for a six-week contract. That was five-and-a-half years ago."
The settled Scot is very happy with his current employment. He praises the scrupulous safety standards and the community involvement of SLSMC, and points out they raise a lot of money for charities like the United Way of Niagara, matching donations made by their employees.
Craig finds his work with the seaway satisfying, interesting, and occasionally amusing. Regarding the van that was stuck on the raised Homer bridge last year, Craig says, "This bridge is quite peculiar: Typically the metal section is the part that moves. On this bridge the counterweights are underneath and invisible, and the tarmac also moves, which took the van's driver by surprise."
He tells of a later experience with the same driver. "While we were putting cameras in on the bridges, we climbed into the operations room. The van was the screensaver on one of the computers in the room. The van's driver took a photo of his van on the screensaver."
"The operations room is like air traffic control, tracking so many screens on all of the bridges. Because there are so many cameras, all emergency services can be given priority — that is one thing they will stop ship traffic for."
Like many professions, Craig's work can be a social liability. "People get frustrated about the bridges being up. Like when a doctor goes to a party and hears all about everyone's ailments, I hear about the bridges every time I go to a party. I get that in the neck all the time. I tell them I get stuck on bridges too — I just hope I'm not driving a seaway vehicle at the time, or I might get lynched," he says.