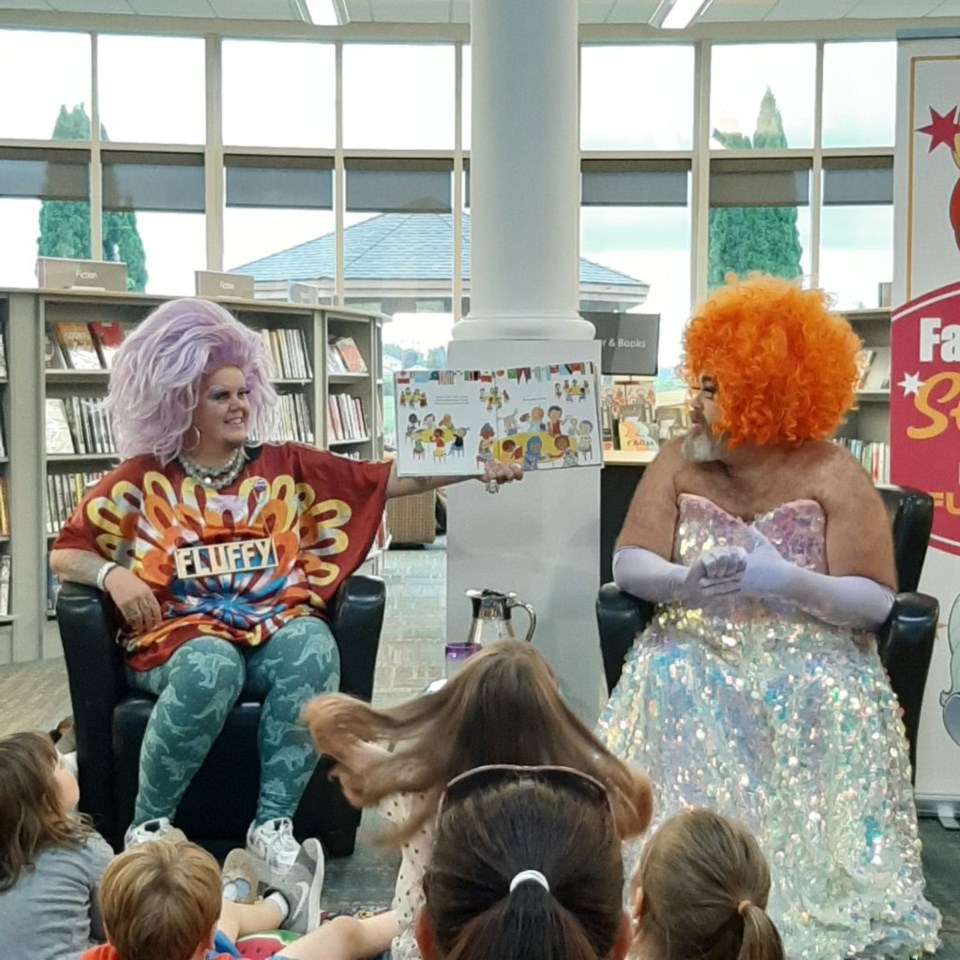 The Niagara-on-the-Lake Public Library celebrated Culture Days with fun and flare Saturday, featuring Fay and Fluffy's Storytime.
Fay Slift and Fluffy Souffle are drag performers who combine their performance art with their experience as child educators. In a video interview for Today's Parent, Fay explained that "bringing drag performers together with little kids is a kind of perfect relationship. It's kind of like drag performers are clowns, right? They play things up, they are over the top. They are like a cartoon come to life."
Fay is right. As soon as the duo entered the library, the children were enchanted. Fay's bright orange corkscrew curls and sequined-rainbow floor-length gown, accessorized with satin lilac evening gloves, were a delight to the eyes, while Fluffy's voluminous lavender wig, tied-dyed bat wing blouse and dinosaur leggings enhanced the whimsical mood.
As Fay and Fluffy introduced themselves, they emphasized how lucky we are in Niagara-on-the-Lake to have such a beautiful library and community centre complex. They also pointed out that libraries are wonderful, safe spaces where ideas and creativity are encouraged and everyone is welcome.
This introduction led into their first book, All Are Welcome, by Alexandra Penfold, which is about diversity and inclusivity. This New York Times bestseller is about a school where all children are welcome and diversity is accepted and celebrated.
The next book was Except When They Don't, by Laura Gehl. The story begins by outlining all the activities boys and girls like, but stresses how anyone can participate and enjoy all of these activities, regardless of their gender. The overarching message is to decide for yourself what you love to do. This story also stresses individuality. When it's over, Fay reiterates the message by adding, "be exactly who you are," and "decide what you love to do."
These positive messages are at the heart of Fay and Fluffy's Storytime. The children reacted positively to the stories, many spontaneously sharing their own ideas and experiences.
After a couple of stories, there was an opportunity for more audience participation. Kids got a chance to sing about how happy they were by clapping their hands and stomping their feet.
Next Fay and Fluffy introduced a newly published book, What Riley Wore, by Elana K. Arnold, which follows a child named Riley who matches each outfit to an occasion and not to the expectations of others. Another song and another book follow the story of Riley. The Family Book, by Todd Parr, published in 2003, explores all the different types of families in our neighbourhoods. Finally, parents and children were treated to the beautiful tenor of Fay, during the reading/singing of I Am Invited to a Party, by Mo Willems, from the much-loved Elephant and Piggie series. They all had a chance to "party, party, party," before they danced around to "Shake Our Sillies Out." It was then time to take a few photos and say good-bye to Fay and Fluffy.
Fay and Fluffy's Storytime was as entertaining for the adults as it was for the children. The rapport between the two performers is obvious as they easily bounce quips and jokes back and forth. Fluffy explains that, "we are dear friends and our genuine love of reading and working with children shine through. It truly is a magical experience."
Both have considerable experience educating children. Fay has been an educator for more than 22 years and currently is a Kindergarten teacher with the Toronto District School Board, and Fluffy is a cultural performer as well as having many years of experience as a child-care provider.
Fluffy explained that when Fay saw a news segment about Drag Queen Story Hour in 2015, she was inspired to do the same. "She wanted to continue combining her work as a performer and educator and Storytime is that. She contacted Glad Day Bookshop and together we did our first event with the two of us and a few local authors."
That event took place at the Yorkville Public Library in June, 2016. Since then they have been sharing stories with children and their families in the Toronto area, including appearances at the Royal Ontario Museum, the Art Gallery of Ontario, the Harbourfront Centre, and the Toronto Film Festival. They have also taken their show on the road by making appearances at public libraries in surrounding areas such as Caledon, Fort Erie and Niagara-on-the-Lake.
Their motto, Reading is FUN-damental, highlights how Fay and Fluffy focus on making reading fun through books, songs and lots of laughs. Fay hopes that what "the kids get out of storytime is an opportunity to see that things that are different aren't scary and that things that are different are amazing."
One goal of Culture Days is to "eliminate barriers to access and participation, and stimulate understanding, appreciation and exploration of arts and culture – so that every person in the country has a deeper connection with themselves, their communities, and Canada." Fay and Fluffy hope to deepen this connection of diversity and culture through their Storytime events. As Fluffy explains, "creating inclusive spaces is at the heart of what we aspire to do. We received a comment fairly early on from a parent who said 'there aren't a lot of places where we can take our gender non-conforming child, and our autistic child, and they are not only accepted, but celebrated.'"
Fay believes that "what is so incredible about the reading is that you get families from all sorts of backgrounds and experiences and relationships and gender identities and everything. To see that diversity in people needs to be celebrated. And the more we are exposed to that, the more comfortable we are with each other."
The Niagara-on-the-Lake Public Library supports this idea and promoted the event by stating that, "We especially want to support families with LGBTQ2S parent(s) and gender variant children, and read culturally diverse books, by providing a supportive and inclusive environment focused on fun. Everyone is welcome."
"In the three years that we've been doing Storytimes we have noticed an impact far beyond what we could have imagined. While we started out believing it was about literacy and diversity, it has turned out to be so much more. We have experienced so many moments with people coming up to us after Storytime and thanking us for the way they have felt. It has happened with someone who was adopted, with a single parent, and with same sex parents," says Fluffy.
Storytime was part of the Culture Days weekend celebration, a national event held annually at the end of September. This year's theme was creativity, the arts and well-being. Events were held all across the country with each province highlighting their own cultural events.
According to Fluffy, "we have brought Queer and Ally families together, where they have forged new friendships. We've made incredible connections wherever we go."
It was easy to tell that Fay and Fluffy forged new friendships at the library Saturday.