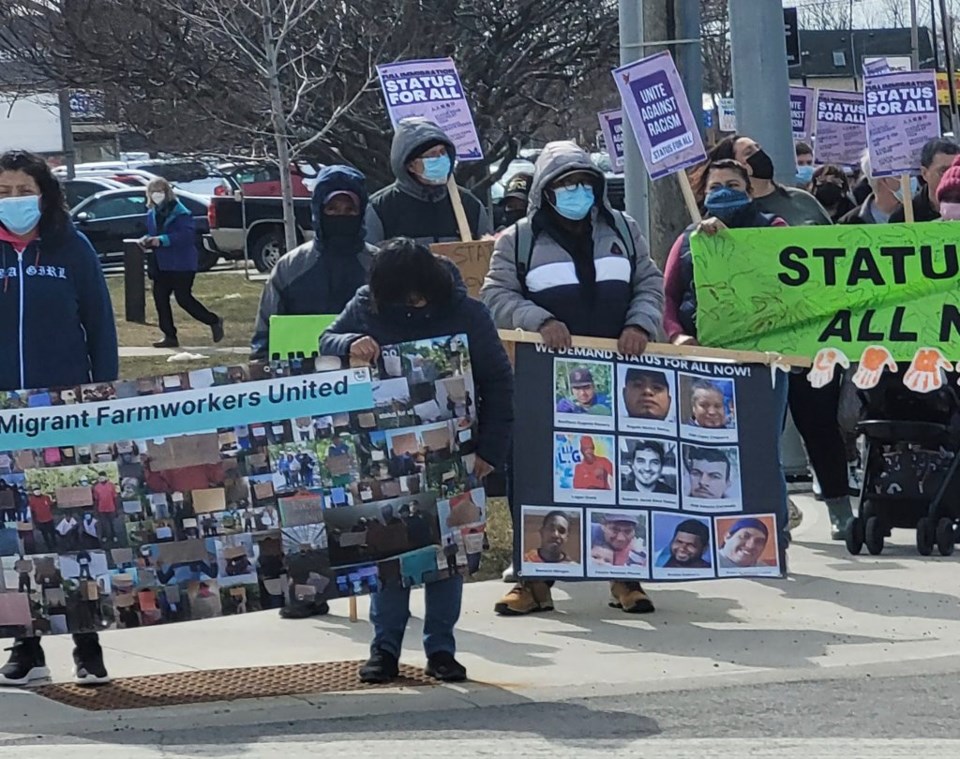 Migrant workers just want the same rights as all Canadian residents.
They leave their families for many months, miss out on many of the milestones with their kids we take for granted, and work in our country so we have food to eat.
The jobs they are doing are hard, their days are long, without overtime pay, in freezing cold weather, in snow and rain, and on the hottest days of the summer, doing hard jobs that Canadians don't want.
Those are just some of the issues mentioned Sunday, that led to a rally at the town hall, and a march through Virgil to the Meridian Credit Union. Some of the small crowd in attendance carried signs that called for "Status for All," or "Unite Against Racism," and signs with photos of some of the migrant workers who come to Niagara every summer.
The march in Virgil was one of 10 held across the country Sunday, and in another 16 locations in the Caribbean, where many of the farmworkers call home.
The march was held to mark the International Day for Elimination of Racial Discrimination, says organizer Kit Andres, and gave migrant workers the opportunity to urge Prime Minister Justin Trudeau "to make urgent and permanent changes to ensure immigration rights instead of partial, time-limited programs."
Actions are being organized following the increased levels of racism during the Freedom Convoy, Andres said, where some protestors brought Nazi symbols and antisemitic and racist images to the Ottawa protest. The march also marked two years since COVID-19 was declared a global pandemic, "which continues to disproportionately impact racialized migrants."
Gabriel, a local farmworker from Mexico, spoke to the small crowd, his words translated by Luisa Ortiz, one of the organizers.
He first left his home in the state of Tlaxcala to come to Canada 21 years ago, separated from his family and friends, "working 12 to 14 hours a day on my knees, crouching in the rain or intense heat . . . and because of the effort that had herniated discs in my spine. In 2010 I had open heart surgery in Hamilton, and it is very sad to be here in a hospital away from family and friends and not being able to speak the language. Although the doctors and nurses are very kind, one feels very sad, very alone," he said.
"I have been bullied, mistreated by the bosses, even from my colleagues because we are always competing with each other . . . because of the pressure from the bosses to get the job done quickly."
Workers live in trailers or houses with 15 or 20 people, he said, and "sometimes there are not enough utensils to prepare food. Sleeping in bunk beds is very uncomfortable, there is no time to take a shower with only two or three showers, getting up every day at 5 or 6 in the morning . . . and finish work at 7 or 8 at night, without being paid overtime, which is a right that we deserve."
Leaving family at home is hard, he said. "In my case, I left my four-year-old daughter and my six-month-old son. I missed my baby's first steps, his first words. This is very hard for me. The wives have a lot of responsibility, taking care of the children alone without the support of the father."
There are many families who disintegrate, sometimes the children, due to the lack of a parental figure, get into trouble, and sometimes marriages break up from being apart for so long, he said.
"Many times we suffer the loss of our father, mother or children without being able to return in time. That is why I ask the government for permanent residence for all migrants, so that we don't depend on a single employer, that we can have a pension fair enough to live a dignified old age, because we have spent a large part of our lives helping the Canadian economy," said Gabriel. "I believe that we deserve dignified treatment, without racism or mistreatment, we deserve respect as workers and as human beings. With permanent residence we can keep our family together, we can have freedom that we don't have right now."
Christopher, a worker who didn't get called back to a farm this year, spoke to the crowd from his home in Jamaica, and had a similar story, and a plea for resident status.
The seasonal workers program has been going on for 50 years, he said, and "it has never been a bed of roses, given the circumstances we have to undergo."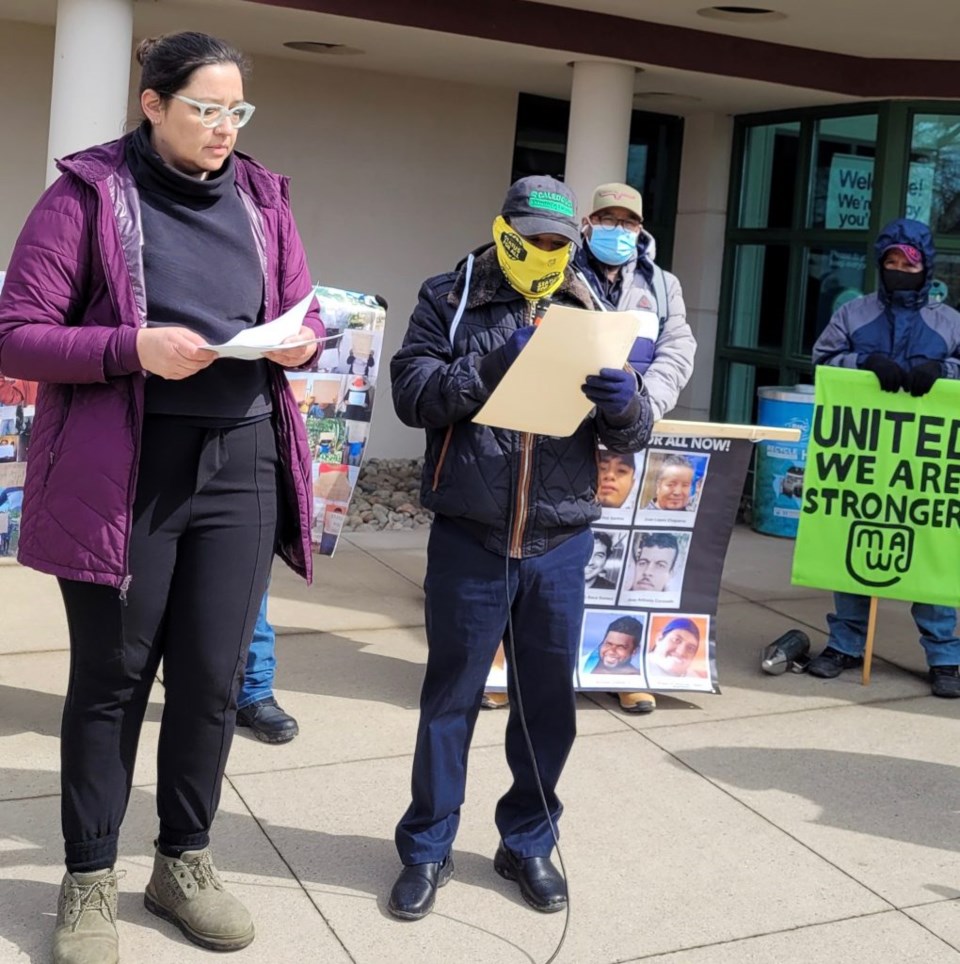 He too spoke of separation from family, improper accommodation, fear, intimidation and bullying by employers, unjust and unfair deportation, little or no compensation for workers who are injured, "or end up dead on the job. And the long, dark list goes on, all in the name of migrant workers."
"Don't forget that we are the ones who brave extreme heat and cold to put food on your table," he continued, "most times in conditions that are unbearable, conditions that most Canadians would never stand up to. We are also the ones who help to boost your economy, even in the face of this dreaded global pandemic. At a time when we should be home with our family we still take the chance of coming here to work."
Farm workers are considered essential workers, he said, "so if we are seen as important to maintain the life of your food chain, then we think it's time for you to take a look in the right direction. As one voice, we are asking for better healthcare, better living conditions for all workers, equal rights and justice for all, fair compensation for injured workers, proper compensation for families due to fatalities on the job, family unity, and full immigration status."
Andres, who represents Migrant Workers Alliance for Change, told The Local
she believes, in terms of community recognition and acceptance, the situation in Niagara is improving. "The workers are telling me they feel an increase in support, especially here in Niagara. They mention it seems like the small things are changing, something simple as people saying 'hi' in the grocery store, that says to them, 'we see you.' It's something we don't think about, how such a simple thing can mean so much, and make them feel part of the community, everyone supporting and acknowledging each other in this community."
Andres said when she travels to other communities, "workers say they want to come to Niagara-on-the-Lake, where they can ride their bikes, go to the grocery store, and see their buddies. In other communities, they're bullied."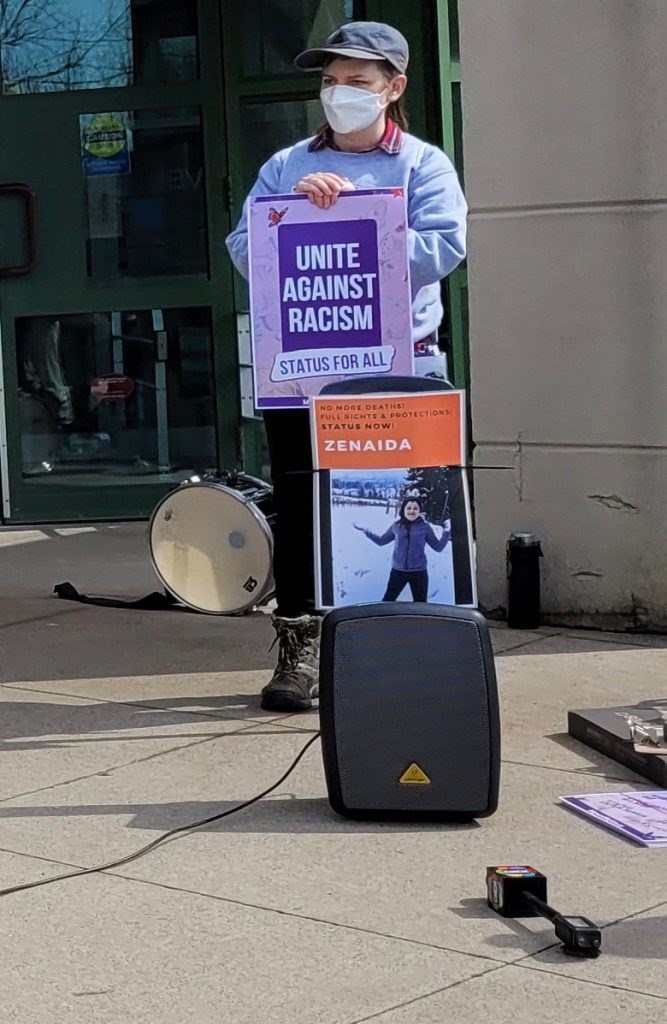 The situation is improving in other areas, "but there is still a lot of work to be done."
The pandemic shone a spotlight on living and working conditions as well as job insecurity of workers, Andres said, and on how they are treated.
But as that wanes, and nothing has changed, "they're frustrated. There are changes that are needed system-wide, not just in some regions."
There are signs that on a large scale, people are ready for change, ready to take action, "and workers are no exception. They may not feel comfortable coming to an event like this and speaking out, but they are taking action at home, on farms across
Ontario."
Before setting out to march along Niagara Stone Road, organizer Luisa Ortiz taught the crowd several chants shouting the question, "What do we want?" and getting the reply, just as loud and enthusiastic, "Status for all," "When do we want it?" "Now!" "No hate, no fear, refugees are welcome here," and "The people united
will never be defeated," getting the crowd charged for their short walk.
Arriving in front of the credit union, Andres told those gathered, "you are part of history. This is Virgil's first ever march. But one march doesn't fix everything. We need to do this work every day. It's up to you to get it done. All of us together need to get it done. It's up to everyone to promote change, every single one of us on every day of our lives."
CORRECTION:The original article had incorrect information about CPP and EI for farmworkers. Here is the information provided by Kit Andres: Farmworkers who had/have temporary status (through the Seasonal Agricultural Workers Program or Temporary Foreign Workers Program-Agricultural Stream) and meet the conditions to apply, can collect CPP and certain EI Special Benefits (including Sickness Benefits) as long as they have a valid work permit (which expires every December 15 for SAWP workers). Seasonal farmworkers are excluded from collecting EI Regular Benefits when they are laid off for the season, and farmworkers without status (undocumented workers) are completely excluded from any social supports. What sometimes ends up happening when a worker is sick or injured is that they are simply deported and replaced before they're able to apply for compensation. That's another reason why farmworkers and other migrant workers are calling for permanent resident status, so they can access full benefits and healthcare when sick or injured without risk of deportation.