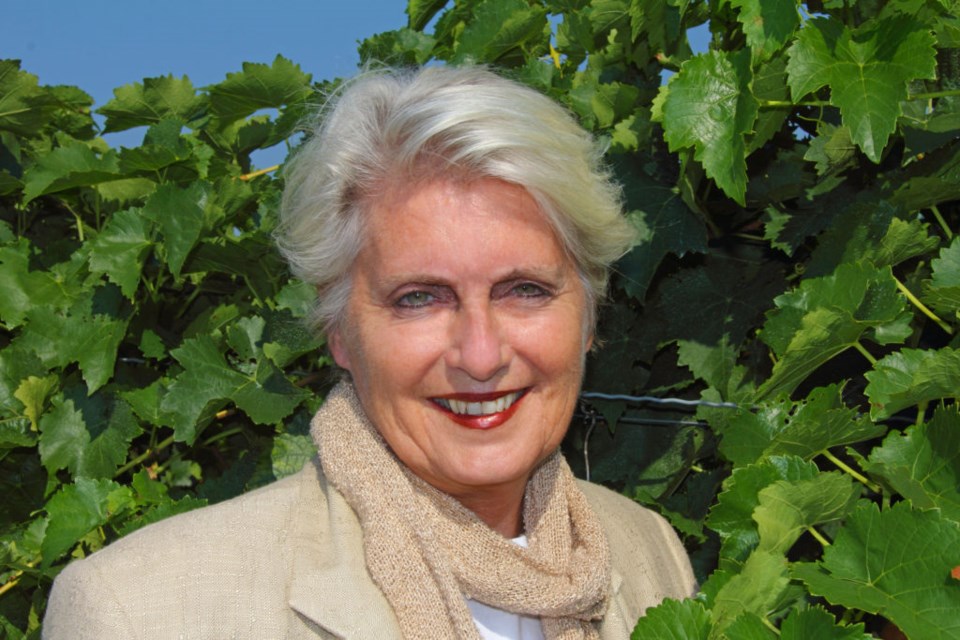 Niagara-on-the-Lake's Debi Pratt will be honoured at the Women in Business Awards for her 40-plus years of achievement in the wine industry.
The woman who, alongside Donald Ziraldo and Karl Kaiser, was a pioneer in the development of the Niagara, Ontario and Canadian wine industries, is the recipient of the 2019 Lifetime Achievement Award.
The awards recognize women for their accomplishments in business, leadership and contributions to the Niagara community. The organizer and host of the event is the Greater Niagara Chamber of Commerce (GNCC), through its Women in Niagara (WIN) Council.
When she answered the call from Mishka Balsom, president of the GNCC, Pratt says she was stunned and, yes, a little speechless. Aware of the achievements of the most recent women to receive the award, Betty-Lou Souter and Margie Spence, Pratt says it is a true honour to be mentioned in their company.
Now retired from her role in marketing and public relations with Inniskillin Wines, then Vincor and Constellation Brands, Debi reflects on her years working with Ziraldo and Kaiser in the nascent local industry, as the trio pushed hard to convince the world that Niagara could produce excellent, world class wines.
In 1974, Debi Pratt was an elementary school teacher, working at the old Brockview School, located at Line 3 and Concession 1, where the Croation Hall currently sits. She spent 11 years there. When that school closed, Pratt followed the staff and students to Laura Secord Memorial School in Queenston, where she taught for another five years.
Along the way, she met, and began dating, Donald Ziraldo, just as he and Kaiser were beginning to explore the possibilities of growing vinifera grapes in Niagara.
"I would sit and listen to them talking about the wine industry," she says, "and I found it fascinating, and refreshing. I knew nothing about it, but quickly became eager to learn more."
As a teacher, her summers off allowed her to begin helping out in the nursery. As the winery grew, she began to take on a bigger role. "What I learned is that Donald and I worked so well in business that we forgot about the dating part."
Against her father's wishes, Pratt decided to leave the teaching profession and instead work for Inniskillin full time. It was a leap of blind faith, inspired by the outsized personalities of the two men, whom she calls "polar opposites."
Ziraldo was the agronomist, experienced in viticulture, while Kaiser was the technical one, a knowledgeable winemaker, who could talk about anything and everything. Pratt found her niche in sales and marketing, but credits her 16 years in the classroom as the key to her success in business.
"I found that I had a million transferrable skills. What I learned as a teacher is very applicable to business. Marketing people need to understand that they need to educate the consumer. You're not selling them a bottle of wine and telling them how it's going to change their life. You're helping them understand why they might like it, or why they might not like it."
The core challenge in those days was fighting against the stigma that Canada couldn't produce wines to compete against those produced in Europe. Pratt said much of her time was spent teaching people exactly why we could grow good grapes here.
She remembers those early days, at events where she would hear people disparage Canadian wines. She borrowed a line from the Ford Motor Company, as she would approach people and say "excuse me, but have you tried a Canadian wine lately?" It wasn't an aggressive approach, but one that drew upon her teaching experience, as she would gently coax naysayers into trying wines that they otherwise would have ignored.
As Inniskillin found more and more success, other wineries began to sprout up in the area. Pratt was instrumental in bringing them together to work toward a common cause. The "Group of Seven Wineries" in Niagara-on-the-Lake was formed, sharing ideas for promoting Niagara as a bonafide wine-making region, with Debi spearheading the efforts.
"You can promote your own winery," she says, "but you always have to be an ambassador for the wine industry as a whole."
Whether it was icewine, the VQA designation, or simply increasing Niagara's profile across the country and beyond, Pratt says working together as an industry was, and continues to be, a key element for success.
Pratt, Ziraldo and Kaiser pioneered other partnerships along the way. Today, it's second nature for wineries to work with chefs, sommeliers and front-line staff in restaurants and hotels, in an effort to improve the entire dining experience. But that wasn't always the case, and Pratt says it was an important factor in the expansion of the industry.
Nicole Regehr, spokesperson for the Women in Business Awards, says she was surprised Pratt had not already received their Lifetime Achievement Award. "Debi was a really obvious choice," says Regehr. "Previous winners were all pioneers in their fields, and Debi Pratt really fits that mould. It was a unanimous decision for our committee this year."
The Women in Niagara Council's mandate is to provide opportunities for women in business, whether it be through mentorship or education.
That's a role Pratt has embraced since her retirement in 2014. She decided to retire, she says, because for so long she really never had any time for herself. But even today, she is very eager to continue giving of her time to help others move forward and "grab the baton."
"I've taken on more of an advisory role," says Pratt. "I'm still there to assist anyone who needs me. I enjoy speaking to Brock and Niagara students, and it's fascinating to meet with newcomers to the industry, many who come in with little business experience. And I don't charge them for my advice. I'm not doing it to make money."
Pratt is heartened by the progress women have made in business, particularly in the wine industry, since her pioneering days. She points to the successes of Lydia Tomek, Sue-Ann Staff, Heidi Fielding and Meg McGrath, all heavily involved in all aspects of Niagara wineries.
"I'm inspired by the women who have stepped up in hospitality, tourism and winemaking to help fill in the parity gap," she says. "They continue to bring strength, knowledge and experience to the industry."
Along with her advisory efforts, Pratt is a member of the Niagara-on-the-Lake Fund Committee, an arm of the Niagara Community Foundation. In that role, she works to bring donations to the community, putting funds into local organizations such as Red Roof Retreat and Bravo Niagara!.
As she prepares to deliver her acceptance speech, Pratt wants to ensure she does her homework. She sees the opportunity to address the attendees at the luncheon as a huge responsibility.
"I want to be clear with my messaging that the lessons I learned can help those coming up. I am being given a platform to share the tools and strategies that worked for me. I want to provide strong advice for those women who are coming up and in the midst of creating new businesses.
"People like Shannon Passero are great examples. Women who do their homework, and go above and beyond to give back to their community. I want to be sure to recognize others who are doing it right in today's business world, which is a much different one than the one I came up in."
Forever a teacher, whether in the classroom, in the wine industry, or as a mentor to other business people, it's clear Pratt looks forward to educating those in the audience at the Women in Business Awards, as she accepts the honour that seems made for her.
The Women in Business Awards will be held Friday, Nov. 8, 11 a.m. to 2 p.m., at the Niagara Falls Marriott on the Falls. Tickets are available through eventbrite.ca.