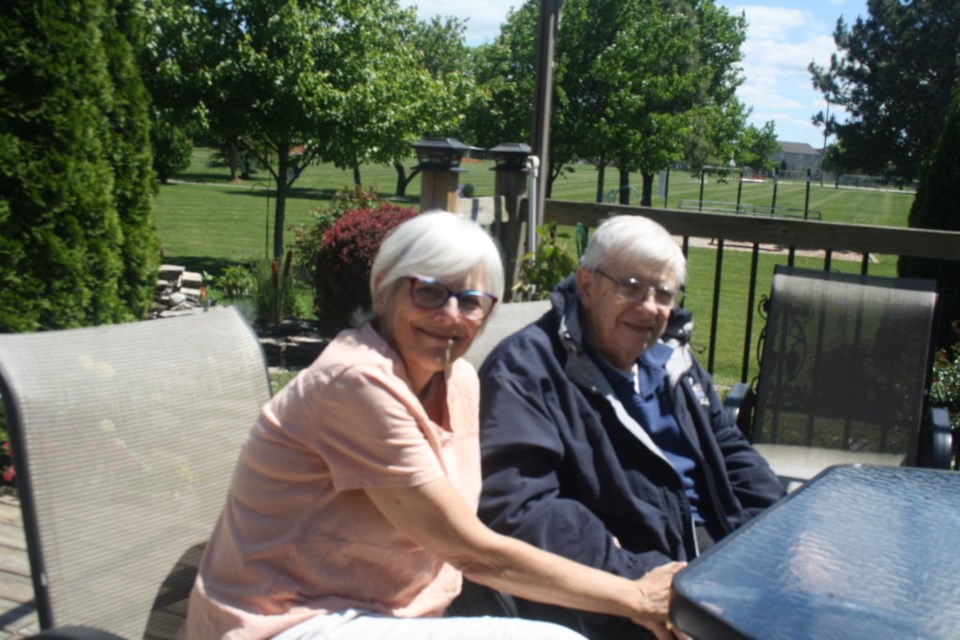 As Leslie and Bud Moulson sit on their backyard deck, the greenspace of the Virgil Sports Park spread out in front of them, they say there was a time when neither of them were sure they would enjoy that view again.
Both are on the rebound from serious cases of COVID-19, and each of them had their moments of doubt they would recover.
"I dreamed about getting back here in the nice weather," says Leslie, "although there were times when I thought we wouldn't."
Bud, 83, doesn't remember a lot of what happened when he was in the hospital, but he knows the doctors were asking Leslie to make decisions for him about intubation, ventilation and resuscitation. "I guess I was in bad shape. From what they were telling Leslie, they were looking at the worst that could happen. I'm very lucky, I guess. And I thought she was worse than I was."
"We were both very sick," she says.
Leslie is a note-taker. She became accustomed to being an advocate for Bud when he began having heart problems years ago, and that has continued. She says one of the most distressing parts of being so sick with the virus herself was that she was unable to advocate or help care for Bud.
However, she does have notes that take her through some of the events leading up to their hospitalization, and what unfolded after that.
She knows it was March 13 when they both began feeling sick. Shortly before that, she had taken two trips to Toronto, March 5 and 12, on the GO Train to attend a ballet with her sister and two friends. They also had lunch at a restaurant each visit. The others were all coming from Georgetown, and so took a different train, and none of them contracted the virus, says Leslie.
On March 10, she and Bud drove to Niagara Falls, NY for a few hours to shop at WalMart and Wegmans Pharmacy. They may have eaten at a restaurant that day, but she's not sure.
The only other possibility she can think of was a trip to the emergency room for X-rays in mid-February for Bud, who had broken a rib. She doesn't remember COVID being on her radar, but she does know they asked for masks when they got there.
By the time they realized they were both sick, Premier Doug Ford had just shut down schools and some businesses.
Leslie, a fit and active 71-year-old, had all the typical COVID symptoms: fever, cough, and eventually, extreme shortage of breath. Bud's symptoms were different. He had no fever or cough, but also no appetite or energy. In the days that followed the onset of their illness, they both slept a lot, Leslie in their bedroom and Bud on the couch, "and we would meet occasionally in the kitchen for toast and something to drink." That was about all they could manage, she says.
Bud's health continued to worsen — his blood pressure was low, and he was difficult to rouse. At one point, he fell and twisted his ankle in the house.
By then, Leslie was also quite ill, "but I had no idea how sick we were," she says.
When she called her doctor, she was asked to call public health to ask for testing, but when she did that, was told she didn't meet the criteria.
Their friends, Judy McHattie and Pat Fryer, had been calling regularly, says Leslie, and on March 25, McHattie recognized how
sick they were. She didn't have any contact numbers, so searched Moulson in Toronto on 411, and found a number for Bud's ex-wife, who put her in touch with their son and daughter-in-law. "That's one lesson to come from all of this," says Leslie. "Make sure someone has contact numbers for family if they need to be reached."
Their son said he would come that week, but McHattie said no, he needed to come right away, Leslie says. He did, and when he arrived, he took Bud to the St. Catharines hospital site, where he was admitted to a medical floor.
Leslie, who has an extensive background in nursing and health education, says because of his symptoms, she thought he might have congestive heart failure. "I called that wrong," she says.
She realizes now, "if Judy hadn't called, and his son hadn't come, Bud would have died."
Once he was admitted, she was getting little information from the hospital, and Bud was unable to talk to her. She would get phone calls from nurses who spoke in generalities. "I'd be told, 'he's having a good day,' or 'he had a rough night.' That was all I knew."
In addition to discovering his ankle was broken, he had fluid in his chest, pneumonia, and was receiving oxygen by mask. Leslie, who was at home and still very sick herself, was asked by a doctor about a 'do not resuscitate' order for Bud, and whether to use a ventilator, which is reserved for the sickest of patients. She said no to a ventilator. The doctor was speaking in terms of "the next 24 hours," and another doctor, new to Bud's case, told her there was reason to be "concerned and vigilant," making her realize Bud was very sick indeed.
Four days after their son arrived to take Bud to the hospital, he was experiencing a high fever and body aches, says Leslie. He sought testing and was confirmed positive. He had already planned a two-week vacation, and used it to isolate at home during his illness. Their daughter-in-law, a nurse, had tested negative at her place of employment. She ultimately developed pneumonia but continued to test negative.
Bud tested positive for COVID April 6, two weeks after being admitted, and was moved to a COVID floor.
On April 9, Leslie went to see Dr. Karen Berti at the former hospital medical offices, and nurse practitioner Erin Jarvis. She says they were both suited up in gowns, gloves and masks, and they whisked her into an office. "I couldn't breathe," she says. "Dr. Berti told me I really needed to be in the hospital. I tried to talk her out of it. I found out later Judy had called her and said I was really sick."
She says she later wrote a note to apologize to Berti and Jarvis for her reaction when they insisted she go to the hospital, and called an ambulance — she has never been admitted to a hospital for anything as an adult, and really did not want to go. Looking back, she says, she's convinced she would have died in her bed, at home and alone, if that ambulance hadn't been called.
At the hospital, she was given her second COVID test — the first was at her doctor's office — and before those results, when an X-ray and CT scan showed severe pneumonia, she was admitted to a COVID floor. But the next day, when the results of both tests were found to be negative, she was moved to a medical unit.
She was then given a third test, quite different from the first two. "This time, it felt like they were scraping off brain tissue," she says. And this time the result was positive. Back she went to the COVID floor, just down the hall from Bud.
It was difficult for her to know how close he was, and be unable to see him. Connecting with him by phone was hit and miss. Some days, he couldn't reach the phone — it would get moved, and he couldn't get out of bed to get it.
Other times, he wouldn't be able to hear it ring. He is hard of hearing, and although he had his overnight charger for his hearing aids at the hospital, some evenings a nurse would take them out for him and leave them on the night stand, not realizing they had to be plugged in to a charger, and give them back to him in the morning, useless. 
"It was so frustrating. We desperately needed to talk to each other," says Leslie.
During her eight-day stay, she was given oxygen, until her oxygen levels improved, and antibiotics by IV for pneumonia. "Generally, I didn't feel too badly," she says. She was able to get up to shower, sit in a chair, and was starving, eating everything she could get her hands on. She even found herself hoarding bits of food, such as the bun that came with dinner, for later in the evening, because she knew she would be hungry. She believes when she was home she was too ill to eat anything, and was making up for it in the hospital.
She says she once mentioned her evening hunger to a nurse, who brought her some yogurt, but she really didn't want to bother the nursing staff with extra requests. "They were so busy trying to save lives. I couldn't ask them to bring an extra pat of butter for my bun."
As well, she explains, with all the personal protective equipment that has to be put on and then removed for each room staff entered, asking for something minor required too much time and trouble on their part. "There was no just popping in to check up on you, to see if you needed anything," she says. "They couldn't do that."
On April 17, a little more than a week after being admitted, she was discharged.
Bud was not so fortunate. By then he had been in the hospital for more than three weeks, and still he had another couple of weeks left to go. He was being given IV antibiotics and oxygen, and required help getting from bed to wheelchair and bathroom without putting any weight on his ankle. He was very weak, and unable to do it himself.
During the middle stages of his hospitalization, he was depressed, and ready to give up. He says the days were long and confusing, and he remembers very little from about two weeks of his hospitalization, although Leslie says they did have some conversations that made sense. He felt very isolated, especially from Leslie, unable to talk to her many days, unable to even turn on the TV, and when hospital staff came in dressed in their PPE, he didn't know who they were. He was still very sick, but also sick of being in the hospital.
"Everyone who came in looked the same to me, in their protective gear. They all had the same blue gloves, yellow gowns, and masks." He says he had no way of knowing whether they were doctors, nurses or cleaning staff. If they told him their names, he often couldn't hear them.
He had one nurse who realized he couldn't hear much of what was said to him, and would write things down. Another wore a protective shield with her name written across the top of it in marker — both seemingly minor attempts to add some kindness and humanity to a difficult situation, but both very much appreciated he says.
Eventually, "he came around to being cranky and eager to be home," says Leslie. And finally, he was deemed strong enough to go home, on May 1.
Once there, when he had his first shower, Leslie noticed two pressure wounds that hadn't been seen or attended to in the hospital — one very deep on his ankle, where it had rubbed against the cast, and a large blister on his heel. She's looking after those for him. "Overall the care we both received at the hospital was good, but when I saw those sores, they sent me into orbit." They were both large and painful, and she questions how they could have been missed.
Bud now has a boot cast, which he is excited to get off this week.
Leslie has had a chest X-ray showing atelectasis — collapse of the little pillows at the bottom of her lungs — and scarring on her lungs. She is active, back to cooking and gardening, but still coughs from exertion, she says, and finds her legs get tired easily. She hopes to start walking soon, an activity she enjoyed before the coronavirus put an end to it. She's to have a follow-up X-ray in August.
Her biggest and most obvious question now is what would have happened if she had been tested the first time she called to ask for an appointment.
"This might have been a different story, maybe even a shorter story," she says.
There is no doubt the experience has changed them.
Leslie says she has noticed a difference already in their priorities. Little things that would have mattered no longer seem important.
And although they have always known NOTL to be a caring community, the depth of love, care and support they have been shown is overwhelming to them both.
When Bud was "down in the dumps" in the hospital, Leslie sent out an email appeal for cards and messages to boost his morale. By the time he was discharged, he had a shoebox full to take home with him. They even heard from one woman they didn't know, a member of the British Car Club they belong to, who said she was praying for him.
"That brought me to tears," says Leslie.
Neither of them are religious people, but there was definitely a spiritual element she felt in the enormous outreach from the community, that helped them both recover, she says.
A leader of a Sparks group in NOTL, Leslie received cards made by the young girls in the group, and a bright green piece of bristol board with photos of the girls and their cards.
"And Pat (Fryer) made arrangements with all the guiders to make us meals when we got home, one every two days, and always enough for two meals," she adds.
"I'm convinced all of that outpouring made us better," she says. "All the prayers and the love and the cards contributed to our recovery."
"Undoubtedly," agrees Bud. "How can you not appreciate it, and not take something from it. We can never thank them enough."
The experience, says Leslie, "has increased our strength. Our inner strength."
They assume they are no longer able to catch or spread the virus, but there is still much that is unknown. They are not taking any chances, still staying at home, with friends dropping off what they need. And they are really looking forward to the time when they can gather with their friends at The Sandtrap Pub and Grill, a regular Monday night gathering, or get out with their car club friends. They both miss seeing people, and are grateful visits are permitted in small groups, as long as there is physical distancing.
"We are so fortunate to have such good friends here," says Leslie. "We always knew this was a great community, a caring community, but it's different when you are the recipients."
"I've lived in Toronto all my life and never knew my neighbours," adds Bud. "Here, everyone is your neighbour."